Asian Food Channel (AFC) together with BERJAYA University College of Hospitality (BERJAYA UCH) recently held an event entitled Autumn Treasures with Chef Martin Yan at the university's fine dining restaurant, Samplings at the Fourteenth, Level 14, Berjaya Times Square, Kuala Lumpur. The sit down dinner held on 5 September 2012 was priced at RM290++/pax. I was lucky to be one of the lucky winners of a contest organized by AFC to dine with Chef Martin Yan (甄文達). I'm sure most of you would have known the Chinese-born American celebrity chef for his jovial ways to handle Asian cuisine with a twist of humor. Chef Martin Yan from the famous cooking show "Yan Can Cook" has hosted over 1,500 episodes since 1978. "If Yan can cook, so can you!" became his catchphrase ever since. What impressed me most was his comical ways in chopping food frantically with just a sharp cleaver. He indeed made the whole room filled with laughter when he performed a live demonstration on how to cook his Dragon & Phoenix chicken dish.
During this Autumn Treasures event, five of the chef's signature dishes were chosen to be served as fine dining dishes, with assistance from the numerous students support from the Berjaya UCH. The menu was as shown below:
The first dish was the Crispy Beancurd Skin Rolls. The spring onions wrapped rolls had stir fried jicama, carrots and mushrooms fillings, beautifully plated with a pickled radish and carrot flower and some drops of hoisin and chili sauce. Although the rolls were quite tasty in flavors and texture, they were not as crispy as the name. Most probably the kitchen had prepared it too early or the oil was not hot enough to give that crisp. Thus, there was this soggy oil after bite.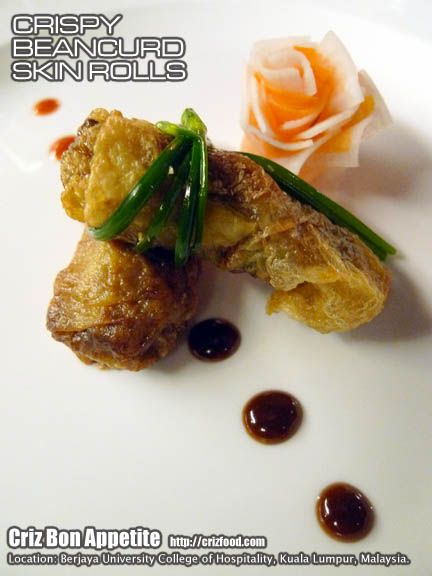 The next dish was the Dragon & Phoenix in a Basket. The basket basically consisted of deep fried finely julienned yam mixed with some corn starch. The topping had the chicken dish demonstrated live by Chef Martin Yan. They consisted of chunks of chicken breast meat stir fried with onions, straw mushrooms, garlic and Thai basil leaves, topped with some blanched asparagus. I was surprised that my serving did not contain some diamond shape bell pepper cuts as shown in the demonstration. However, even without the flavors from the bell peppers, the taste for the topping with high hints of Thai basil and pepper after taste was nice enough to complement the yam basket.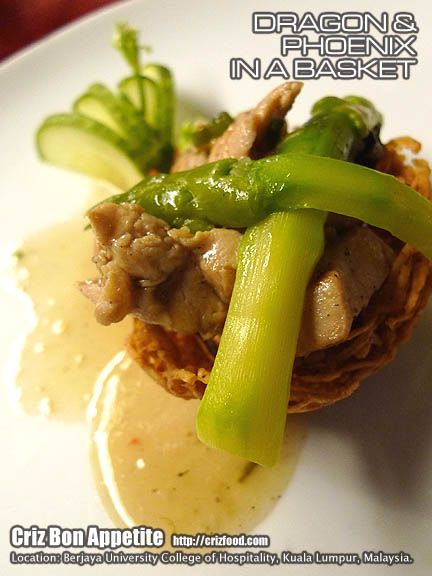 As for main, we were served with Beef Stew with Beancurd Sticks & Chinese Chestnut. The dish tasted quite similar to my brandy boasted Cantonese recipe of Braised Oysters & Scallops. The beef stew which had tender chunks of wine boasted beef came with some beancurd sticks, Chinese chestnuts, carrots, radish and Chinese mushrooms, came with side dishes such as bread pudding with mixed toasted sesame seeds candy and a slice of garlic bread. The dish was amazingly great and rich in sweet flavors from the long period of stewing. However, such rich flavored dish would go better with plain rice or bread instead of the accompanied side dishes. Moreover, it lacked some fresh greens to subtle the richness from the meat dish.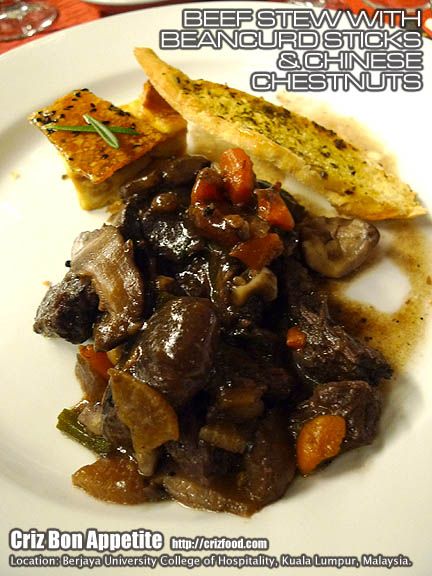 As an alternative dish to non beef eater, a Vegetarian Spaghetti was also served as main. It was basically some spaghetti with the right al dente served with some fresh onions, carrots, zucchinis and tomatoes sauce, garnished with some julienned bell peppers, parsley and a deep fried beancurd stick. Taste wise, it was a straight forward dish. However, I personally felt that it was a dish not properly justified against the price paid. I was a non paying guest, so I can't complain much but it would surely piss off those paying ones. The kitchen should have considered serving some vegetarian dishes that has a more sophisticated outlook and taste such as the Agnolotti with Roasted Pumpkin, Broccolini & Chilli Spaghetti with Pangrattato, Pan Fried Potato Gnocchi with Mushrooms & Sage Butter or simply add in a different variety of fresh mushrooms to make the dish more classy.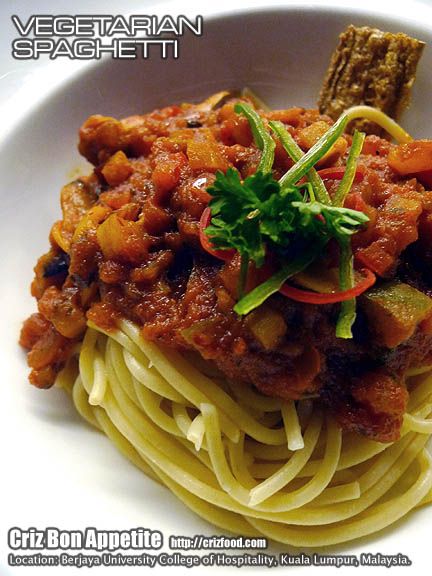 We were also served with Smoked Marinated Squab. The squab or commonly known as domestic pigeon, had a tough texture almost similar to duck meat but with meat white in color. I personally found that the meat was just mildly marinated with barely distinctive flavors or strong smoke taste. Moreover, it needed some tenderizer such as ginger juice to soften the meat further. The squab was dressed with some brown sauce and served with some simply fried basmati rice with finely brunoised bell peppers and some cherry tomatoes salsa.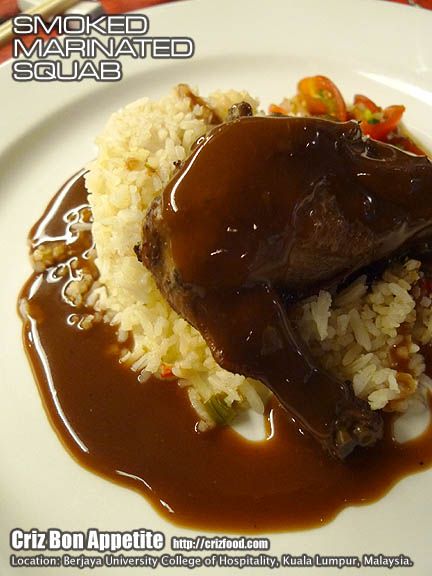 Lastly, it was dessert time with Wine Poached Pears being served. The mildly sweetened poached pear in red wine had mixed spices flavors coming from some cloves, star anise and cinnamon. I would say that it was a bit overwhelming for diners who detested strong spices aftertaste.
There were also free flow of Chinese tea, white wine, red wine and sparkling wine, by Australia's over 160 years winemaking expert, Jacob's Creek, to pair with the dishes.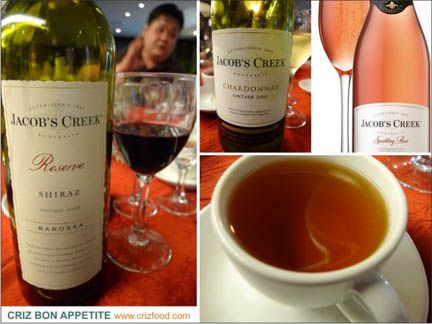 All the diners were presented with a certificate signed by Chef Martin Yan to commemorate our memorable dining experiences with the chef.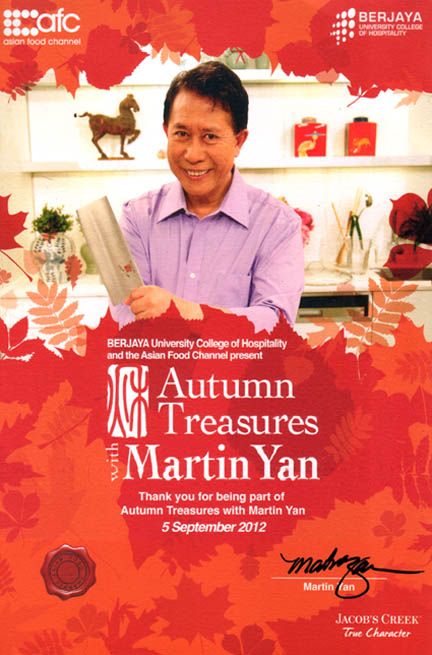 Here's the snapshot of the contest winners and guests with Chef Martin Yan, courtesy of Ms. Evelyn Ang Loo.
Overall, it was an eventful evening with Chef Martin Yan. Thanks Asian Food Channel (AFC) for giving me the opportunity to meet up with Chef Martin Yan. To the waiters and waitresses of BERJAYA University College of Hospitality (BERJAYA UCH), you all have done a great job!
Name: SAMPLINGS ON THE FOURTEENTH @ BERJAYA UNIVERSITY COLLEGE OF HOSPITALITY
Address: Level 14, East, Berjaya Times Square, 1 Jalan Imbi, 55100 Kuala Lumpur, Malaysia.
Contact: 603-2687 7073
GPS: 3.142152, 101.710618