If you are running out of ideas on what to cook for your next meal, you can try out this recipe. It is so simple to cook and appetizing that you may want to have it always. This is my own recipe and you can change the amount of ingredient used to suit your taste. Let's try out my Spicy Potatoes With Anchovy recipe here.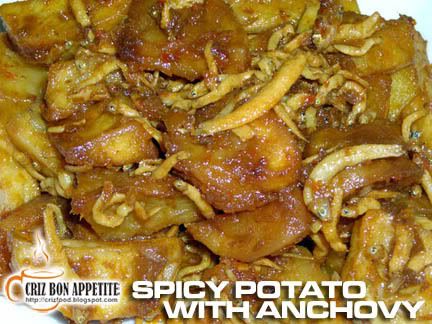 Ingredients:
150gms baby anchovy (ikan bilis) – wash and dry
6 pips of onions – blended
1 Tspn chili boh (chili paste) – add more if you want it more spicy
4 large potatoes – quarter and cut into slices
150gms tamarind juice (juice from 2 large lime plus 100gms water)
Salt and sugar to taste.
Some oil
Method of cooking:
Deep fry the potato slices in medium fire in a wok until they are cooked and slightly brown. Dish them out.
Leave about 6 Tspn of oil in the wok and with low fire sauté the anchovy until they are fragrant and golden in color. Dish them out.
Again with low fire, put in the blended onions. Stir for about 5 minutes then add in the chili paste. Saute until you get the pungent smell.
Add in the tamarind juice. Cook until thicken.
Add in pinch of salt (not too much as some anchovy can be salty) and some sugar to taste.
Put in the pre-fried anchovy and potato slices and stir thoroughly.
Serve with rice while it is hot to maintain the crunchiness of the anchovy.
Garnish with some tomatoes and celery leaves (optional).
(Serves: 3-4)
YOU CAN CHECK HERE FOR MORE RECIPES.