There I was writing about remembering
my childhood days
and here I am experiencing the scary signs of growing old gracefully. Do you know what would be the worst nightmare for a food blogger? It is either all the photos turned out to be over exposed, under exposed, and blur or forgetting to take a snap shot of the food that was served to them on the table. Sometimes, it could also be due to the fact that certain owners disallowed taking shots within the premises. My nightmare was none of the above as I got even worst! I forgot to take a snapshot of one of the dishes I cooked last night. Arggh!! Haiz… I think it's time for me to get some Gingko Bibola to rejuvenate my brain cells. 😛
After having spent so much on restaurants food these few days, I had decided to spend some time in the kitchen to cook some simple meals. Since it was a meal for four, I cooked some cans of rice with some herbs and spices and fried with some butter, eggs, raisins, roasted chicken meat chunks and garnished with fried onions. Bingo! I had my
Buttered Roasted Chicken Fried Rice
. There's the BUT here! I forgot to take a shot of this dish. I guessed somehow with the migraine medication I was taking, it made me kind of a blur king. LOL! Anyway, not even one grain of rice was left in the pot. It must have been real good then. 🙂
As for the side dishes, I came out with Deep Fried Prawn Paste Squids (Fried Belacan Sotong). This is a simple yet mouth-watering dish that can be taken with either Thai Chili Sauce or Mayonnaise.
The recipe is rather easy. Here are the ingredients needed.
Ingredient:
One box 100gms Nona All Purpose Seasoned Flour (Prawn Shrimp Recipe)
Some pepper
2 Tspn sesame oil
Oil
250gms squids (clean and cut into rings)
Method:
Drain the excess water from the squid. Sprinkle some pepper and add in the sesame oil. Mix thoroughly.

Add in the prawn shrimp flour gradually until all the squids get mixed well. Put in a bit of water to make it into a batter like mixture. Add in a teaspoon of oil and mix thoroughly.

Heat up some oil in a wok. Lower the fire to medium when it is hot. Scoop the ringed squid pieces by pieces with a spoon and slowly put it into the wok.

BEWARE! The oil might explode everywhere due to the little amount of water added earlier. You might want to consider laying some used newspaper on the floor.

When the squids become golden brown, take them out and put onto a plate laid with kitchen towel to drain the excess oil.

Transfer the cooked squids onto a plate and you are ready to serve.
(Serve: 3-4)
Note: Try frying a piece first to taste the saltiness as some brands of flour do not have salt in the content. If not enough, drip some soy sauce into the batter.
Since both of the dishes were fried dishes, I decided to have another dish with gravy base. Let me introduce you to my Broiled Cabbage with Steamed Meatballs. This is another simple and yet delicious recipe that my demised grandmother used to cook for us.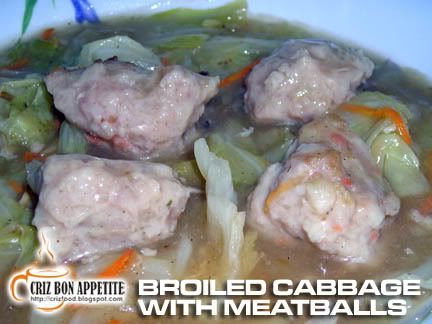 Ingredients:
300gms minced meat
100gms minced prawns
250gms cabbage (wash and cut into 2" x 2")
2 Tspn oyster sauce
I tspn Worchester sauce
3 tspn sesame oil
Some pepper
Pinch of salt
5 Tspn corn flour (3 Tspn mixed with water for gravy)
Young ginger (3 slices in strips)
Carrot (6 slices chopped & 6 slices in strips)
Some chopped garlic
2 bowls water (70gms)
Oil
Chinese mushrooms (optional – soak and cut into small cubes)
Method:
Mix thoroughly the minced meat and prawns in a big bowl with one Tablespoon oyster sauce, one teaspoon Worchester sauce, 2 teaspoons sesame oil, chopped carrots, 2 Tablespoon corn flour, some pepper, and a pinch of salt.

Line a big metal plate with some oil. Use a Tablespoon / Porcelain Spoon to scoop the mixture onto the plate. Steam the meatballs under medium fire for 10-15 minutes. Leave aside.

Heat up a wok with 2 Tablespoon of oil and sauté some chopped garlic under medium fire. When the garlic turned a bit brown, put in the ginger strips and stir for awhile. Put in the cabbage and stir fry for 5 minutes. Add in 1 teaspoon sesame oil, 1 Tablespoon oyster sauce and sprinkle some pepper and salt. Stir evenly. When the cabbage looked cook, put in 2 bowls of boiled water. Let the cabbage cook until all turned soft. Add in the strips of carrot. Stir evenly. Bring to boil and add in the remaining corn flour mixture slowly to thicken the soup.

Put in the steamed meatballs and let it simmer for 5 minutes.

Scoop onto a bowl and serve with rice while it is hot.
(Serve 4-6)