There are many choices of canapés to bring along to parties or even to serve during your own hosted parties. Are yours the ones to impress everyone? Let me share with you a simple yet delicious canapé I created which I called the CRAB MAYONNAISE & PRAWN CANAPE WITH WASABI BALL which would surely make those diners yearning for more. These colorful cuties have the taste of Western canapés with a touch of Eastern influence. Do enjoy! 🙂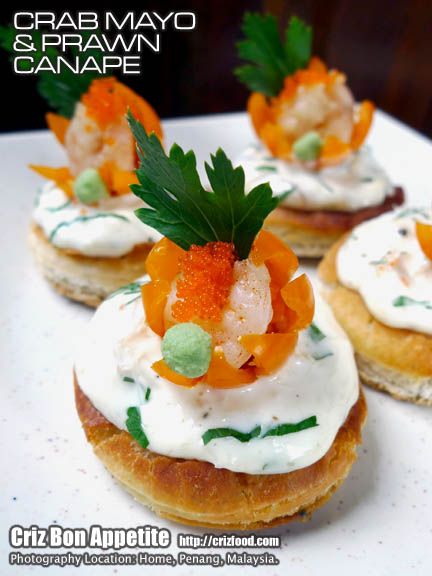 Here's the quick and delicious canape recipe:
INGREDIENTS:
GROUP A: (crab meat mayonnaise spread)
100gm fresh crab meat (steam & drain well)
3 Tbsp mayonnaise
1 small onion (finely brunoise)
2 tsp parley stalk (finely chop)
Black pepper
GROUP B:
3-4 pcs flat bread (Pita, Focaccia, Tortilla, etc, cut into 60mm round or square)
1 box of small tomatoes (cherry or honey tomatoes, 4 cuts into blossom, remove seeds)
50gms baby prawns (steam & drain well)
Olive oil
GARNISHES:
Parsley leaves (chop & whole)
Ebiko (prawn roes)
Wasabi (make into 5mm diameter balls)
PREPARATIONS:
• Mix everything in GROUP A and put back in chiller.
• Cut the baby tomatoes 4 cuts (8 petals), Remove seeds if possible.
• Put a steamed baby prawn in between the tomato petals. Chill them.
• Cut your bread into 60mm round or square to your preferences. I use pita bread here as I like the slightly firm crust and yet soft inner texture after baking.
• Brush the surface of the cut bread with some olive oil and bake in 170°C for 3 minutes.
• To present the canape, just take a teaspoon of the crab mixture and roughly spread evenly on the toasted bread. Sprinkle with some chopped parsley. Lay the stuffed tomatoes on it. Garnish with some ebiko, wasabi ball and a whole parley leaf.
• Serve immediately
(Make: 15-20)
YOU CAN CHECK HERE FOR MORE RECIPES.