Desserts would be something that most people would like to have after each meal. It could come in the form of cakes, jellies, crepes, puddings, crumbles, tarts, iced/hot sweet soups or even ice creams. What would you do if you have to hold a dinner and yet you are short of time to prepare desserts for your guests? On top of that, you would also like to impress your guests with something that is not easily available out there. Would you want to try out FRIED ICE CREAM?
You won't need any special gadget or many ingredients to make them. It would only take less than a minute from wok to the dining table. It sounded easy right? Let me share with you the method to make this simple yet yummy dessert.
INGREDIENTS:
1 loaf of white bread (400gms)
1 tub of ice cream of your choice (800ml)
Some corn/tapioca flour (mixed with water)
Oil for frying
Kitchen towel
OPTIONAL:
Chocolate/Strawberry/Raspberry Syrup
Icing Sugar
Peanut chunks
Multi color candy rice
PREPARATION:
1. Roll all the slices of bread flat. You can use a roller or even a glass bottle to roll them flat. You may want to cut off the brown edges but I maintained them since I fount that it will be a waste to throw them away.
2. Use a small round/square bowl to lightly make a marking on the bread.
3. Fill up the space with some ice cream of your choice. It is advisable to use ice cream that won't melt so fast at room temperature.
4. Coated the area outside the marking with some corn flour mixture.
5. Place another slice of bread on top and use the bowl to make the ice cream more compact. Try not to be too forceful as it would make the ice cream leaks out.
6. Use a spoon and firmly press the surrounding edges.
7. Use a kitchen scissors and trim the edges to make it presentable.
8. Keep all the finished products in freezer for at least two hours or when needed.
9. When you want to serve the fried ice cream, just heat up enough oil on high fire. You can throw in a small piece of bread to test the heat.
10. When the oil is boiling hot, put in one or two of the ice cream bread and cook for 5-10 seconds.
11. Take up, drain excess oil with kitchen towel and serve immediately with some or all the items in the "optional" section.
(Serves: 5)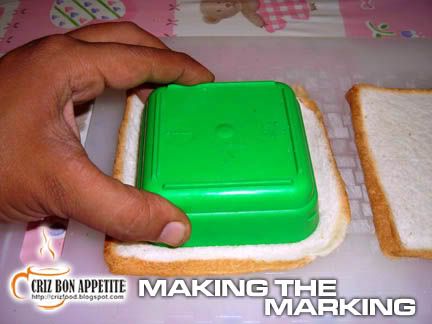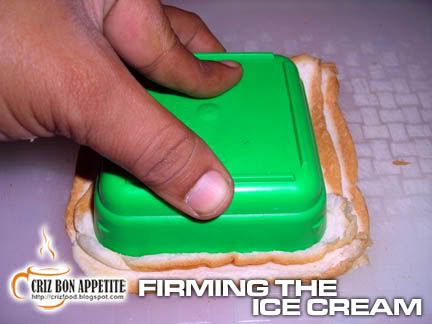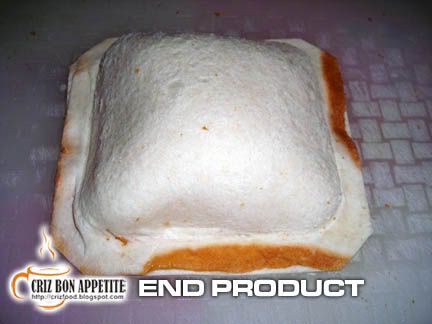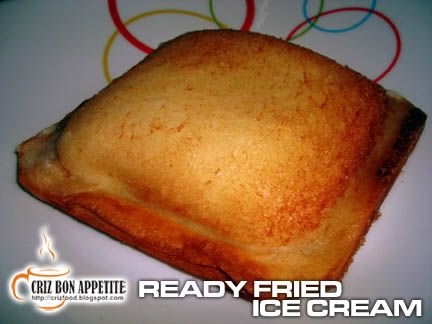 USEFUL TIPS: Make sure you use "harder" ice cream for this dish or else you might end up having too watery ice cream fillings. The King's Dragon Fruit Ice Cream which I had used tends to melt too fast. I would advice Walls or Magnolia which is less creamy but hard enough to make this dessert. In case you have accidentally created a "leak" on the bread, just patch it up with thicker corn flour mixture before freezing.
YOU CAN CHECK HERE FOR MORE RECIPES.