Petaling Street or Chinatown as most tourists would call is not only a haven for good bargains of items such as clothes, DVDs, watches, bags and shoes. It is also a haven to please your appetite up to the wee hours of the morning. If you know how to explore further into the many lanes and corners of this street, you will discover many delicious hawker stalls hidden from the main shopping area.
One such stall which I have discovered some years back served the most amazing Hakka Mee and Pan Mee in that area. Not only are the noodle portions quite a lot, they are also cheap. RM3.50 per plate compared to RM4.50 in any of the cafés on the main road. Now you know why I have never stopped visiting this place. The stall also served many other noodles variety such as the Curry Chicken Wan Than Mee which is just as good. Here are the two noodles which we had ordered.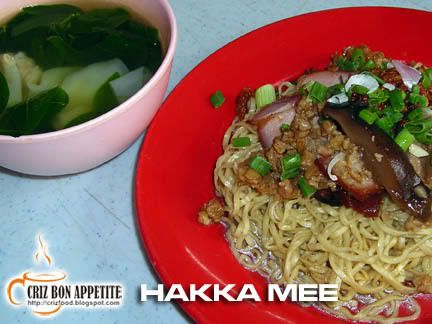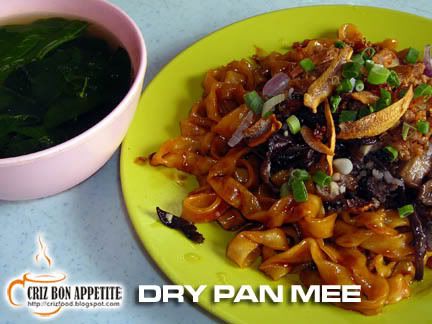 Finding this noodle stall would be quite hard as it is hidden in one of the lanes. If you are walk into Petaling Street, Chinatown's main entrance from Jalan Tun Tan Cheng Lock (opposite Kota Raya) and you will reach a crossed junction. Hong Leong Bank is at the corner on your left. Turn left into the road (Jalan Hang Lekir). Walk straight up until you see a lane on your right. There will be a shop selling DVD there. Walk inside and you will see the stall. Next to the stall is a Roasted Chicken/Pork (Char Siew) Rice which is just as good.
Name: PETALING STREET (CHINATOWN) HAKKA/PAN MEE
Address: Jalan Hang Lekir, Kuala Lumpur, Malaysia.
Opening Hours: 9.00am – 8.00pm
GPS: 3.144298, 101.698025
RATING:
Ambience: 4/10 (1-4 cheap, 5-7 average, 8-10 classy)
Food Choices: 7/10 (1-4 limited, 5-7 average, 8-10 many choices)
Taste: 8/10 (1-4 tasteless, 5-7 average, 8-10 excellent)
Pricing: 6/10 (1-4 cheap, 5-7 average, 8-10 expensive)
Service: 7/10 (1-4 bad, 5-7 average, 8-10 excellent)