"Curiosity kills the cat" may be a common term used but it sure did not kill this adventurous cat. In fact, it fattened him up even more~ LOL~ 😛 At times, we should just leave everything behind, go for a short excursion to some place secluded, adapt to its environment and find out more on what it has to offer. To my luck, I stumbled upon a small make shift café named Big Coffee along the Butterworth-Kulim Expressway (Lebuhraya Butterworth-Kulim). The "café" served a variety of beverages from coffee, tea, chocolate to some local beverages.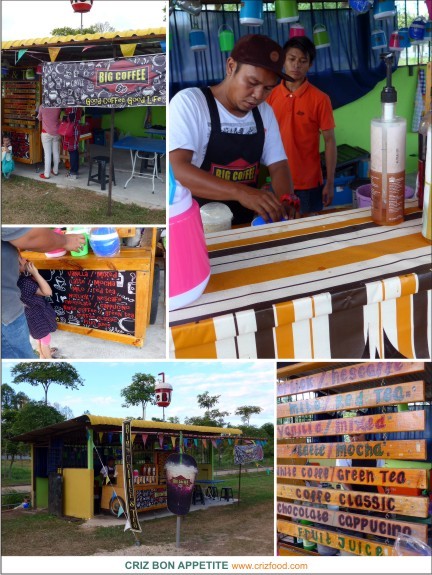 If you are a regular at a certain coffee chain, you would know about volume for Tall (12 US fl oz/350ml), Grande (16 US fl oz/470ml), Venti (20 US oz/590ml) or even their Trenta (31 US fl oz/920ml – at times known as "Thirty"). What about something bigger (42 US fl oz/1.24L – at times known as "Forty") with a cute container to bring home for just RM10nett? If more than a liter of coffee were to be too big for you, you can always opt for their so called "Trenta" size at RM7nett with a cute container or "Venti" size at RM5nett with normal disposable container. You can choose the color of your container too (transparent – RM5 each, big container without white base – RM7 each and big container with white base/football shaped – RM10).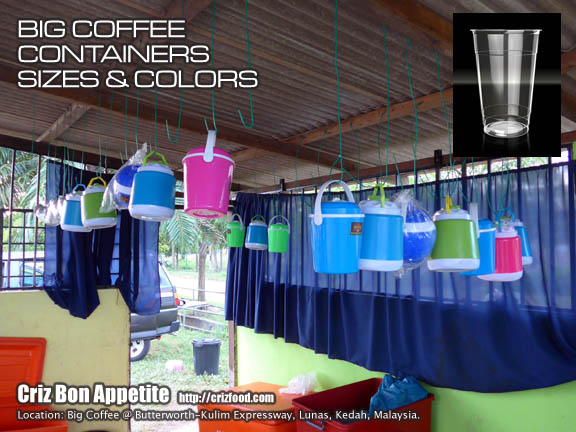 Here's my JUMBO SIZE "FORTY" Iced Horlick at RM10nett.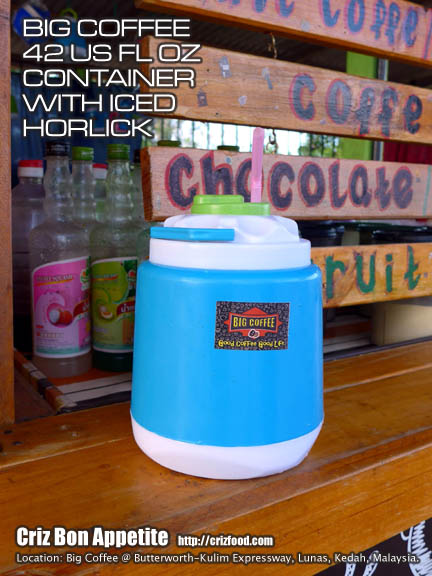 The best part of the deal is that you can order anything listed based on the price (RM5/RM7/RM10) and not on the type of beverage ordered. Beverages type which mostly are Thailand-imported include Vanilla, Mixed Coffee, Latte, Mocha, Milo, Red Tea, Horlick, Nescafe, Chocolate, Cappuccino, White Coffee, Green Tea, Classic Coffee, a variety of Cordial Juices and more.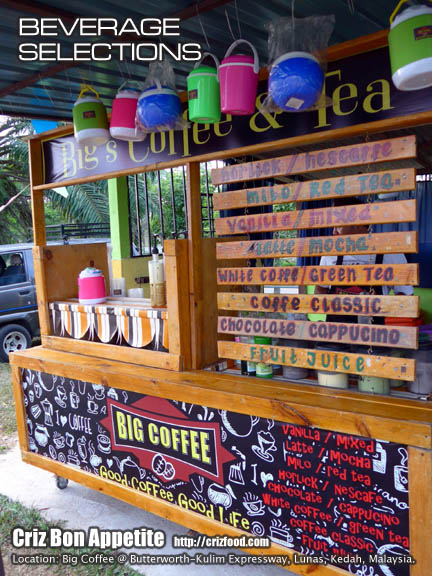 Overall, I would say the beverage was quite concentrated with quite a reasonably quality thick plastic container. Though the sweetness could be a bit too much for my sugar intake, it was still a great bargain as the containers (RM7 & RM10 ones) can be recycled.
It's not really hard to locate the little shed by the roadside but you have to slow down and keep a watch out for it as it could be highly congested at times. From Butterworth towards Kulim/Baling/Pengkalan Hulu via Butterworth-Kulim Expressway (Lebuhraya Butterworth-Kulim), you would need to pay RM1.60 toll. Upon paying and exiting the toll booth, drive another 11KM (pass Kulim Hi-Tech Park junction) and you would reach Big Coffee & Tea by the roadside on your left. When you see Dongwha Malaysia (Kulim Branch) on your left, slow down and drive another 250m ahead towards your destination. You can see the Sime Darby factory directly opposite the "café". As this is an expressway with high traffic, please make sure that the road is all clear before making any turn. The best way to reach Big Coffee is to key in the GPS (5.487308, 100.600595) onto your WAZE app and set to go.
Name: BIG COFFEE
Address: Butterworth-Kulim Expressway roadside at Lunas, Kulim, Kedah.
Contact: N/A
Business Hours: 11.00am-6.30pm (daily)
GPS: 5.487308, 100.600595
RATING:
Ambience: 5/10 (1-4 cheap, 5-7 average, 8-10 classy)
Food Choices: 6/10 (1-4 limited, 5-7 average, 8-10 many choices)
Taste: 6/10 (1-4 tasteless, 5-7 average, 8-10 excellent)
Pricing: 5/10 (1-4 cheap, 5-7 average, 8-10 expensive)
Service: 8/10 (1-4 bad, 5-7 average, 8-10 excellent)