Gambas Al Ajillo or commonly known as Garlic Prawns is a Spanish dish that is easy to cook and delicious to go with any type of bread and buns. Normally, it's served as one of the tapas during parties. However, it's up to your own creativity on how you would serve them. I had this dish served as a main course as well as tapas to tempt my taste bud for something not on my regular menu. Instead of using virgin olive oil in my recipe, I used virgin coconut oil instead to pep up a more exotic and tropical flavor. It was a hit amongst my "guinea pigs" aka food tasters~ Haha!
As a main course, I served with some freshly made salsa and some mildly toasted herbed pita bread. Every bit of the dish was simple and nutritious.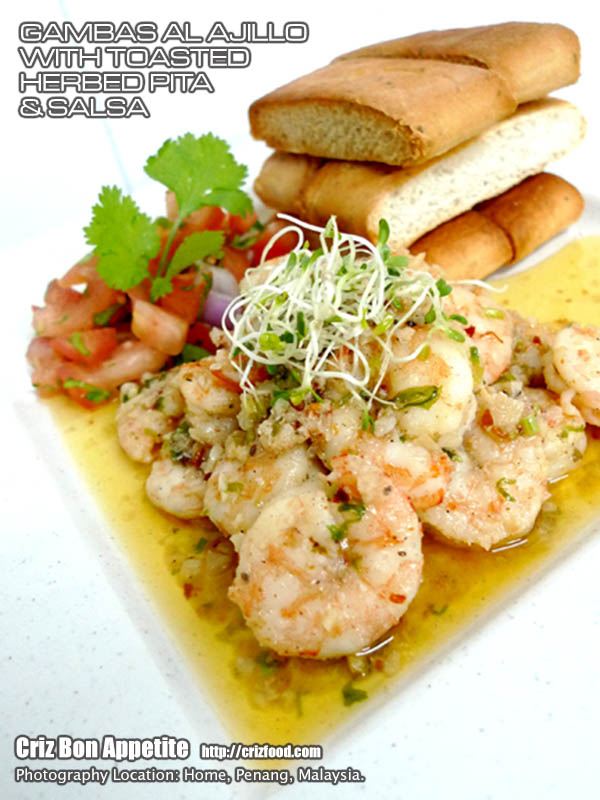 As for tapas or party finger food, I just sliced some pita bread pieces, brushed them with the cooked oil, filled up with some juicy prawns, baked them in oven at 170°C for 6 minutes and garnished them with some alfalfa and mustard sprouts. Bingo! I had my sought after tapas~ 🙂 I'm using pita bread here because the texture and bites were smoother than having a harder version of baguettes or French loaf.
The recipe is so simple that you can have your meal within minutes. Here's the recipe:
INGREDIENTS:
600g medium size prawns (peel, remove vein and slightly slice at the side)
6 large garlic cloves (minced, put more if you like garlic)
1/4 cup virgin coconut oil (can be replaced with virgin olive oil)
1/4 block butter (about 110g)
1/4 cup fresh lemon juice (about 2 lemons)
2 tsp chili flakes (more for extra spiciness)
2 stalks flat leaf parsley/coriander (finely chopped, about 4 Tbsp)
A pinch of grounded black pepper
Salt to taste
GARNISHES (OPTIONAL):
Alfalfa, mustard sprouts, flat leaf parsley, coriander, etc.
PREPARATIONS:
• Melt the butter and oil on MEDIUM-LOW fire.
• Add in the minced garlic and sauté for 2 minutes.
• Add in the prawns and sauté until curled.
• Add in the chopped parsley, chili flakes, lemon juice, grounded black pepper and salt to taste. Stir for another minute.
• Scoop on a serving plate, garnish with some greens as suggested above. Serve hot with some toasted or steamed bread.
(Serves: 3-4)
YOU CAN CHECK HERE FOR MORE RECIPES.