I got up real early this morning just to prepare a meal for my family today although it is a Sunday. Have you ever encountered trying to think of what to buy back for lunch on a Sunday? If it is not Fried Rice then it would be the usual noodle dishes that I got rather bored with. With a little of creativity, I came out with something you cannot buy from any stalls around, which I would like to share with you all. Here is the recipe to my CHINESE CHIVES FLOWER ROASTED PORK FRIED HOR FUN.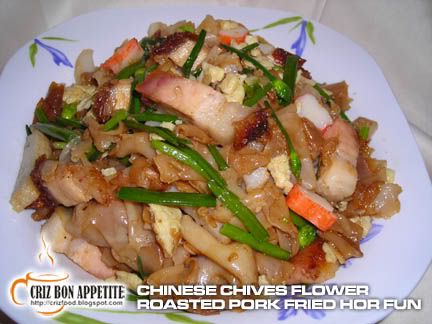 INGREDIENTS
1.5 kg hor fun (open up and cut into 1.5" strips)
600gms roasted pork (chopped)
300gms Chinese chives flower (cut into 1" length)
1 piece thick fish cake (halves and cut into strips)
2 pieces artificial crabsticks (cut into 4mm thickness)
5 eggs (beat with 1 Tspn sesame oil, 2 Tspn soy sauce and pepper)
10 porcelain spoons vegetable oil
3 cloves garlic (chopped)
6 Tspn soy sauce
1 Tspn dark soy sauce
3 Tspn sesame oil
3 Tspn oyster sauce
Pepper
Salt
Sugar
PREPARATION
1. Heat up wok with 6 porcelain spoons of oil and saute some chopped garlic. When the garlic becomes slightly brown, lower fire, pour in the hor fun. Add in 1 Tspn of dark soy sauce, 3 Tspn of soy sauce, 1 Tspn oyster sauce, 1 Tspn sesame oil and some pepper. Higher fire and stir until it looked slightly dried up. Scoop and leave aside.
2. Put in some oil and chopped garlic. Stir fry the fish cake for two minutes. Scoop and leave aside together with the diced crabsticks.
3. Put in 3 porcelain spoons of oil and sauté some garlic until brown. Pour in the roasted pork, 1 Tspn soy sauce, 1 Tspn sesame oil, 2 Tspn oyster sauce, pinch of sugar, and some pepper and stir fry for about two minutes. Add in the Chinese chives flower and stir until cook. Scoop and leave aside.
4. Add in the balance oil, sauté some garlic on high fire. When slightly brown, pour in the beaten eggs and scrambled it until loose.
5. Lower the fire. Pour in the fried hor fun and stir thoroughly. Next, pour in the rest of the ingredients and stir thoroughly.
6. Sprinkle some salt and pepper to taste (if not enough)
7. Scoop into dishes and serve while it is hot. You can garnish with fried shallots and serve with shrimp paste chili (sambal belacan).
(Serves: 4-6)
YOU CAN CHECK HERE FOR MORE RECIPES.