With the dampness within such a humid weather, more and more people are falling sick due to their ignorance to monitor their consumption of greasy and spicy food. Symptoms would include fever, fatigue, insomnia, dizziness, nausea, loss of appetite and more. To build up our immune system, resulting from our almost unavoidable outdoor food intake, let's have some herbal desserts. Let me share with you this simple SIX FLAVORS HERBS DESSERT WITH AMERICAN GINSENG recipe to lighten your body and to eliminate whatever dampness and heatiness within the body. According to the Traditional Chinese Medicine (TCM) practices, this combination of herbs has calming qualities and would help in eliminating body heaviness, chest tightness, sleeping disorder, strengthening the digestive system, lung in the case of relieving cough and retard aging processes.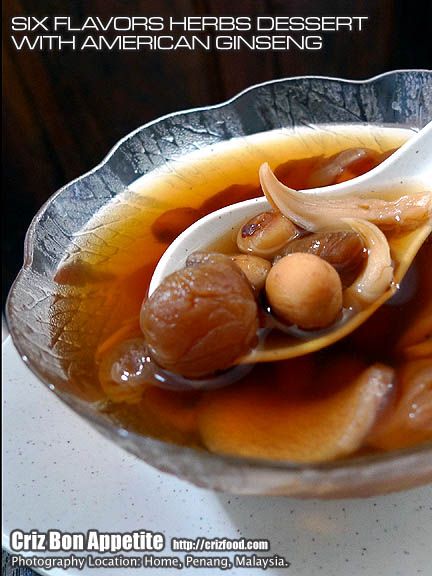 INGREDIENTS:
15g Radix Dioscoreae oppositae (淮山)
15g Polygonatum odoratum root slices (玉竹)
15g Euryale ferox seeds (芡實- fox nut)
20g lily bulbs (百合)
20g lotus seeds (蓮子)
20g dried longan (龍眼肉)
30g American ginseng slices (西洋參)
6 bowls water (about 2L)
120g rock sugar (add more to your preference)
PREPARATIONS:
Mildly wash all the herbs to get rid of any existing dust.
Slow Cooker:
Add in 6 bowls of water and set to HIGH. When water boils, add in all the ingredients and simmer for 4 hours on MEDIUM-LOW heat. Stir in the rock sugar to taste. Serve hot as a dessert or a beverage.
Pressure Cooker:
Bring the 6 bowls of water to boil on HIGH fire. Add in all the ingredients and close lid. When you hear the hissing sound from the pressure, bring fire to down to MEDIUM-LOW and cook for about 30 minutes. When the pressure is released about 5 minutes later, open lid, switch on your gas cooker and stir in the rock sugar to taste. Serve hot as a dessert or a beverage.
Note: Instead of taking it as a sweet dessert or as a beverage, you can OMIT the rock sugar and add in 300gms pork ribs as a savory soup. Add in salt to taste. (Cooking time – Slow cooker: 3 hours, Pressure cooker: 15 minutes)
(Serves: 3-4)
YOU CAN CHECK HERE FOR MORE RECIPES.