From a Nyonya dish yesterday, let's head on for something Indonesian today with the use of tempeh (pronounced as tem-pay). Tempeh which uses soybeans would undergo a fermentation process. The fermented soybeans would form a cake like block and normally would be wrapped in banana leaves to be sold at the wet market. Though bland in taste in raw form, this delicious staple food of the Indonesian, either as snack or used in cooking, had become the alternative ingredient for vegans as meat substitution. The best part is that you would have no cholesterol worries at all. This nutty rich flavored, chunky textured and chewy consistency tempeh has a high source of protein, dietary fiber and vitamins. So for today, it's just a simple SPICY STIR FRY YARDLONG BEANS WITH TEMPEH recipe.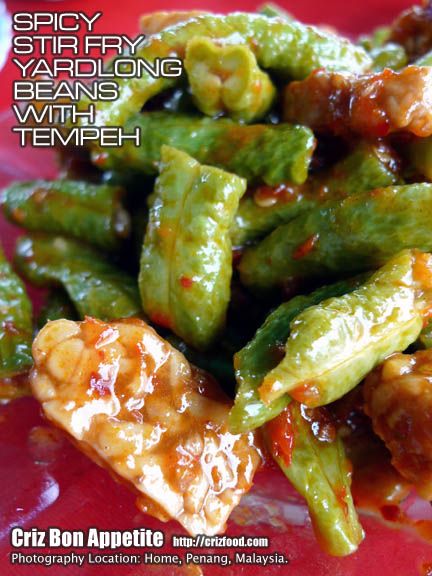 INGREDIENTS:
300g yardlong beans (cut into 1.5"/4cm length, blanch semi cook, drain)
20-30 pc tempeh (bite sizes)
4 tbsp olive oil/vegetable oil
2-3 tbsp vegan sambal belacan (cultured soy beans, sea salt & chili paste)
1/2 cup vegetable stock/1tbsp Vegeta with 1/2 cup hot water
Salt & sugar to taste
Note: If you can't get vegan sambal belacan at your local vegan grocery store, you can use my recipe below.
Vegan Sambal Belacan Recipe:
12 red chilies (remove seeds)
5 bird's eye chilies (cili padi)
2" galangal
3" lemongrass stalk (slice thinly)
2-3 Kaffir lime leaves
1 small tomato (remove skin and seeds)
1 tbsp ginger flower (bunga kantan, thinly slice)
2 tbsp miso paste/blended fermented black beans
3 tbsp toasted mushroom stems (coarsely blended/pounded)
A bit of water (for easier blending)
Preparations: Just blend all the ingredients above in a food processor. Add a light pinch of organic sugar and some sea salt to taste. Heat up 2-3 tablespoons of olive oil and sauté the above until semi dry. Add in some lime juice when needed to serve with fried items.
OPTIONAL:
A handful of toasted cashew nuts/peanuts
French beans (substitute)
Four angled beans (substitute)
PREPARATIONS:
• Heat up the olive oil in a wok and sauté the vegan sambal belacan until fragrant.
• Add in the tempeh and stir evenly.
• Add in 1/2 cup of vegetable stock and let it simmer until the gravy thickens under LOW FIRE.
• Add salt and sugar to taste.
• Add in the blanched yardlong beans (sometimes known as snake beans with a rougher surface) and stir evenly until cooked.
• Scoop out and serve with hot steaming rice.
(Serves: 3-4)
YOU CAN CHECK HERE FOR MORE RECIPES.