Cooking Nyonya cuisines which are normally spicy, tangy, herbal and aromatic has always required a lot of patience. In fact, the preparation alone for most of the dishes would take up a long time as it involved so much hard work in slicing, cutting and chopping of herbs and ingredients. Some such examples could be seen in dishes like Laksa, Perut Ikan, Acar Awak, Otak Otak and many more. But there is one dish that even some of the established Nyonya restaurants such as Hot Wok did not have it in their menu as it involved a lot of tedious fine slicing of many herbal leaves – SPICY NYONYA NASI ULAM (JUNGLE HERBS RICE)
This dish is definitely a very healthy diet as most of the ingredients are taken raw. My demised grandmother had made this yummy dish all the time, so have my mother some of the time. Before it ended up in my generation that none of us would even remember the existence of this dish, I would like to take some time to prepare this dish and share with you my heirloom recipe. Although I am not the descendants of the Baba-Nyonya, I would love to see someone pick up this recipe and be proud that it has been part of the Malaysian cuisines.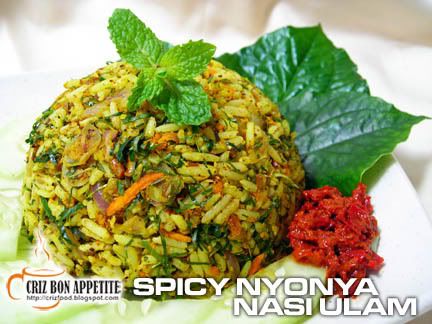 INGREDIENTS A:
4 plastic cups of rice (about 1kg of cooked rice)
100gms dried shrimps (soak, dice, fry & cool)
100gms salted ikan kurau (treadfin) meat (cut small thin slices, fry and cool)
1 teaspoon belacan (shrimp paste) powder – Maggi
3 tablespoon kerisik (toasted and pounded grated coconut)
1/2" fresh turmeric (chop finely)
10 mint leaves (daun pudina – chop finely)
3 screwpine leaves (daun pandan – knotted)
Salt, sugar and grounded black pepper to taste
INGREDIENTS B (FINELY SLICED):
6 shallots
1 stalk lemongrass (serai – use the thinner end only)
1/2 stalk torch ginger flower (bunga kantan)
4 kaffir lime leaves (daun limau purut)
6 polygonum leaves (daun kesom/laksa leaves/Vietnamese mint)
6 asiatica pennywort leaves (daun pegaga)
2 turmeric leaves (daun kunyit)
15 basil leaves (daun selasih)
4 galangal leaves (daun cekur)
10 wild betel leaves (daun kaduk/Piper sarmentosum)
GARNISHING:
1 cucumber (halves and sliced)
Sambal Belacan (fresh shrimp paste chili sauce)
Some wild betel leaves (optional)
Some mint leaves (optional)
PREPARATION:
1. Cook rice. When cooked, loosen the rice and fold in the knotted screwpine leaves. Leave aside to be fully cool. Make sure the rice maintain the grain shape but still soft.
2. Find a large container (4 times the amount of the rice would do).
3. Toss evenly all the ingredients in A & B and serve.
4. You can eat it just as it plain or garnish it with the above garnishing with side seafood dishes like Assam Prawns, Assam Fish, Grilled Fish or even some dry meat curries. Sambal Belacan and cucumber is a must if you like the dish spicier.
(Serves: 4-6)
YOU CAN CHECK HERE FOR MORE RECIPES.