For those mushroom lovers, you are in luck today as I'm going to share a simple bean curd sheets dish with an assortment of the earthly flavored mushrooms. I call this dish DEEP FRIED BEAN CURD SHEETS WITH ASSORTED MUSHROOMS. The rich in antioxidant mushrooms are low in fat and carbohydrates plus zero cholesterol with high proteins, vitamins, minerals, water and fiber. They contain natural insulin and enzymes which break down the starch and sugar in food. So, it's surely a healthy dish for all~ 🙂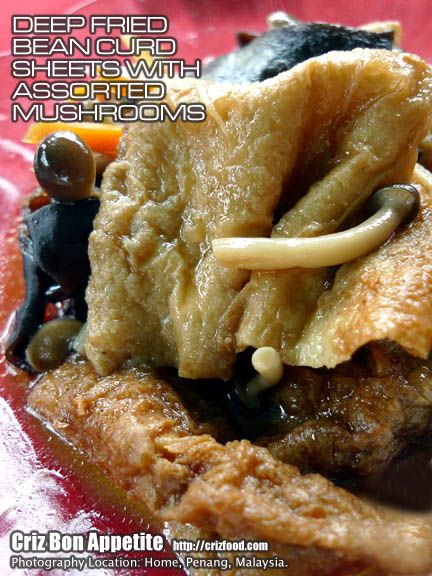 INGREDIENTS:
10pcs fresh bean curd sheets (tao bor/yuba/腐皮卷 – Each piece cut into 3 pieces. Deep fry until golden brown)
1/2" young ginger (scrape off skin, julienne)
1 palm size wood ear fungus (soak, cut into bite size)
10 medium size Chinese mushrooms (soak, cut into halves)
20 straw mushrooms (cut into halves)
2 packs Shimeji mushrooms (50g x 2, cut off roots, wash well, drain dry)
1 small carrot (remove skin, cut into half and slice into 1/4" thick semi circle, blanch)
5-6 tbsp mushroom sauce/vegetarian oyster sauce
2 tsp sesame oil
1tbsp corn flour (dilute in some water)
1 cup vegetable stock
2tbsp vegetable oil
Salt & pepper to taste
OPTIONAL:
Enoki mushrooms
Button mushrooms
Shao Xing wine (1 tsp)
Spring onions (cut into 1" length)
PREPARATIONS:
• Heat up the oil in a wok and sauté the julienned young ginger until fragrant.
• Add in the mushroom sauce and sesame oil. Stir evenly for about 1 minute.
• Add in the vegetable stock and bring to boil.
• Set fire to LOW and add in the wood ear fungus, Chinese mushrooms, straw mushrooms and Shimeji mushroom and simmer for another 5 minutes.
• Add in salt and pepper to taste plus the diluted corn flour to thicken the gravy.
• Pour in the deep fried bean curd sheets and sliced carrots. Stir evenly for about 2-3 minutes.
• Scoop out and serve with hot steaming rice.
• You might want to garnish with some spring onions to bring out the colors.
(Serves: 5-6)
You might wonder what fresh bean curd sheets are? Here's a photo on this wonderful ingredient.
YOU CAN CHECK HERE FOR MORE RECIPES.