Ever since Penang had been honored with the UNESCO World Heritage Site status, more and more heritage houses had been refurbished and turned into little eateries, some with lodging facilities as well. One of the new ones that had mushroomed not long ago on 18 February 2013 is the Pavilion Coffee, which is also in the midst of equipping its rooms for homestay with the adequate furniture and fittings. Located within the heart of George Town, this small and yet long architectural constructed entity, would surely give the Penang state an extra boost in hospitality tourism. The brainchild project of business partners, Jason Ng and Johnny Wu, Pavilion Coffee would be the next best destination for boarding, relaxation, art, coffee and dining for years to come.
Pavilion Coffee is not just a place for relaxation over a cup of coffee or meals ranging from light snacks until main meals, it has the ambience of the heydays as far back as the era of our ancestors with a light touch of some state-of-the-art memorabilia. Thanks to Johnny Wu, a Taiwanese jewelry designer, who has a nice collection of unique items for the shutterbugs. In fact, Pavilion Coffee would be quite an interesting place for Peranakan style and bridal photography in contrast to those beautiful colored tiles and wooden structures settings as well as an ideal venue for some small gatherings.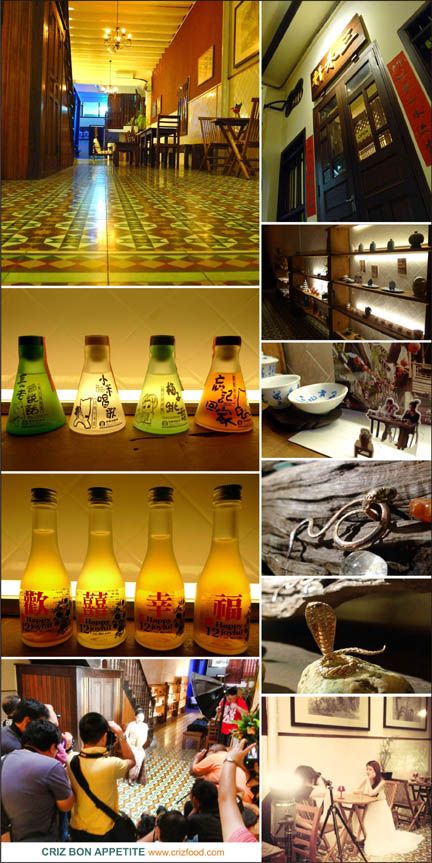 One of the main attractions that caught my attention was the division of the yellow and blue lightings. It was fun playing with the effects of the lighting as if the "human form" is from another "ghostly" dimension. Cool!
As the name mentioned, Pavilion Coffee is a relaxing place for a cup of coffee, may it be hot or cold. Though the quality of the coffee beans were not from the top range which might cost any coffee lover tens of ringgit per cup, the reasonable pricing itself would drive you back there for more frequent visits. There are quite many options of beverages available from coffee to tea. One of their main attractions would be their Cold Drip Coffee (RM12.90/glass), more often known as Dutch Ice Coffee. No doubt you would need to have all the patience to wait for the fluid to flow through drip by drip as it may take as long as an hour plus for the whole dripping process. In any case that you might not have so much time in hand, it's recommended to pre-order this drink at least 2 days in advance. Being chilled for 2 days would result in a stronger full bodied acidic brew most coffee lovers would love to have.
Two of their signature beverages that you should not miss out would be their Rose Latte Ice (RM8.90) and Classic Fruit Tea (RM6.90). Somehow, the rose syrup that the café utilized was a far better quality one in terms of fragrance and flavor. The overall combination was superb. On the other hand, the Classic Fruit Tea had some mild fruity flavors, tough I would prefer mine to be a bit stronger.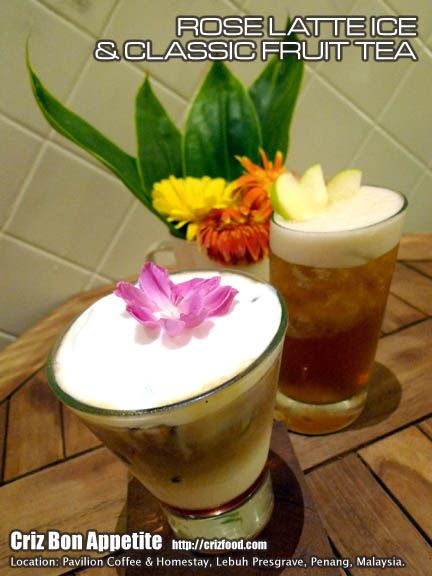 Another reasonable good latte would be their Hot Hazelnut Latte (RM6.90), though they really need to brush up their coffee art skills. LOL!
As for food wise, you'll be surprised how some of the dishes faired so well in my "food to eat" directory. Basically, the dishes served here have a mixed selection of Taiwanese, Japanese and Chinese cuisines with a light tweak towards Taiwanese flavors.
The first dish I had was the Fried Four Season French Beans (乾扁四季豆- RM7.90) served with mantou. You can also opt for rice. The sauce which was somewhat like the kanro shoyu (甘露醬油) or "sweet shoyu" was amazingly flavorful for dipping with just anything. The sweet sauce flavored French beans came topped with some fragrantly stir fried minced meat and prawns, followed by some garnishing of chopped red chilies, spring onions and wood ear fungus. Thumbs up!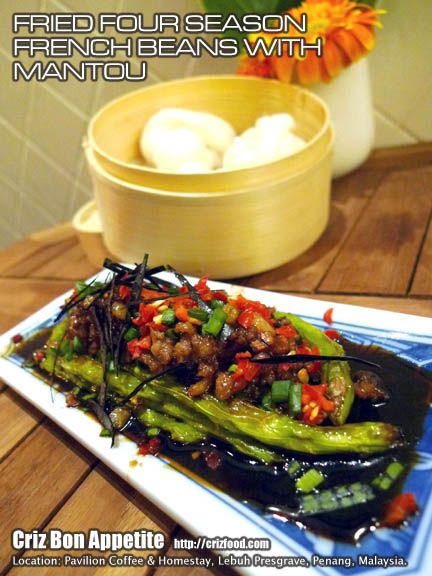 We had also added on the Kung Poh Century Eggs (宮保皮蛋 – RM9.90). Boy! I fell in love with this dish at first sight. The deep fried century egg slices depicted the feel of biting into springy fish slices. Combined with the flavors from some ginger slices, spring onion bulbs, garlic, small crispy pork bits, cabbages, dried red chilies, and dark sauce with a light touch of vinegar, it was a perfect dish to go with hot steaming rice.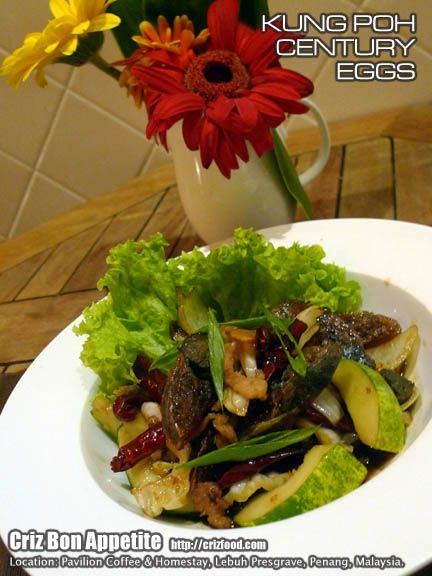 As for some additional rice item to go with my dishes, I tried out their special for the day – Cherry Blossom Fried Rice (櫻花炒飯 – RM7.90). It was basically a common plate of fried rice with some bits of pork and prawns. However, it had the required "wok hei" with the adequate seasonings on every grain of rice. This dish was also pepped up in taste with some deep fried dried shelled shrimps and chopped spring onions as garnishes.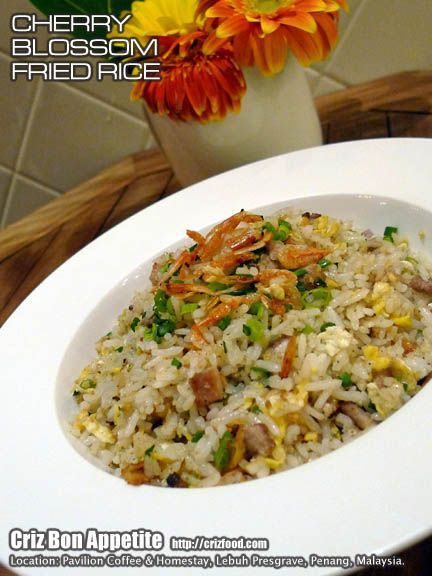 Another rice dish that you can go for would be their Tainan Braised Pork Rice (台南肉燥飯 – Bowl: RM4.50, Set: RM7.90). We opted for the bowl version as it was getting to be rather filling. The bowl of rice came with some nicely braised pork chunks, some crunchy pickled vegetables, half a hard-boiled egg and some pork floss. Surprisingly, the whole mouthful of rice was not as oily as what I had expected compared to the Taiwanese Braised Pork Rice (臺灣滷肉飯). Based on the chef's explanation, they had chosen a less fatty pork portion with a little tweak in flavors to suit the local taste. To me, it had a high hint of spices used, almost similar to the authentic style of Nyonya Tau Ewe Bak.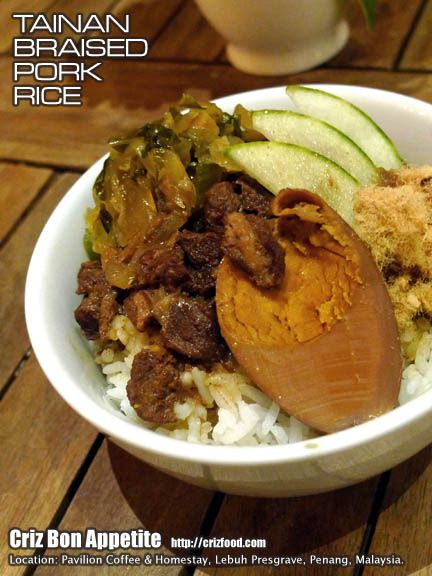 Ah! Rubber Duck! My hand got rather itchy and decided to get the adult version of Rubber Duck Curry Rice (大黃鴨咖哩飯 – RM7.90, Child Version: RM6.90). Just in case you are not aware of the Rubber Duck craze recently, you can check out here. The rice was nothing more than some steamed rice stirred with some turmeric powder, shaped into a duck and served with a rather mild version of curry with a combination of potatoes, carrot, apples and little bits of meat. I found the curry to be lacked in texture. It was not as creamy and flavorful as the Kare Raisu (Japanese Curry Rice). I guessed the kitchen would have to puree the apples as well as the onions with a heavier touch of flour and butter for a better texture.
As for light snack, we tried out their signature Deep Fried Prawn Cakes (太陽餅 – RM3.90/pc). I immediately fell into love with this light bite as I loved crispy stuff with juicy fillings. This snack is actually quite common in Taiwan though you don't find many restaurants serving them this way. Basically, the crispy skin is the same as the skin for the Chinese Jiaozi (dumplings) and the filling was nothing more than just a combination of minced pork, prawn, Chinese celery with a light touch of sesame oil. The end product was simply irresistibly delicious.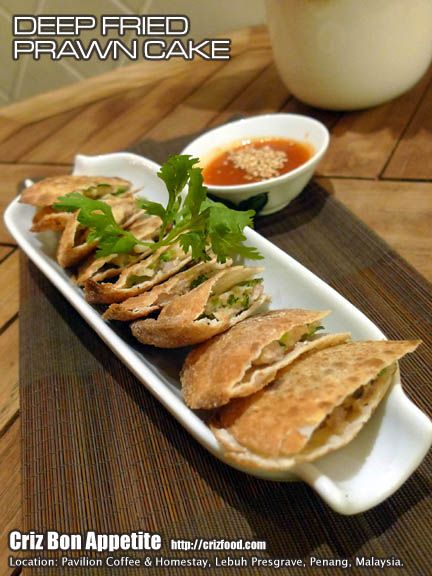 Overall, Pavilion Coffee fairs better than most of the newly opened café in town in terms of ambience and taste of food. As for coffee, their pricing can be considered quite reasonable compared to those outlets with the same quality. What I found really nice was the friendliness of the bosses there to listen to the opinions of their customers for personal advancement. Though they still need a bit of time for certain adjustments and improvements, interior and food quality wise, I can be sure that they would be more successful with the opening of their homestay in full swing soon.
Pavilion Coffee is located just opposite Kwong Wah Yit Poh main office along Lebuh Presgrave. If you are driving along Lebuh Pantai towards Jalan CY Choy, watch out for a right junction (Lebuh Presgrave) before the Lebuh Macallum traffic lights. Turn right into Lebuh Presgrave and immediately find a parking space as parking space can be quite limited during peak hours. Alternatively, you can find some parking spaces at Gat Lebuh Presgrave, which is on your left. Walk further up Lebuh Presgrave and you would see a small round light box with the word "Pavilion Coffee", just opposite Kwong Wah Yit Poh multi-level private car park.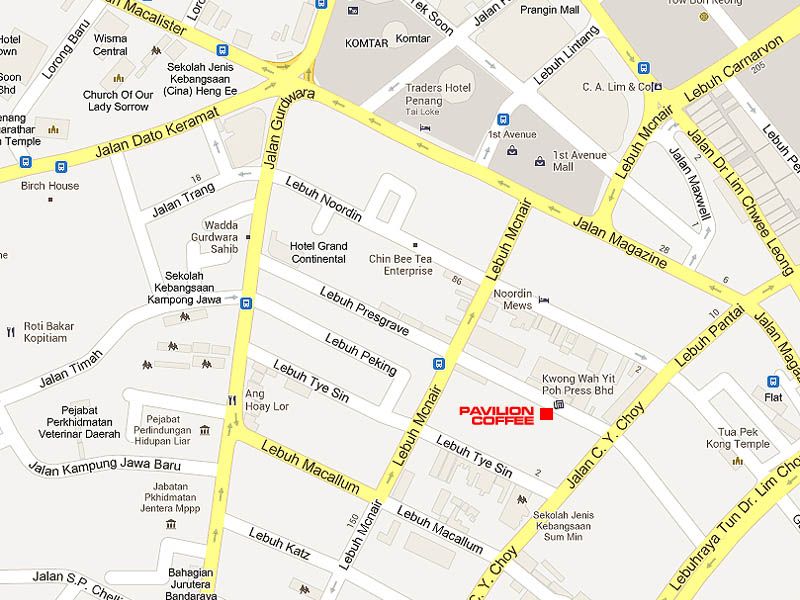 Name: PAVILION COFFEE
Address: 26, Lebuh Presgrave, 10300 Penang, Malaysia.
Contact: 604-261 9366
Business Hours: 11.00am-6.00pm (Monday), 11.30am-10.00pm (Tuesday-Sunday)
GPS: 5.410577,1 00.331431
FB: http://www.facebook.com/pavilioncoffee26
RATING:
Ambience: 9/10 (1-4 cheap, 5-7 average, 8-10 classy)
Food Choices: 7/10 (1-4 limited, 5-7 average, 8-10 many choices)
Taste: 7.5/10 (1-4 tasteless, 5-7 average, 8-10 excellent)
Pricing: 7/10 (1-4 cheap, 5-7 average, 8-10 expensive)
Service: 8/10 (1-4 bad, 5-7 average, 8-10 excellent)