I have written some time back in early 2009 when Chin Bee Tea Café first opened up its door to give the best of what Chinese cuisine was all about. It's time for me to share with you in depth why until today I still claim them as my most recommended restaurant in Penang as this restaurant is not just any Chinese restaurant you would find scattered all around Penang island but one that would provide you with a personalized dining experience (私房餐廳). Thanks to the last remaining of the top few Chinese cuisine chefs in Penang, Sifu Malai Chong, I was able to have so many wonderful dining experiences.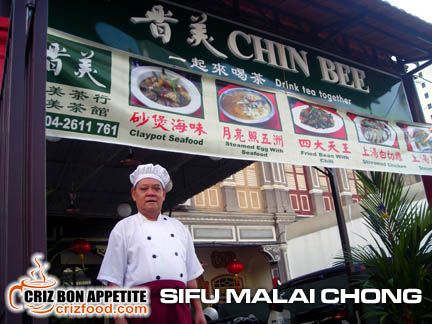 Over the last one year plus, there were endless streams of famous people such as dignitaries, celebrities and food critics patronizing this small and simple restaurant located along the secluded area of Georgetown. From then on, it had not stopped anyone from coming back to try out more of their delicious dishes. To some, dining here would be quite exorbitant but I can assure you that quality is the main virtue of this restaurant. All ingredients used are of high standards and freshness. Even the teas they served were of a higher grade since they are also one of the main distributors of tea leaves in Penang. Their Ginseng Tie Kuan Yin would always remain as my energy booster. Simply refreshing!
Let's start with the introduction of one of the most sought after dishes that even the Hong Kong food critic, Mr. Hugo Leung Man-to aka Toto would not deny during his visits to Malaysia. Can you guess what would be the main ingredient in that dish? It's the most expensive freshwater fish in Malaysia – the Empurau (wild mahseer/ 忘不了aka unforgettable). What made the Empurau so different compared to its other mahseer family members, namely the Kelah? It's a slowing growing fish, living in the natural habitat in Sarawak and would take around 5-6 years to reach a "so-called" recommended 3kg dining size as it's believed that the flesh would be firmer from 3kg onwards. This omnivorous fish's diet consists of smaller fishes, algae, crustaceans, insects, frogs and also fruits, namely from the endemic irregular fruit bearing engkabang (illipe/Shorea macrophylla/light red meranti/pontianak illipe) trees. It's the flavors from the fruits that gave the fish that unique fragrant, even when uncooked. The price for a cooked Empurau would range safely between RM800 and RM1000 per kilo, depending on where the fish comes from. Wild Empurau would fetch a higher price compared to those reared ones. By having prior booking, the restaurant would assure you the best Wild Empurau you would have in your life by serving you with their signature Steamed Empurau (上湯浸忘不了). As you can see from the RM2200 Steamed Empurau dish below, even the scales are edible. They were carefully scraped off the fish and given some deep frying. It was like biting onto some crunchy crackers. You can even see that the bones were uniquely constructed. Nature's wonder right?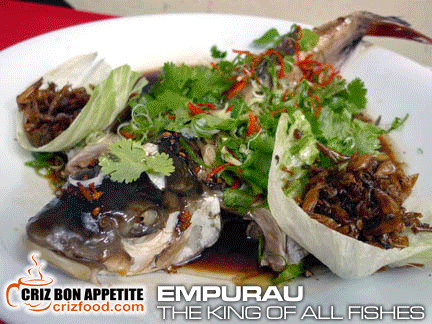 If you feel that the above fish dish would be a bit taxing to your budget, you could always check out what's new in their fish menu. Anything that's not fresh or having a muddy taste would surely not be served on your table. At times, you might even get some exotic freshwater fish that even I could not get any scientific name for it, namely the Steamed Ngan Wu (上湯浸銀湖). Depending on the weight, a cooked fish would cost between RM100 and RM150. From the outlook, the freshwater fish resembled a cross between the shape of a Chinese pomfret (tao tay/斗底魚/正鯧) and the color of a golden pomfret (金昌) but with bigger eyes. The flesh of the fish tasted just like the smoothness you would get in a Chinese pomfret, except that it was thicker and meatier. I love the simplicity of this dish with only some quality soy sauce, a dash of Shao Xing Wine, some garlic oil and a generous garnish of chopped coriander.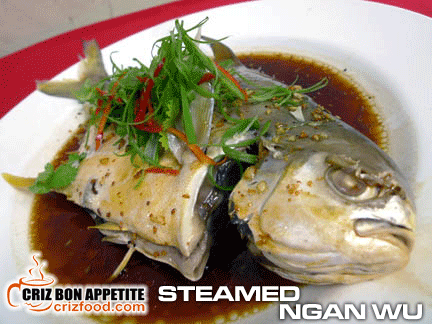 Although many people are against the brutal killing of sharks for their fins but there still existed some limited supplies for the consumption of those sharksfin lovers here. The Dragon & Tiger Sharksfin (龍虎扒翅: RM250-RM300) was another unforgettable seafood dish. Porcelain spoons of stir fried mixed shredded vegetables with eggs combined with sharksfin were steamed to be in shape. These would then be displayed in the center of a large plate and topped with a generous amount of sharksfin, crab meat, scallops and prawns in a thick stock of gravy. This dish is the most value for money dish I have ever encountered so far.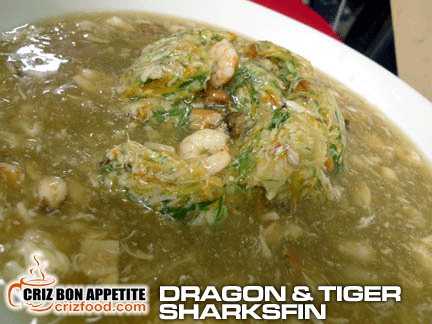 Another of the exotic seafood dishes that you can try out here would be their Spicy Fish Bladder (甘香魚鰾: RM100-RM150). The fish bladders were not just any ordinary fish bladder but of a higher quality ones. They were rare eel bladders. This mildly spicy dish was a hit amongst us as it had the chewiness from the fish bladders and the crunchiness from the added vegetables. The whole combination was perfect!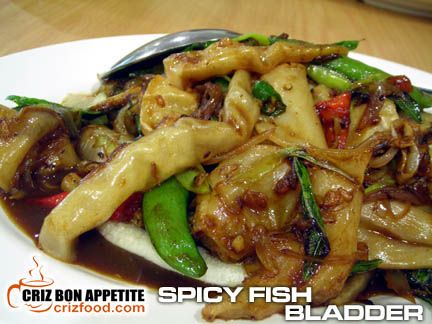 If you feel like having some lighter dish in between your meal, you can preorder some Fragrant Crispy Duck (香酥鴨: RM80-RM120). This is another way of serving compared to the normal roasted Peking Duck style. Instead of roasting, the duck meat pieces were marinated in their special sauce and deep fried until crispy. These would then be sliced into smaller bite sizes and served with some chopped pickled ginger, shredded cucumber, Chinese wheat flour crepe (popiah skin) and some lining sauce. This was a fun DIY dish and the combined taste was remarkably delicious.
The next dish had a funny name – Granny Asking Direction (婆婆問路 – RM20). Haha! In another word, it's another poor man's dream of having an expensive sea cucumber dish. The sifu did a good job in braising the fuzzy melon/squash (毛瓜/mo kua) to look just like sea cucumbers and the dish had some seafood, vegetables and mushrooms. The whole presentation was rather exclusive. If I did not take a bite into the melon, I would think those were sea cucumbers instead. As for taste, the thick gravy matched well with the rest of the ingredients. Unfortunately, the chewy bite on the "sea cucumber" was not there. What would you expect from a braised melon right? 😛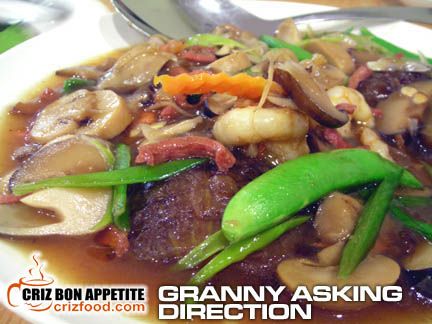 This restaurant seemed to have many catchy names for their dishes. The next dish was a common dish but the name can be quite bombastic – United Nation Mixed Vegetables With Tofu (聯合國炒菜與豆腐 – RM20). I always love the Cantonese way of preparing stir fry mixed vegetables as they have a way of preserving the bright colors of the vegetables and at the same time giving them a taste of its own. The accompanied deep fried tofu slices were the specialty of the restaurant as well. They would simply melt in your mouth. It was simple and yet very appetizing.
Do you know that there's one dish that would almost always appear in my dining receipt? It's another of my recommended Special Spareribs (家好骨 – from RM12 onwards). Each piece of the spareribs was specially selected for this dish with a bit of fat and lean meat still attached to the bones. In fact, the ribs came from the best part of a pig. I always have a phobia of ordering sparerib dishes as some would be too tough to bite. However, the way the ribs were prepared here got me yearning for more. From each bite, you could feel the crispiness of some mildly coated batter on the surface while the meat within maintained the tenderness, juiciness and right flavors.  Even the fatty parts melted in my mouth. There were strong hints of Lea & Perrins Worchester sauce and tomato sauce being used here. Yummilicious always!
Another of the signature dish you would get here would be their Mixed Seafood Curry (from RM30 onwards). This is another of the sifu's concocted chili paste recipe. Other than being very fragrant and appetizing, the prawns and fish fillet within were real fresh. Do keep a watch out soon as the sifu has every intention to market his special chili paste to the public.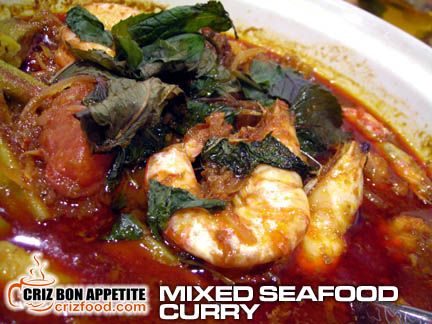 Other than the restaurant's smooth and delicious Three Jewels Steamed Egg (三黃蛋), there's another dish that the sifu cooked up impromptu for me – Hot Plate Egg Wrapped Mixed Vegetables (蛋包炒菜 – RM20). Wow! I'm impressed! Although it did look like any egg wrap dishes but the amount of vegetables and ingredients used were very generous. Even the gravy of the stir fry vegetables complimented each other well. Delicious!
Chin Bee Tea Café does not only serve dishes with rice. In fact, you could also order ala carte dishes (upon availability of noodles) such as Oriental Fried Rice, Hot & Spicy Fried Rice (特色炒飯), Hong Tu Noodles (鴻圖麵), Seafood Noodles (海鮮炒麵) and many more. My favorite would always be their Gui Hua Mien (桂花麵 – from RM15 onwards). The noodles were of a deep fried noodles (Ee Mee/伊麵), skillfully stir fried with generous amount of crab meat, scallops, prawns and egg, garnished with lots of sliced lettuce. I must admit. I'm so stuck with this delicious and flavorful plate of noodles.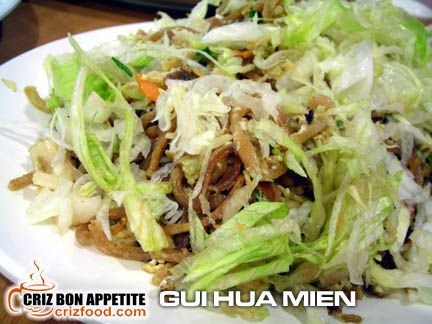 Another flavorful noodle choice would be their Fried Glass Noodles (炒冬粉 – from RM12 onwards). Each strain of the noodles was evenly flavorful with the right wok hei (high heat fragrance) and the ingredients used were generous too.
My post title may have sounded like the restaurant is meant for the rich and famous. Do not get me wrong as there are many more dishes available here to fit the budget of any income group earners. You would surely not regret stepping into this restaurant ever after.
If you are coming from Trader's Hotel along Jalan Magazine, keep to your left and drive on until you have reach the second traffic light. Turn into the first road on your left (Jalan Gurdwara – left of the Gama Supermarket) and then the first left turning into Lebuh Noordin. The shop is just somewhere in the middle on your right within a row of heritage houses. In fact, this shop is just two houses away from another recommended confectionery manufacturer by the name of Hock Lok Siew Biscuit Trading. Please make sure you call up for reservation as this place could be packed during lunch or dinner hours.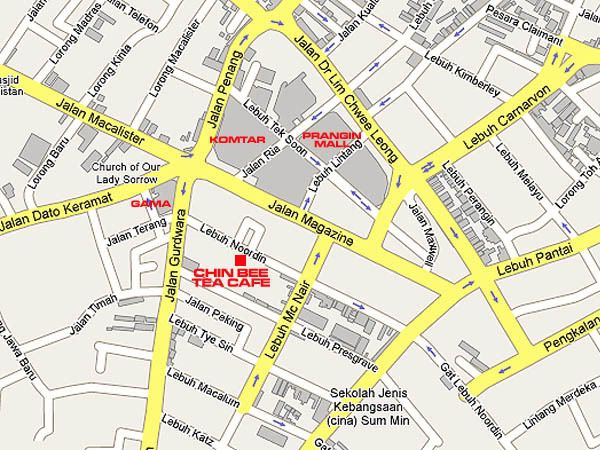 Name: CHIN BEE TEA CAFE
Address: 124, Lebuh Noordin, 10300 Penang, Malaysia.
Contact: 604-261 1761, 012-499 9972 (Mr. Ong)
Opening Hours:
12noon – 3.00pm, 6.00pm-9.30pm (Closed Alternate Wednesday)
GPS: 5.412361, 100.329541
RATING:
Ambience: 8/10 (1-4 cheap, 5-7 average, 8-10 classy)
Food Choices: 9/10 (1-4 limited, 5-7 average, 8-10 many choices)
Taste: 10/10 (1-4 tasteless, 5-7 average, 8-10 excellent)
Pricing: 8/10 (1-4 cheap, 5-7 average, 8-10 expensive)
Service: 9/10 (1-4 bad, 5-7 average, 8-10 excellent)