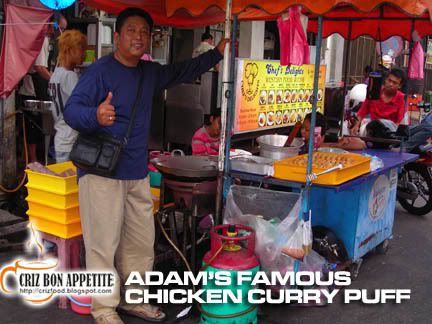 Are you tired of eating curry puff with only spicy potato as the filling? You should try out Adam's Famous Chicken Curry Puff in Pulau Tikus, Penang. In fact, this stall served the best curry puff in Penang. If you timing is good, you will get pipping hot curry puff straight from the stove. Not only is the curry puff steaming hot, it also has chunks of chicken meat in it. On top of that, it's only RM1.40 each (will increase to RM1.50 at an unconfirmed date) and big enough to keep your tummy filled.
Other than the curry puff, you can also try out the Nasi Lemak (Steamed Coconut Milk Rice) with spicy anchovy and a slice of egg. As for orders for parties, Adam does not provide anything smaller than that size of Curry Puff. Can you imagine that most of the time these are sold off within minute? On an average day, Adam would have to prepare safely about 800pcs of Curry puff to be sold off at both his stalls.
Just turn into Pulau Tikus Market at Jalan Pasar and you will see the stall at the junction of Jalan Moulmein. The stall is in front of Sin Hup Aun Café where as the Green Lane stall will sell in front of Kedai Kopi Genting.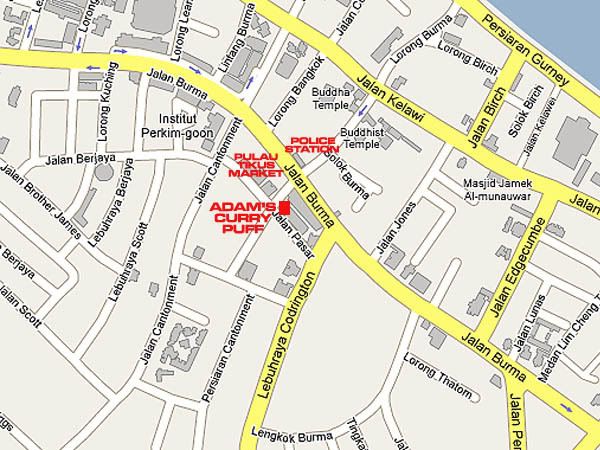 Name: ADAM'S CHICKEN CURRY PUFF @ SIN HUP AUN CAFE
Address:
Pulau Tikus: Lorong Pasar, 10350 Penang, Malaysia.
Green Lane: Lorong Delima 3, Penang, Malaysia.
Contact: 016-484 1605 (Adam)
Opening Hours:
Pulau Tikus: 7.00am – 9.00pm
GPS: 5.429850, 100.312450
Green Lane: 9.00am – 5.00pm
GPS: 5.382960, 100.303996
RATING:
Ambience: 4/10 (1-4 cheap, 5-7 average, 8-10 classy)
Food Choices: 6/10 (1-4 limited, 5-7 average, 8-10 many choices)
Taste: 8/10 (1-4 tasteless, 5-7 average, 8-10 excellent)
Pricing: 7/10 (1-4 cheap, 5-7 average, 8-10 expensive)
Service: 8/10 (1-4 bad, 5-7 average, 8-10 excellent)