Note: This restaurant has ceased its operation.
NOTE: Arirang Korean Restaurant has ceased operation. In its place is another Korean Restaurant by the name of Sa Rang Chae Korean Restaurant.
Korean food is totally different compared with Japanese or Chinese food. The food uses a lot of garlic, chili paste, sesame oil, salt, soy sauce, sugar, ginger and fermented soy paste.
Usually kimchi (fermented/pickled vegetables) are served at the beginning of each meal accompanied by salad. In fact, the Koreans consumed a lot of vegetables with most meat dishes eaten wrapped in fresh greens. Most of their food are taken either deep fried, BBQ or in stews.
There are many Korean restaurants in the Pulau Tikus / Gurney Drive area. So far, the one with a quiet and good ambience is the Arirang Korean Restaurant in New Bob Centre. If you are in for a change of diet and try out the new experience, you can drop in there. Recently, I had a family dinner at the restaurant and that was quiet an experience for me and the family. Here are the dishes what we had ordered.
Kimchi & Salad: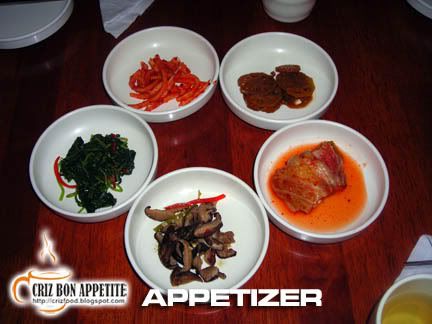 Main Dishes and Side Orders: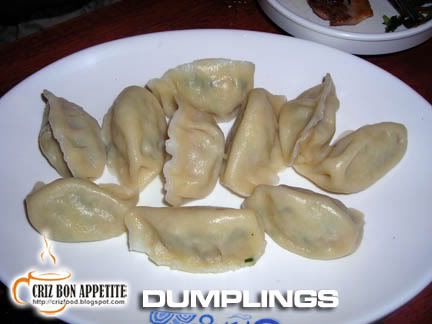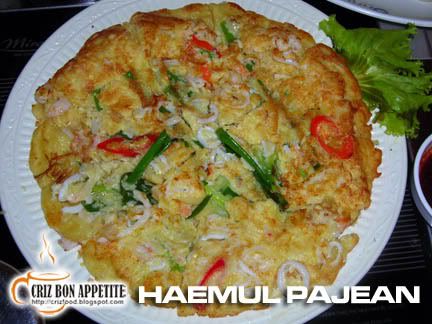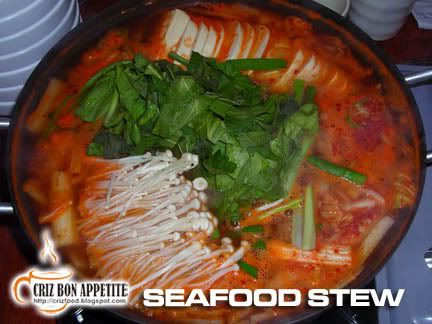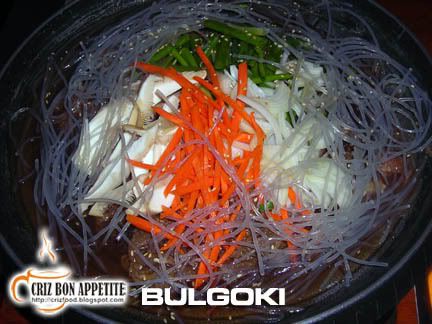 As for pricing, you can judge for yourself if it is within or beyond your means to spend on a family outing. I had the meal with 4 adults and two children. The total cost for all the meals including green tea (Korean green tea has a mild coffee taste in it) was RM217.80, inclusive government and service taxes which came up to RM19.80.
Here is the breakdown of the food pricing: Samgyupsal (13 pcs plain fatty pork belly slices just to BBQ) RM21, 10pcs thick skinned Dumplings RM12, BBQ Pork Ribs with salad RM29, Haemul Pajean (flour based seafood omelette) RM20, Bulgoki (sweetened beef slices stew with glass noodles and vegetables) RM50, Seafood Stew RM60.
The restaurant is located right at the corner shoplot of New Bob Centre, directly opposite Penang Chinese Primary School (Peng Hwa). You won't miss it at all.
Name: ARIRANG KOREAN RESTAURANT
Address:
11-G-1 & 2, New Bob Centre, Jalan Gottlieb, 10350 Penang, Malaysia.
Contact: 604-2268518, 6016-467 2203 (Park Won Chan)
Opening Hours:
12.00pm – 3.00pm, 6.00pm – 10.30pm (Sunday Dinner only)
GPS: 5.432649, 100.302150
RATING:
Ambience: 7/10 (1-4 cheap, 5-7 average, 8-10 classy)
Food Choices: 7/10 (1-4 limited, 5-7 average, 8-10 many choices)
Taste: 5/10 (1-4 tasteless, 5-7 average, 8-10 excellent)
Pricing: 9/10 (1-4 cheap, 5-7 average, 8-10 expensive)
Service: 7/10 (1-4 bad, 5-7 average, 8-10 excellent)