This post practically covered the last of the five Thai restaurants within the district of Pulau Tikus, Penang – Aroy Chang Moo Kata which would serve dishes from Chiang Mai and Chiang Rai provinces in Northern Thailand. The other four would be home cooked dishes from the province of Nakhon Si Thammarat in Southern Thailand at Annathai-Kitchen, beef noodles from Sukhothai in Central Thailand at Sukhothai Beef Noodles House, Krung Thep Maha Nakhon (Bangkok) style Thai dishes at Aroi Thai Restaurant and Wang Thai Restaurant. So, what are the dishes from this one year old Thai Restaurant that had attracted a steady flow of diners? Let's read on below.
It's always nice to start a meal with some salad to boost up the appetite such as the Som Tam (ส้มตำ/Spicy Papaya Salad – RM5), which in Thai means "pounded sourness". The usage of ingredients varies from different parts of Thailand but basically it would consist of quite similar sauces such as lime juice, bird's eyes chili, fish sauce (nam pla) and palm sugar. The ingredients in the salad served here included shredded young papaya, tomatoes, yardlong beans, cabbages, dried shrimps and toasted peanuts. The taste was just right to my liking as it was not overly sour and pungent as served elsewhere.
There are many variations on how you would want your fish dish to be prepared. I had Pla Phat Phet (ปลาผัดเผ็ด/Deep Fried Fish in Spicy Sauce – RM35-RM45) with deep fried sea bass in it. The flavor was rather unique as it had a strong hint of galangal in the sauce, freshly blended spices, Thai basils and some coconut milk just to make it a tad more saucy and fragrant. The sauce was great to go with rice but this dish could be a bit spicy for some. Somehow, the taste of Thai basils was not prominent in the dish as they were deep fried.
The next dish was something that most diners would not miss out. It's Tom Yam but the version served here had a clearer soup based and it's called Tom Yam Nam Sai (ตมยามนามซ้าย/Clear Tom Yam with Mixed Seafood – RM15-RM25). It had prawns, fish, squids, abalone mushrooms, tomatoes, onions, cilantro and spring onions all cooked in a flavorful hot pot of sweet and sour soup. It tasted almost similar to the Thai style steamed fish with sour plums but with some hints of fish sauce, tamarind juice, lime juice, lemongrass, kaffir lime leaves, and galangal being added in. I also noticed that they did not include the small spicy killer aka bird's eyes chilies inside. The spiciness was not as strong as the common tom yam with red chilies oil included.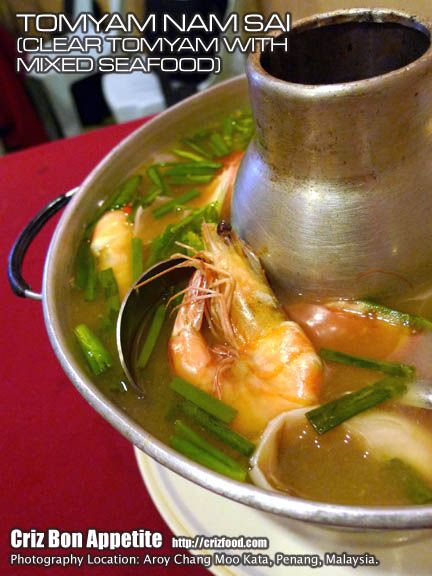 We were also served the common household dish of Cha-Om Omellete (ขายจิ๋วจะออม /Khai Jiu Ja Awm – RM8). The feathery shoots of this the Thai's staple food plant (also known as climbing wattle/Acacia pennata) are common used in omelettes, soups, curries or simply by stir frying in mild sauce. Only young shoots are used as the older ones can be rather fibrous, just like the bottom part of an asparagus. The shoot has a unique flavor almost like a much milder version of the stink beans (buah petai). It was just a simple dish but it fulfilled my contentment.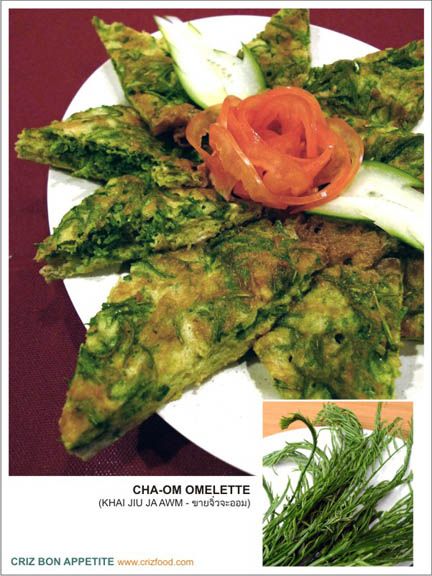 The restaurant does serve some nice prawn dishes such as the Ma Kam Goong Grawp (มะขามกุ้งกรอบ/Crispy Prawns in Tamarind and Thai Basils – RM3.50 each/Min 6 pieces). Each batter coated prawn had a nice dressing of tamarind paste with a hint of plum sauce added in. The prawns were garnish with some deep fried Thai basils and onion. This is a must try dish! Awesome!
The next dish which was the Lab Moo Sub (ลาบหมู/Spicy Minced Pork Salad – RM12) was delicious but it has a "wasabi" type of spiciness. It would be best to go with some rice or just complement it with some vegetable cuts to lessen the hotness. This dish can be prepared easily with just some water cooked minced pork, toasted glutinous rice powder, sliced kaffir lime leaves, onions, chili flakes, fish sauce, lime juice, palm sugar and garnished with some spring onions and coriander.
Instead of having with rice, this dish which was the Khoon Ob Woon Sen (คุณอบวุ่นเส้น/Thai Style Glass Noodles – RM15) can be eaten just by itself. In fact, this was one of my favorites. The delicious glass noodles had all the nice gravy penetrated right into each strand, making each mouthful flavorful. The dish contain a generous amount of sautéed prawns, topped on the glass noodles, which have been simmered with some stock, sweet soy sauce, fish sauce, sesame oil, oyster sauce, black pepper, garlic, ginger, cilantro roots and garnished with some chopped cilantro. Yummilicious!
Most people would think that Aroy Chang Moo Kata is just the name of the restaurant. Well, they were not wrong. In fact, Moo Kata (หมูกาต๊ะ/pork pan/pork skillet/meat pot – RM30 for 2-3 pax) is actually the Northern Thais' way of having a feast with a cheaper budget. The moo kata pan would consist of two sections. One part on the dome-like structure would be used for barbequing while the circular shallow area below the dome would allow you to boil-cook some items. Some restaurants such as the BBQ Plaza at Gurney Plaza, Penang would be using gas stove but at Aroy Chang Moo Kata, they were as traditional as can be with the usage of burning charcoal. You would have 3 options of soups here, namely clear chicken stock, tom yam stock or the clear tom yam stock. With the spicy and sour dishes before this meal, we opted for the clear chicken soup. It was indeed a good choice as the soup was very flavorful. The set would come with a plate each of pork and chicken (with 3 marinates such as sesame, tom yam and black pepper), squids, fish, prawns, fish/pork balls, fish cakes, pork bacons and a basket full of vegetables, shitake mushrooms, enoki mushrooms and some glass noodles. Some pork fat would be given to you to oil the skillet prior to barbequing your food. This is truly a great bargain for such an amount paid.
The restaurant has only one type of dessert, mainly the Tub Tim Krob (ทับทิมกรอบ/Jellied Water Chestnut with Jackfruit in Coconut Milk – RM2.50/bowl). Somehow, the dessert served here was not to my liking as the mock pomegranate seeds (water chestnut cubes in red colored corn starch) were flavored and colored with rose essence. The dessert lost its originality of its jackfruit flavor as the overall taste was overpowered by the taste from the rose essence. Moreover, the water chestnuts were cubed too finely, resulting in a blob of clumped starch.
The beverages here are rather limited too. You would get canned drinks, packet tea or beers easily. The only item that was freshly brewed was the Lemongrass Tea (RM2.50). You can either have it hot or iced.
Aroy Chang Moo Kata can be easily located right next to the Dhammikarama Burmese Temple and diagonally opposite Wat Chayamangkalaram, the home of Penang's Reclining Buddha. As this is a one way street, the best way would be through Jalan Kelawei. If you are coming from town along Jalan Burma towards Pulau Tikus, turn right into Jalan Pangkor when you see a "Y" junction just next to the Chinese Recreation Centre (CRC). Drive further on, keep left and turn left into Jalan Kelawei. Drive alaong Jalan Kelawei and keep a watch out for the fourth junction on your left. When you would see the yellow wall of the Wat Chayamangkalaram, turn left into Lorong Burma. Aray Chang Moo Kata is only 2 houses away after the Dhammikarama Burmese Temple on your left. You can find ample parking space along the road. If not, drive further up to Solok Burma on your left to find more parking spaces.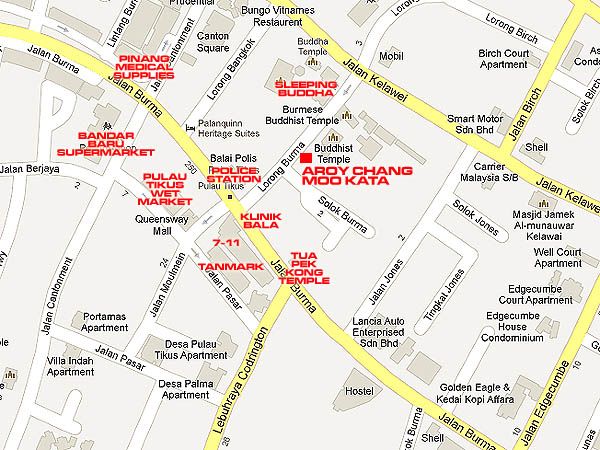 Name: AROY CHANG MOO KATA
Address: 22 Lorong Burma, 10250 Penang, Malaysia.
Contact: 010-379 9852 (Mr. Jerry Lim)
Business Hours: 11.00am-2.30pm, 6.00pm-11.00pm (Closed Monday)
GPS: 5.431036, 100.313624
RATING:
Ambience: 7/10 (1-4 cheap, 5-7 average, 8-10 classy)
Food Choices: 7/10 (1-4 limited, 5-7 average, 8-10 many choices)
Taste: 8/10 (1-4 tasteless, 5-7 average, 8-10 excellent)
Pricing: 7/10 (1-4 cheap, 5-7 average, 8-10 expensive)
Service: 8/10 (1-4 bad, 5-7 average, 8-10 excellent)