This bakery used to be owned by Sunflower Homemade Cakes which was one of the best known Indonesian Layer Cake makers in Malaysia but somehow I am still clueless on the reasons they moved their business elsewhere. However, I think one of the bakers still remained in the bakery as the layout and food taste had not changed too much. I still visit this place each time I'm around that area and buy back some of their yummy cheese tarts.
There are four different choices such as the Blueberry, Strawberry, Black Forrest and Chocolate Cheese Tarts. I will usually go for their Blueberry and Strawberry Cheese Tarts as I find them more suitable for my taste buds. I used to buy the tarts at RM2.20 each but I guessed with the increase price of the ingredients, they are selling at RM2.90 each now. I tend to like to cake the tarts chilled as I felt that I can truly enjoy the cheesy taste of the tarts.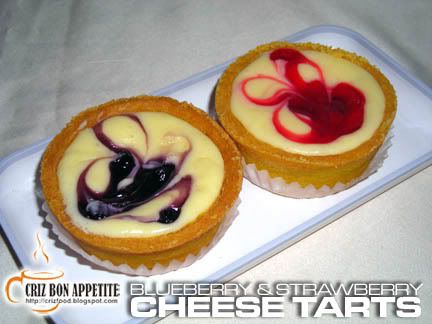 The bakery is just diagonally opposite the Kota Raya Complex along Jalan Tun Tan Cheng Lock and very near to the Petaling Street area.
Name: BAKERI ROTI RAYA
Address: 23 Jalan Tun Tan Cheng Lock, 50000 Kuala Lumpur, Malaysia.
Contact: 016-6561144
GPS: 3.145232, 101.698133
RATING:
Ambience: 6/10 (1-4 cheap, 5-7 average, 8-10 classy)
Food Choices: 7/10 (1-4 limited, 5-7 average, 8-10 many choices)
Taste: 8/10 (1-4 tasteless, 5-7 average, 8-10 excellent)
Pricing: 7/10 (1-4 cheap, 5-7 average, 8-10 expensive)
Service: 8/10 (1-4 bad, 5-7 average, 8-10 excellent)