You would be amazed by how many times a Malaysian would eat a day, especially those Penangites with so many options available from breakfast right up to supper. You have so many choices at each and every corner of every district such as Adam's Karipap Ayam (chicken curry puff – RM1.50 each) in Pulau Tikus Market along Jalan Pasar, Te Chang You Tiao Wang (the longest Chinese cruller at 14" length – RM1 each) along Jalan Paya Terubong, 8o varieties of kuih-muih (local finger snacks – 40sen each) at Mat Relax Corner along Jalan Jones or even some authentic Cantonese snacks at Guangzhou Cake House along Lebuh Carnarvon. Who could resist such temptation even at odd hours of the day?
Another great snack would be the Malaysian Pancake, commonly known as Apom Balik by the Malays and Ban Chang Koay by the Chinese community. Where could you get such great snack then? One prominent place would be right in town itself. With a continuous flow of buyers from all races, En. Noor Azam has been selling his Apom Balik right in front of the General Post Office (Pos Besar Pulau Pinang) along Downing Street (Lebuh Downing) for more than a decade.
What made his Apom Balik (60sen each) so demanding compare to many other sellers in town? His Apom Balik has the right texture, thickness, sweetness, buttery taste, freshness of the pounded peanuts and most importantly the crunchiness on the crust at all time. There are actually two types available at his roadside stall. One would be a thinner version with crunchy crust. You could opt for plain or with cream corns.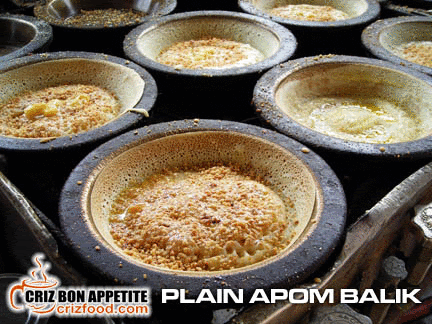 Another version would be the thicker type being slowly cooked in a large pan. This version would be more fluffy and soft in the center.
If you are at that area, do try his Apom Balik out. I had not stopped patronizing his stall each time I'm around that area as I find his skills in preparing this wonderful snack had maintained its consistency throughout all the years. It's a great snack for tea.
Finding the stall would not be hard if you frequent Lebuh Pantai (Beach Street) often for your banking transactions as this is the road where all the major banks are located. Just drive along Lebuh Pantai until you have reached Hongkong Bank. The road next to the bank is Lebuh Downing. Drive right until the end and you would see the General Post Office at the junction of Lebuh Downing and Pengkalan Weld (Weld Quay). The stall is just in front of the GPO, next to a Chinese iced drink seller. Do try out the corn drink here too as it's one of the good ones around.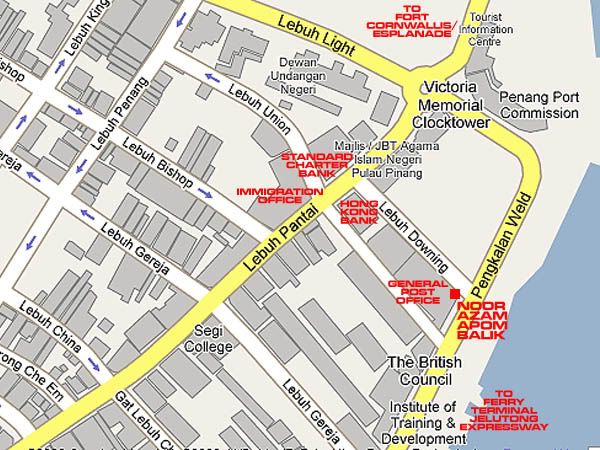 Name: NOOR AZAM APOM BALIK
Address: Lebuh Downing, 10300 Penang, Malaysia.
Opening Hours: 12.00noon-6.00pm
GPS: 5.417557, 100.344192
RATING:
Ambience: 5/10 (1-4 cheap, 5-7 average, 8-10 classy)
Food Choices: 5/10 (1-4 limited, 5-7 average, 8-10 many choices)
Taste: 8.5/10 (1-4 tasteless, 5-7 average, 8-10 excellent)
Pricing: 6/10 (1-4 cheap, 5-7 average, 8-10 expensive)
Service: 8/10 (1-4 bad, 5-7 average, 8-10 excellent)