If you think that all the surrounding 24 hours eateries are some of the venues convenient to kill your hunger at odd times of the day, then Barista @ Vistana Hotel Penang will be your next haunt. Either you are in a rush for a morning coffee boost, a quick breakfast or soothe your hunger in the middle of the night, you can also drop by at the Barista as it would be opened 24 hours a day and 7 days a week. Whether you are a hotel guest or a walk-in customer, the little kiosk like Barista would have something to you convenience. The good news is all items are at nett price.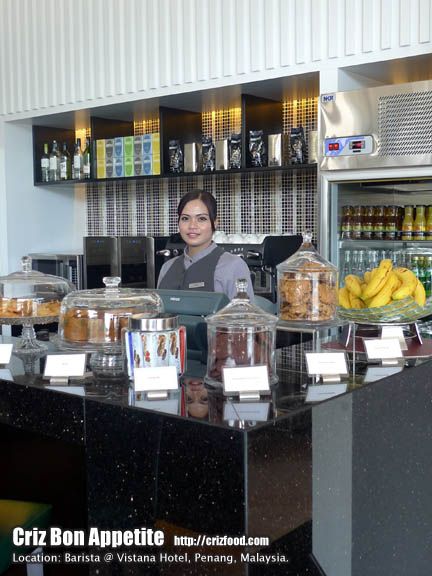 Let's look at their All Day Menu to get an idea on what you could get at Barista. You can click to enlarge to photo for a better view.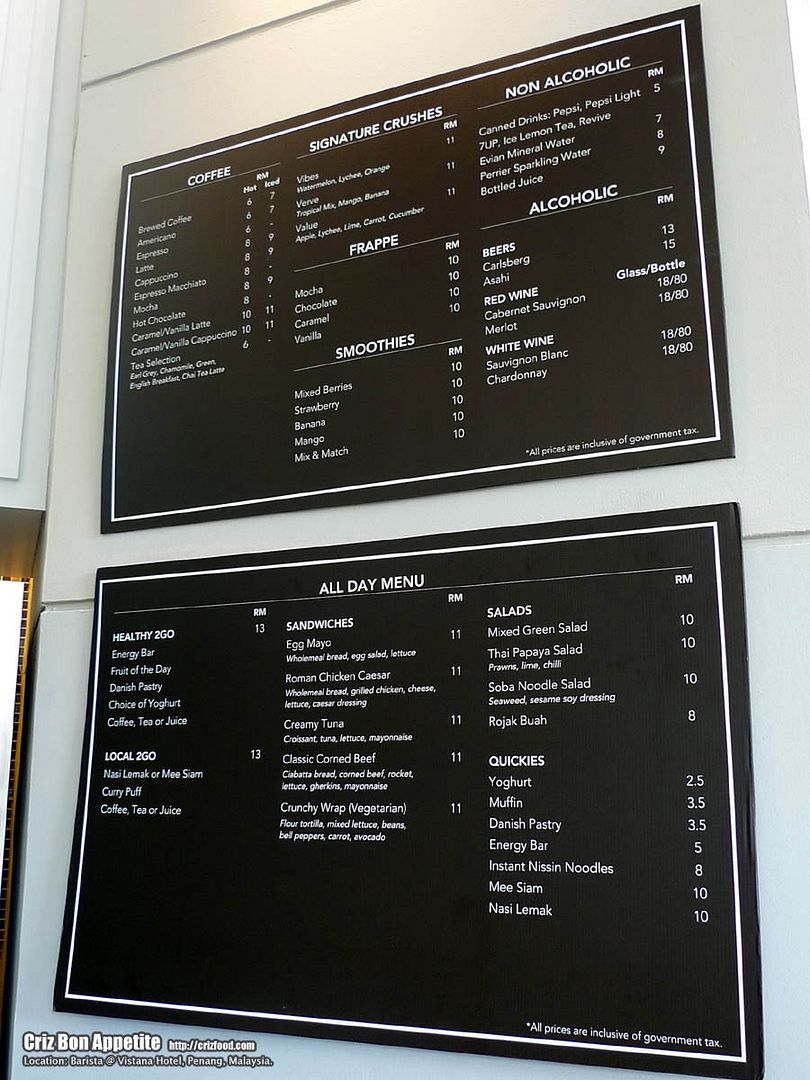 For those healthy diners, you can go for their Healthy2Go Set (RM13.00 per set) which would include an energy bar, fruit of the day, a piece of Danish pastry, your choice of yoghurt and your choice of coffee, tea or juice.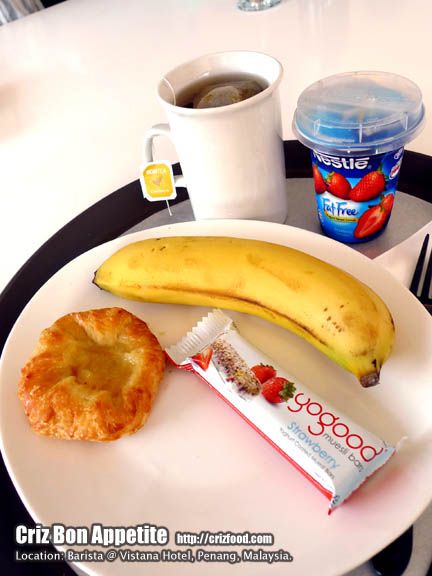 On the other hand, they also have the Local2Go Set (RM13.00 per set) which would include your choice of local dish (Nasi Lemak or Mee Siam), a piece of Curry Puff and your choice of coffee, tea or juice. I quite like the flavors of the Chicken Curry as it had a touch of the Nyonya Curry Kapitan.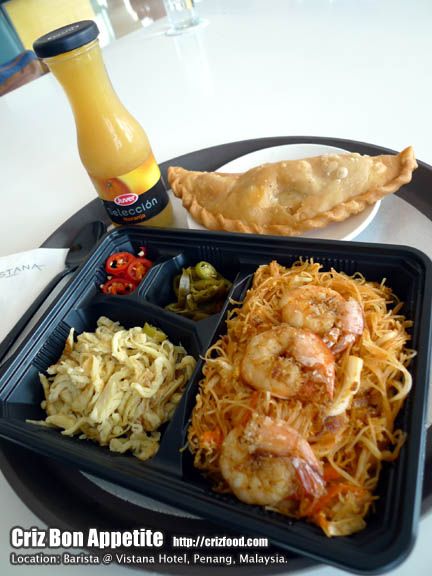 There are also options for Sandwiches (RM11.00 each), namely Egg Mayo (Wholemeal Bread with Egg Salad and Lettuce), Roman Chicken Caesar (Wholemeal Bread with Grilled Chicken, Cheese, Lettuce and Caesar Dressing), Creamy Tuna (Croissant with Tuna, Lettuce and Mayonnaise), Classic Corned Beef (Ciabatta Bread with Corned Beef, Rocket, Lettuce, Gherkins and Mayonnaise) and Crunchy Wrap (Vegetarian – Flour Tortilla with Mixed Lettuce, Beans, Aubergine and Carrots). For beef lovers, you should try out their Classic Corned Beef as the kitchen had prepared the filling rather nicely without the overpowering beefy taste.
For a lighter palate, you could always opt for their Salads selections such as their Mixed Green Salad (RM10.00), Thai Papaya Salad (RM10.00), Soba Noodles Salad (RM10.00) or their Rojak Buah (RM8.00). I quite like the Rojak Buah which consisted of tropical fruits such as Guava, Water Apple, Mango, Starfruits and Pineapple, all cut into a bit too small bite sizes. I won't mind too if they could come out with another option with added vegetables such as jicama (sengkuang) and cucumber as the accompanied rojak sauce was quite compatible to those hawkers' version to ease my rojak craving.
Alternatively, there are also the Quickies if you are in a hurry such as catching a flight or rushing to a meeting. The choices include Yoghurt (RM2.50), Muffin (RM3.50), Danish Pastry (RM3.50), Energy Bar (RM5.00), Instant Nissin Noodles (RM8.00), Mee Siam (RM10.00) and Nasi Lemak (RM10.00).
As for your coffee or tea booster, there are many options as shown in the menu above. Basically, they are serving BonTea and BonCafe, 100% Arabica Coffee beans hailing from Central & South America and Africa, medium roasted with a slight sourness. I tried the Espresso (RM6.00) which was infused with rich, bittersweet and slightly sour characteristics of an Italian espresso. On the other hand, their Caramel Cappuccino (RM10.00) had a rounded mouth-feel with a slight nuttiness and bittersweet aftertaste. For a not so sweet option, you should try out their Vanilla Cappuccino (RM10.00) which I quite like for its creamy yet mild sweetness taste.
You can also try out their Signature Crushes (RM11.00 each) such as Vibes (Watermelon, Lychee and Orange), Verve (Tropical Mix, Mango and Banana) and Value (Apple, Lychee, Lime, Carrot and Cucumber). Somehow, I quite like the Verve Crush as it had that creaminess of my choice.
We also tried out their Frappe (RM10.00 each), namely Vanilla and Chocolate. I kind of like the Vanilla version here.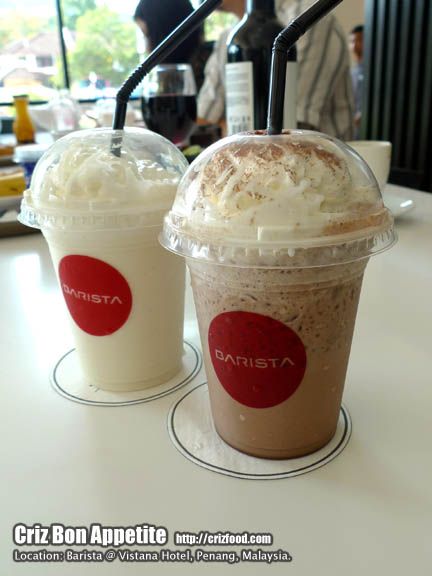 They do serve Smoothies (RM10.00 each) as well. We tried the Mixed Berries, Mango and Mix & Match. Well, I'm a berries lover, so you know which one was my favorite~ 😛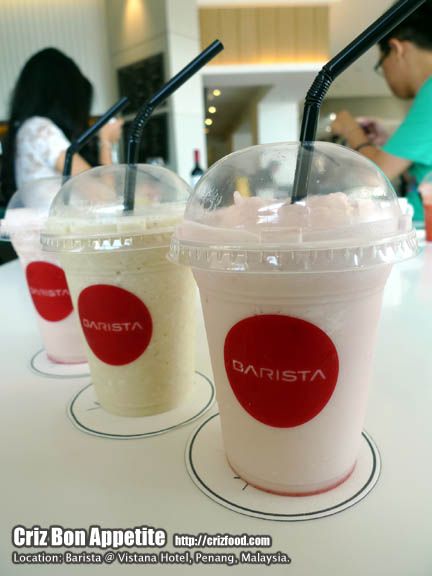 On top of that, there are also other options of non-alcoholic and alcoholic drinks for you to choose.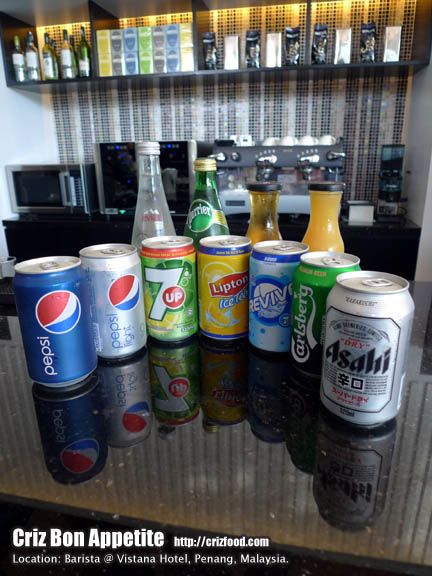 Who knows you might end up having a sip of their Cabernet Sauvignon (RM18.00 per glass or RM80.00 per bottle) while having a short meeting over there?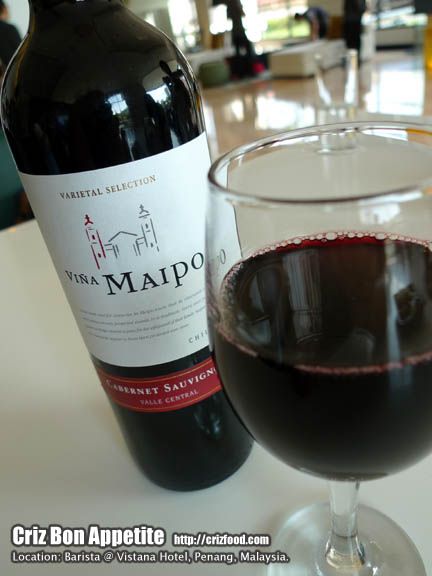 Overall, the dishes served here belonged to the fast food category as almost everything would be heated up with a microwave. The only drawback would be the dryness of the food in certain dishes. I guessed the staff has yet to learn how to master the usage of the microwave. Ideally, half a mug of hot water should be placed inside the microwave while heating up the food as this process would help in maintaining the moisture within the food.
The Barista is located right after you enter the hotel lobby of Vistana Hotel Penang along Jalan Bukit Gambir. It has a long table in front with more sitting places at the bar counter. There are a few cubicles with nice sofa for your quick meeting and light internet usages. You can either park your car right at the side and go in to grab your food or park your car in the basement which would require you to get a token from the receptionist to scan your way out.
Name: BARISTA @ VISTANA HOTEL PENANG
Address: 213 Jalan Bukit Gambir, 11950 Bukit Jambul, Penang, Malaysia.
Contact: 604- 646 8000
Business Hours: 24 hours
GPS: 5.336334, 100.291527
RATING:
Ambience: 7.5/10 (1-4 cheap, 5-7 average, 8-10 classy)
Food Choices: 7.5/10 (1-4 limited, 5-7 average, 8-10 many choices)
Taste: 7/10 (1-4 tasteless, 5-7 average, 8-10 excellent)
Pricing: 7/10 (1-4 cheap, 5-7 average, 8-10 expensive)
Service: 8/10 (1-4 bad, 5-7 average, 8-10 excellent)