Note: The restaurant has shifted to the main road of Jalan Fettes Park opposite Prima Tanjung. Items sold are still the same.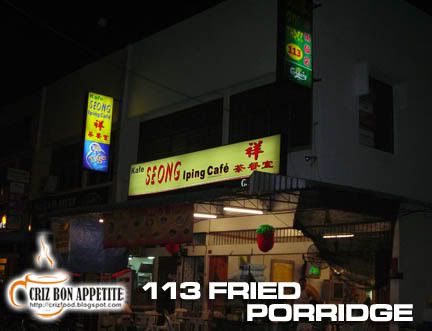 Most of you will exclaim "What? Porridge is porridge. How could it be fried?" Well, there is such a thing as that, although it is not the in-thing in Penang. Cooked porridge is stir fried in a wok with some herbs and spices, together with pork, prawns, cuttlefish strips, dried shrimps and Chinese leek (koochai). In fact, it looked just like dark soy sauce porridge but the taste is unique. Here is how the dish looks like.
Four of us visited this shop which has relocated there from Jalan Burma (next to Ribs Restaurant). We spent barely RM31 on all the food we had ordered and RM5 for the drinks. Firstly, we tired out on of their set meals, which was the Sweet and Sour Pork set (RM4.50). You can order any one dish from their list of food in the menu and rice for only RM4.50. My recommendation would be the Curry Wild Boar set which will always be fresh as the owner hunt the boar himself.
The next dish which I would always order when I am there would be the Moonlight Hor Fun. A fresh raw egg would be added onto the hot steaming Hor Fun. Upon served, you have to mix the egg thoroughly. This dish may look raw to some but once you have a taste of the dish, you would not regret ordering it during your next visit.
Next on the list was the Oyster Omelette (RM6). Most shops would add starch to their Fried Oyster and scramble it. This shop will just use big juicy oysters and fried them together with fresh eggs. This dish is yummy!!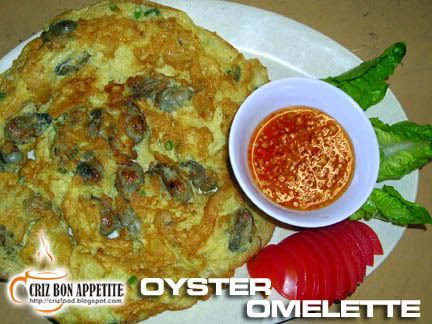 Another dish which you should try is the Black Four Seasons Beans (RM7). Young long beans are deep fried and then stir fried with dried shrimps in dark soy sauce. Real yummy when taken with hot steaming rice.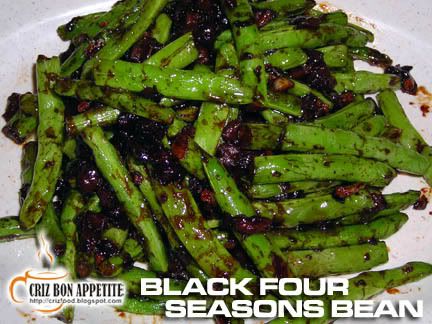 Lastly, another dish which you should not miss out will be their house speciality – the Yunnan Tofu (RM6). Fresh soft tofu is mashed and mixed with eggs, dried shrimps and chopped wood fungus and then steamed again. The cooked steamed tofu will then be dip into tapioca flour and deep fried to perfection.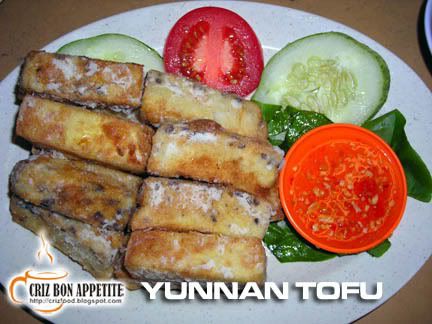 Do watch out for their latest lunch offer – One bowl of rice + one dish of your choice + one bowl of soup = RM4.50
The road to Batu Maung is not as confusing as before after the Government had built an expressway (Jelutong Expressway) straight into the town. To get to the shop, just drive towards Batu Maung from the Jelutong Expressway. As you reach the last traffic lights in Batu Maung, turn right. You will see World Fish Centre on your right. When you reach the traffic light, turn left and you will see a stretch of shophouses. The shop is just a few shops away within Seong Iping Café premises.
Name: 113 FRIED PORRIDGE SHOP @ SEONG IPING CAFE
Address: 47, Laya Batu Maung, 19300 Bayan Lepas, Penang, Malaysia.
Contact: 016-428 9113
Opening Hours:
11.30am – 3.00pm, 6.00pm – 10.30pm (Closed Alternate Thursday)
GPS: 5.285879, 100.282495
RATING:
Ambience: 7/10 (1-4 cheap, 5-7 average, 8-10 classy)
Food Choices: 8/10 (1-4 limited, 5-7 average, 8-10 many choices)
Taste: 8/10 (1-4 tasteless, 5-7 average, 8-10 excellent)
Pricing: 7/10 (1-4 cheap, 5-7 average, 8-10 expensive)
Service: 8/10 (1-4 bad, 5-7 average, 8-10 excellent)