Located within one of Penang's newest premium food and beverage hub venues, Precinct 10, along Jalan Tanjung Tokong, Penang, is a little bistro by the name of BeerBQ Bistro. A large percentage of their dishes are cooked with bee. It had such a German concept of dining where they would pair different type of beer with selected dishes. The thing that the bistro did best was to watch out for the usage of over hoppy beers that would sometimes emit unpleasant bitterness in dishes. Thus, the dishes served here would be mild enough for the consumption of any age group of diners.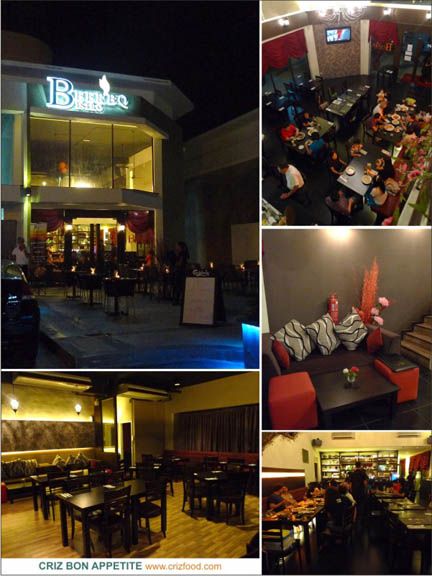 The first thing that caught our eyes was the special of the day which was the BeerBQ Pork Burger (RM21.90++) as it was rather hard to get great pork burgers in Penang. The approximately 250gms pork patty was superb as it has the right proportion of meat and fat with the right thickness and flavors. The juicy patty went well with the slightly crisp toasted sesame bun with fresh greens and fries. The BBQ sauce dressing was awesome as it had that rich, tangy and thick liquid hickory smoke flavors that complemented the grilled patty real well. I wondered if the kitchen did add in some beer in the sauce as it was not distinctive at all. If you see this dish on their special of the day, do not hesitate to order one. You sure won't regret even though the pricing might be a bit high.
The beer pairing session started when we started off our appetizer meal with Roast Pork (RM16.90++) paired with Belgium's pale lager, Stella Artois (RM22++/bottle). The dish had some crispy and crackling pieces of herb roasted pork belly. No doubt it was a flavorful plate of heavenly meat but the pieces were somehow a bit dry. It could be due to the lack of some fatty layers or the pre-roasted was exposed too long in the air. I guessed they would have to find a way to prevent the meat from drying off or it would turn away many roasted pork lovers.
The next appetizer was the Smoked Salmon Salad (RM19.90++) paired with USA's pale lager, Budweiser. The smoked salmon was wrapped around a small stalk of skinned celery and served with some homemade cheese sauce and Mesclun lettuce with their special dressing. I personally felt that the celery stalks were rather obsolete as they looked clumsy in the whole presentation. It would be better if some juicy cucumber strips were used instead. The smoked salmon went well with the cheese sauce which had a light hint of bleu cheese. The dressing for the salad was unique as it had sweet and fruity vinaigrette flavors from some grapes used.
We also had the BeerBQ Pork Ribs (RM38.90++) paired with Germany's dark lager, Franziskaner Hefe-Weissbier Dunkel. The chargrilled pork ribs were tender and filled with flavors from their special BBQ sauce. However, I personally felt that the sauce was not enough as it did not cover every part of the pork ribs thoroughly. This was served with some crispy potatoes wedges and fresh greens with their special dressing.
One of the recommended dishes here would be their BeerBQ Seafood Platter (RM40.90++) paired with Germany's light lager, Lowenbrau (RM22++/bottle). It had quite a number of BBQ large prawns, scallops, squids and mussels cooked with their signature BeerBQ sauce and served on a big bed of mashed potatoes. This dish came with some greens. The sauce blended in real well with the seafood and mashed potatoes. The setback would be that it could be a bit too filling for a person's portion.
We also tried out their Fish and Chips (RM21.90++) paired with Belgium's witbieren (white beers), Hoegaarden White (RM20++ for 1/2 pint, RM30++ for 1 pint) since it had crispy beer battered fish fillet. The dish came with some fries, greens, tartar sauce and malt vinegar. Somehow, the crispiness did not maintain long as I presumed that the batter lacked some baking powder, self rising flour or even cornmeal flour? Moreover, frozen dory fish was used in this dish and that did not give the freshness that I would have expected. It would be great if options would be given for other species of fish such as seabass, grouper, mahi mahi, cod, etc would be served too. Of course, those would come with a different price range.
Since there were pastas being served here too, we decided to try out their Spaghetti Vongole (RM18.90++). The al dente of the spaghetti was just right together with the freshness from the local clams. The clams were cooked with chopped garlic, chili flakes, mixed herbs, salt and pepper in olive oil with a very mild dash of white wine. Somehow, the dish lacked the fresh herbs flavors from either flat leaf parsley or chives. Moreover, the soup was not thick in flavors as I expected since clams do not have that distinctive seafood richness. They could have thought out of the box by adding in some baby anchovies, baby shrimps or even the seasonal baby crabs to pep up the extra seafood flavors.
As dessert, there were not many choices as there was only one alcohol boosted cake available which was the Stout Chocolate Cake (RM12.90++). However, this was one flavorful dessert as the warm stout chocolate cake, topped with melting chocolate sauce with a light touch of whipped cream was heaven.
Here's a chart where you would find out more on which type of beer would pair well with which type of food, cheese and dessert. Please click to have a larger view of the chart below:
There are two types of beer cocktails that attracted quite many drinkers. One would be the Blue Ocean Beer (RM22.90++), a concoction of lager beer, blue curacao with a slice of lemon and also the Chili Beer (RM22.90++) which had a concoction of lager beer, bird's eye chili (cili padi), black pepper, and a dash or two of Tabasco sauce.
For those non-alcoholic drinkers, there would always be the mocktail to quench your thirst. You can try out the BeerBQ Triple (RM9.90++) which had a combination of orange, apple and pineapple juices.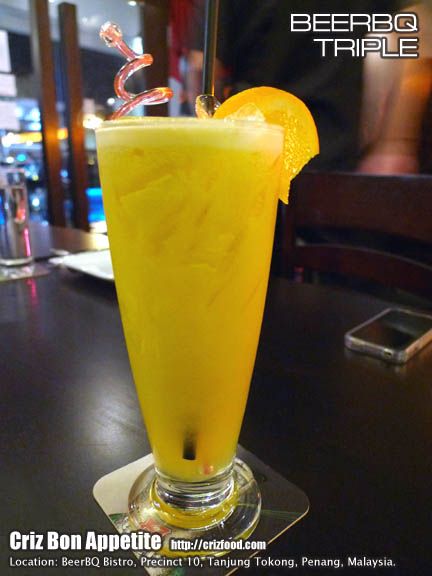 Overall, the food served here can be a bit too mild for those who prefer to have stronger hop flavors. Fortunately, they are still quite good at pairing the beers with food based on the basic 3 rules: matching beer strength with food strength, food harmony and balancing of the bitterness (hops), sweetness (malt), bubbles (carbonation), spiciness (hot peppers) and richness of the beers with the dishes. A 10% Service Tax and 6 % Government Tax would be imposed on all orders.
Precinct 10 is just next to the Island Plaza along Jalan Tanjung Tokong. If you are coming from town area towards Batu Ferringghi, just take note of the second traffic light (Jalan Tanjung Tokong/ Jalan Fettes/ Jalan Seri Tanjung Pinang). Island Plaza is on your right. Make a U-Turn at the traffic lights and you will see Precinct 10 right after Island Plaza on the left. There are ample parking spaces at the premises. Parking fees would be around RM1/hour. You can visibly see BeerBQ Bistro at the far left corner next to SOHO.
Name: BEERBQ BISTRO @ PRECINCT 10
Address: 10-B-06, Precinct 10, Jalan Tanjung Tokong, Tanjung Tokong, 10470 Penang, Malaysia.
Contact: 604-890 5157
Business Hours:
12.00pm-3.00pm, 6.00pm-11.00pm (Monday-Wednesday)
12.00pm-3.00pm, 6.00pm-12.00am (Friday-Sunday)
GPS: 5.448970, 100.306020
RATING:
Ambience: 7.5/10 (1-4 cheap, 5-7 average, 8-10 classy)
Food Choices: 7.5/10 (1-4 limited, 5-7 average, 8-10 many choices)
Taste: 7.5/10 (1-4 tasteless, 5-7 average, 8-10 excellent)
Pricing: 8/10 (1-4 cheap, 5-7 average, 8-10 expensive)
Service: 8/10 (1-4 bad, 5-7 average, 8-10 excellent)