Poon Choi (盆菜) or also known as Big Bowl Feast/Big Basin Feast, is a traditional dish which originated from the village of Hong Kong. This multi layer of ingredients dish is usually served during special occasions such as wedding, reunion, festivals and so on. Choice layers and layers of precooked ingredients such as vegetables, meat, seafood, mushrooms and meat/fish balls are slowly arranged until the brim of the bowl/basin with a mixture of sauces from each individual ingredient. The art of eating Poon Choi is by tackling the layer by layer of the ingredient from the top until the bottom. Cost wise, it could range between tens of ringgits until thousands, depending on what quality of ingredients you put into the bowl/basin. There was a time when urban restaurants decided to introduce this dish to their up-class diners at a rate which would be quite impossible for the budget of an average income diner. Today, Zi Zai Restaurant had changed that perception by providing quality Poon Choi at an affordable price with two size options. The bigger size at RM400nett (RM418nett effective February 2013) could fill up the appetite of 10 persons but could feed up to 12 or more persons (especially with a mixture of ladies and children), whereas the smaller size at RM258nett (RM268nett effective February 2013) could accommodate the stomachs of 4-6 persons. Both sets would come with free flow of steamed rice and herbal teas. (Note: Make sure you call in 1-2 days earlier to book your table as it would take tedious hours of preparation for such a dish.)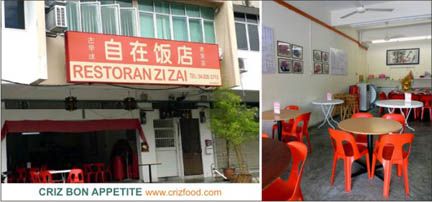 Recently, we had a small gathering amongst 13 friends and we opted for the Big Basin Feast (RM400nett). The basin came with 14 ingredients which consisted of (from base) Chinese Cabbages, Braised Pork Belly in Red Fermented Bean Curd (Tao Joo/Nam Joo), Yam, Yam Bean (Sengkuang/Jicama), Sea Cucumbers, Chinese Mushrooms, Fish Maws, One Whole Charcoal Roasted Duck, One Whole Chicken in Sesame Oil, Broccoli, Deep Fried Snapper Fillets, Deep Fried Homemade Hock Chew Fish Balls (Fish Ball with Minced Meat Filling), Sweet n Sour Prawns and One Whole New Zealand Abalone Slices (on the top). It came heated up on a portable gas stove with a low-medium fire to avoid the base being burned. Well, the cabbages which were laced at the base for this purpose were indeed slightly burned but due to the long period of maintaining the heat. Alternatively to avoid burned items at the base, the kitchen could consider using a shallow based metal or porcelain plate to avoid this issue. As for taste, the whole combination was just right to my liking. The gravy had the taste of high soup stock combined with the individual seasonings and sweetness from all the ingredients within… not too thick and can be easily taken as a soup.
They do also have "takeaway package" for both sizes of Poon Choi but the free flow of rice and herbal drinks would not be included.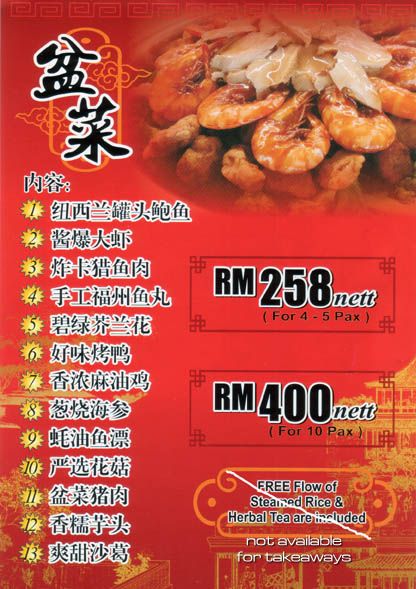 I ordered the RM258 package home recently for a small family reunion. This smaller size would have half the portion of the ingredients served as above but with one whole abalone. I managed to have the abalone replaced with Kooi Fa Abalone (actually they are evenly cut calamari slices) and Fresh Scallops. Yup, you can have additional ingredients or replace one or two ingredients for your Poon Choi if the boss agrees to it but the price would be based on market rate.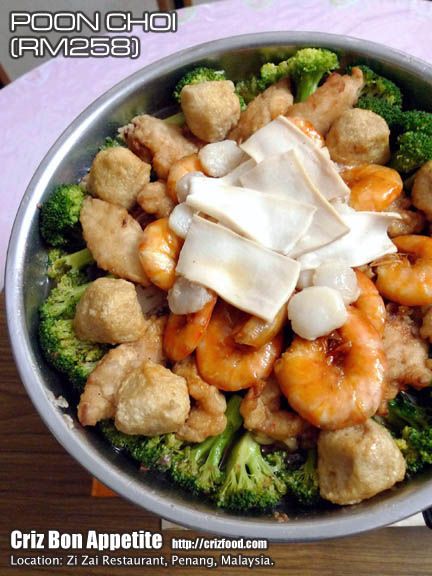 Other than Poon Choi, Zi Zai Restaurant also serves other stir fry dishes. One of their signature dishes would be their Assam Prawns (RM32 – about 16 prawns). Good sized prawns were marinated with tamarind juice, sugar and salt prior to being fried to perfection. This easy to cook Nyonya cuisine would get many yearning for more as the tamarind infused prawns had that slightly acidic sourness on top of the briny sweet taste.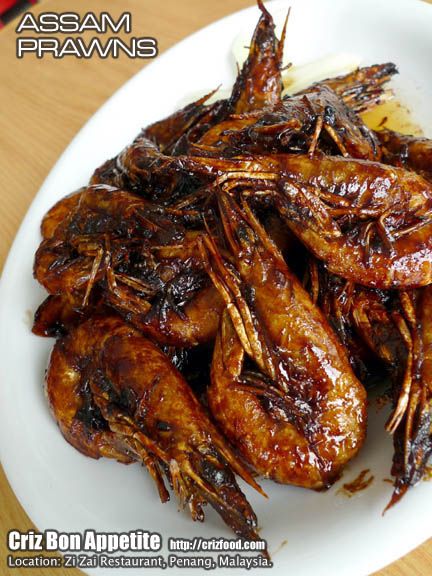 Another of their signature dishes would be their Belacan Chicken Wings (RM16). Belacan or commonly known as shrimp paste would be something some foreigners would dread coming near to one. Due to the long fermentation of grounded and sundried shrimps, they indeed omit an intruding smell to the nose but belacan remains one of the most sought after ingredients throughout South East Asia. Alternatively, some would use belacan granules to avoid the overpowering smell floating around the air. The restaurant sure had mastered their recipe well here as each bite onto the succulent and yet crispy meat would surely boost up your appetite for more.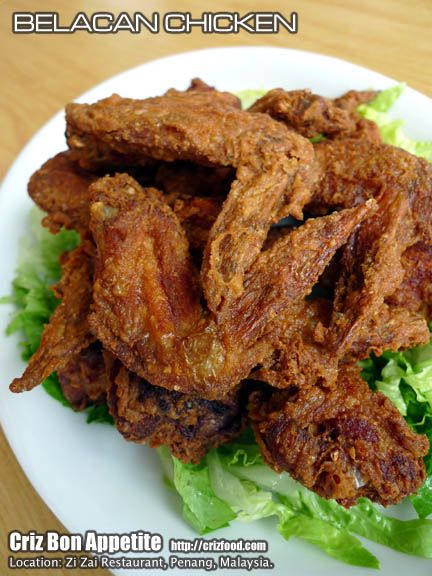 A simple dish such as the Stir Fried Bean Sprout with Salted Fish (RM12) would go well with any meal, especially with the meat and seafood enriched Poon Choi. I admired the commitment of the restaurant staff in peeling off the roots of the bean sprouts to give the dish a clearly look. The chef did a real job here in maintaining the crunch on each sprout.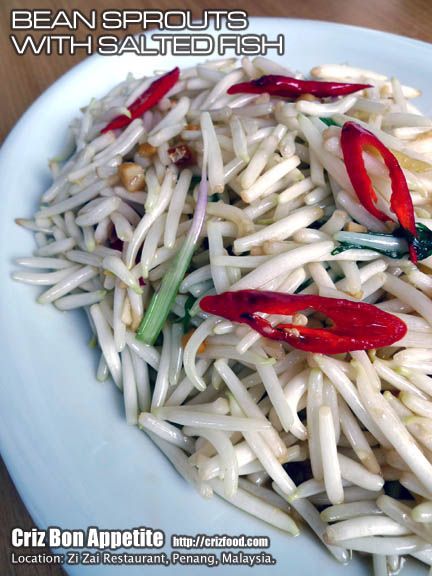 Another nice vegetable dish would be the Stir Fry Yao Mak in Garlic (RM10). It's simple and yet delicious. The chef again did a great job in maintaining the freshly crunch on the vegetables. Yao Mak is also known as Baby Romaine Lettuce.
Occasionally, there will be some species of clams available at the restaurant. What we had was the Stir Fried Sambal Lala (RM12). The mildly spiced up dish had that gingery taste from some shredded ginger and spring onion garnishing. Unfortunately the supply on that day was rather small, thus leaving the Lala without much flesh. Overall, it was still an acceptable dish for our palate.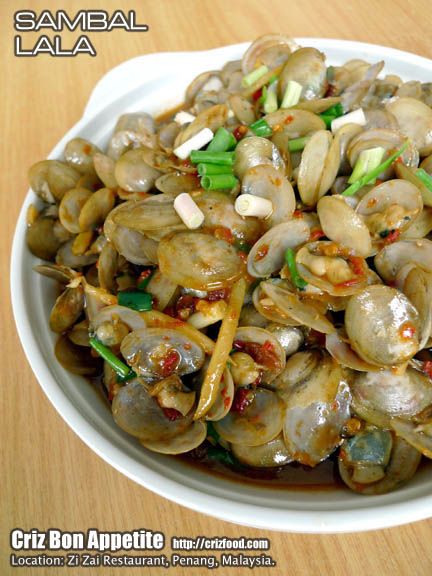 Don't you think our lunch for that day was impressively delicious?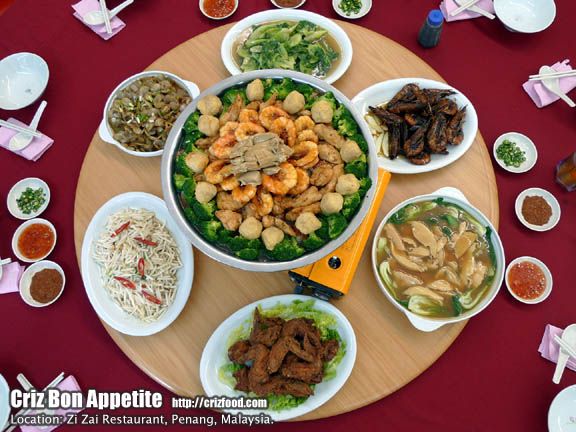 Yours truly also did sponsor 2 cans of New Zealand abalones to make the occasion more joyous. The chef had abalones cooked with some fresh mini Chinese cabbages.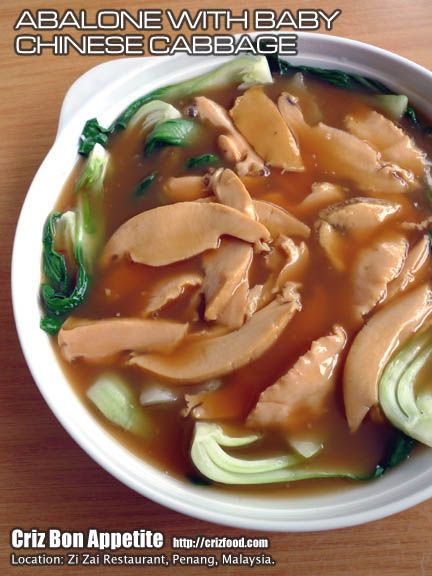 Finding this restaurant won't be hard as it's located along the main road of Paya Terubong, Air Itam, Penang. The easiest way would be driving through Farlim, Air Itam via the Thean Teik Highway. If you are coming from town along Jalan Air Itam into Lorong Batu Lancang, just drive all the way until you have reached a traffic light (Lorong Batu Lancang/Thean Teik Highway). Turn right into Thean Teik Highway (Lebuhraya Thean Teik) and drive all the way pass 4 traffic lights until the end. At the last T-junction traffic lights (Lebuhraya Thean Teik/Jalan Paya Terubong), turn right into the main road of Jalan Paya Terubong. Drive about 400m and you would see the restaurant on your left along a stretch of shop houses.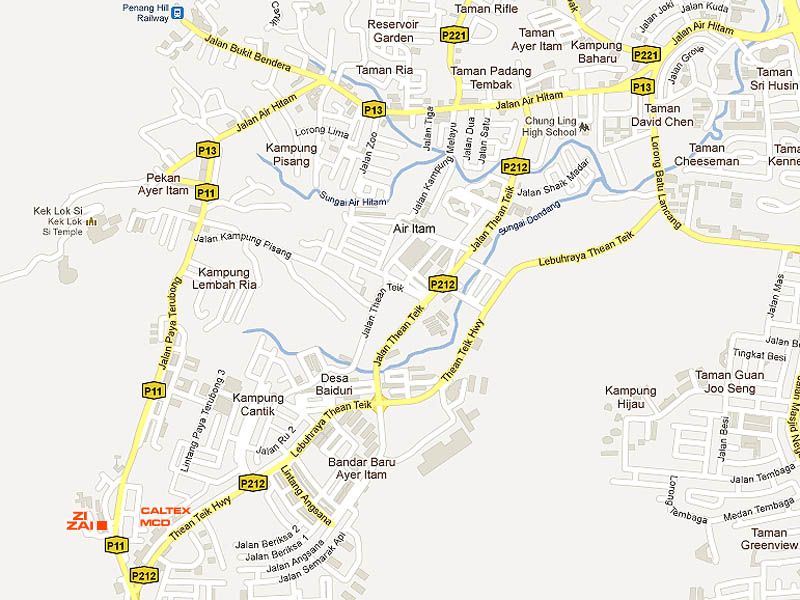 Name: ZI ZAI RESTAURANT (自在飯店)
Address: 1239-G, Ground Floor, Jalan Paya Terubong, 11600 Penang, Malaysia.
Contact: 604-826 5173 (Mr. Tan Hock Chai)
Business Hours: 4.00pm – 10.30pm (Closed Tuesday)
GPS: 5.387212, 100.274013
RATING:
Ambience: 7/10 (1-4 cheap, 5-7 average, 8-10 classy)
Food Choices: 7.5/10 (1-4 limited, 5-7 average, 8-10 many choices)
Taste: 7.5/10 (1-4 tasteless, 5-7 average, 8-10 excellent)
Pricing: 7/10 (1-4 cheap, 5-7 average, 8-10 expensive)
Service: 8/10 (1-4 bad, 5-7 average, 8-10 excellent)