As you can see, I have been rather busy during this year's Chinese New Year. There were just too many projects to handle prior to the forth coming long stretch of holidays in which some of my Chinese based suppliers would be closed for business for almost 2 weeks. On top of that, I was mostly in the kitchen preparing some feasting goodies prior to the reunion dinner. Those included a few of my own recipes which included my delicious concoction of oysters and scallops and 30 liters of home brewed Herbal Tea to serve my guests during their visits on a humid day.
This year was one of the rarest celebration moments in my family as it so happen that the Chinese New Year which fell on 14 February 2010 coincided with Valentine's Day. It's a FIVE-IN-ONE CELEBRATION for the Lai Family! The celebration included the reunion dinner to usher in the Tiger year, my brother's birthday on the eve, Valentine's Day, my brother's lunar birthday as well as his wedding anniversary which fell on Valentine's Day. It was indeed a fun-filled celebration.
This year's reunion dinner dishes were somewhat unique compared to the previous ones. In fact, other than the purchases of different types of meat and fish balls, the steamboat stock was another new creation for the family. It was ginseng roots based herbal stock for the first time in our steamboat reunion dinner history. Simple as it may look but it took more than 8 hours of low fire simmering and tedious filtering just to cook this up. Our steamboat side dishes this year was rather simple as we had other extra dishes as well. They included lots of crown daisy chrysanthemum leaves (tang oh/茼蒿), cabbages, wolfberry, prawns, silver pomfret (tao tay fish), chicken drumstick fillet, hair moss fish balls, vegetable fish balls, squid balls, large meatballs, 3 different types of wolf herring (sai to/ikan parang/西刀) fish balls, prawn & pork dumpling (sui kow/水餃), seafood tofu, Fuzhou fish balls (福州魚丸/Hock Chew fish ball – stuffed with minced meat), fish dumplings (魚餃/hoo keow/thin fish batter skin stuffed with minced meat) and fried chopped garlic as garnishing. The whole experience was rejuvenating after so many days of tiring preparations.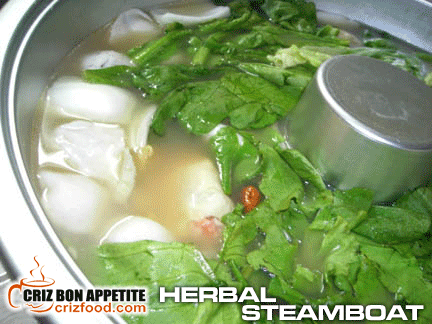 What would be new to most families would be our unique dipping sauce. It's definitely not any hoisin sauce, chopped garlic with bird's eyes chilies in soy sauce or bottled chili sauce but a concoction of red sweet sauce (甜醬), ginger and chicken fat. The fragrant gingery sauce with each bite of meat, seafood or balls would surely make you yearn for more.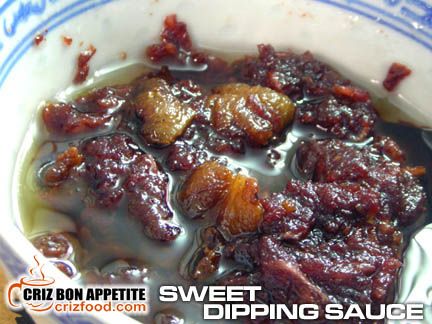 As it was rare to have my brother's birthday on such an auspicious gathering, we totally ignored on the fat and cholesterol intakes. LOL! I ordered one of my favorite Korean food – Jokbal (족발 – RM77), glazed pig feet meat slices. I believed that Sa Rang Chae Korean Restaurant is the sole restaurant in Penang to have this wonderfully cooked dish. It caught my brother's attention immediately as I saw him applying nonstop the accompanied sweet and/or salty sauces onto the accompanied lettuce endlessly. Cool! At least he's happy. Err… what happened to your diet plan bro? 😛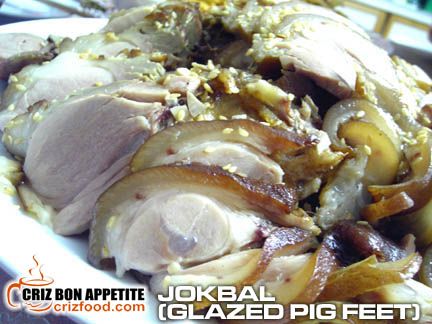 Now comes the interesting part of the suspense since my last post on reserving some of my home cooked Hokkien Mee stock and chili paste for this new recipe. What would a birthday be without any birthday noodles? Let me introduce you to my latest fusion recipe – Fried Hokkien Prawn Noodles! The delicious dish had yellow noodles carefully stir fried in thick prawn stock, dried shrimps, meat, prawns, fish cake and flowering Chinese cabbage (chye sim/chai sim/菜心) with deep fried crab stick strips and fried shallots as garnishing. You can adjust your level of spiciness by adding more of the chili paste. Everybody, inclusive my two teenage nieces could not stop having this dish as it had a unique seafood fragrant. The more you take this, the more you want it for every meal!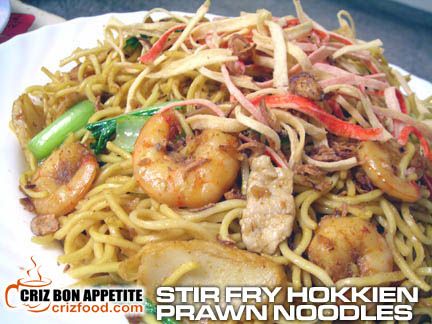 I will not touch on the recipes here but I will share the recipes in the next few posts. Wishing everyone one a happy and prosperous Chinese New Year! Do drive carefully if you are traveling! Check out for more update here soon.