Ever since the mushrooming of many Thai restaurants in Pulau Tikus, the district has recently become the newest target for local and overseas dessert outlets. Outlets such as Tang Bo Fu (Pulau Tikus), ZenQ (Gurney Plaza), Lucky Desserts (Gurney Plaza) and the latest being BlackBall – Original Taiwanese Tea & Dessert, which would be officially open on 20 December 2011. Ever since its establishment in 2006, BlackBall now stands as one of the biggest dessert chains in Taipei with over 20 outlets and still expanding. Today, our fellow Malaysians would get the chance to savor the delicious desserts and teas from Taiwan at 5 strategically located outlets, starting with the first outlet in SS15 (PJ), followed by KSL City Mall (JB), Sri Petaling (KL), Pulau Tikus (Penang) and Damansara Uptown (PJ).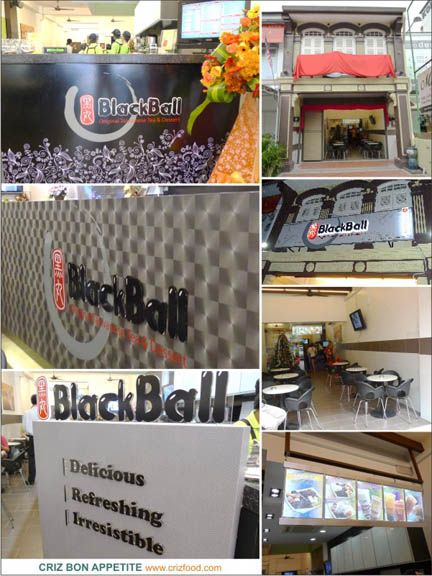 I would say this would be one of the first few dessert chains in Malaysia with a state-of-the-art gadget when ordering. Each order would come with a unique gadget which would beep and blink when your orders are ready for collections at a specific counter. What a great way to find yourselves comfortably seated while waiting for your desserts to be prepared.
As a trade secret, the company would not disclose much information on the compound on some of the ingredients. One thing for sure is that they do use a herbal plant known as Xian Cao (仙草). This magical plant is also commonly known as Jiao Gu Lan (绞股蓝/ Gynostemma pentaphyllum/ twisting vine orchid/ herb of immortality). It's reputed to lengthen your life with its powerful antioxidant and adaptogenic effects, so much so that it had become a key inclusion in most traditional desserts across Taiwan as well as being made into tea bags. It also had been clinically proven that by consuming Xian Cao, one would have a lower blood pressure and cholesterol, a better body immune system and cancer risk free.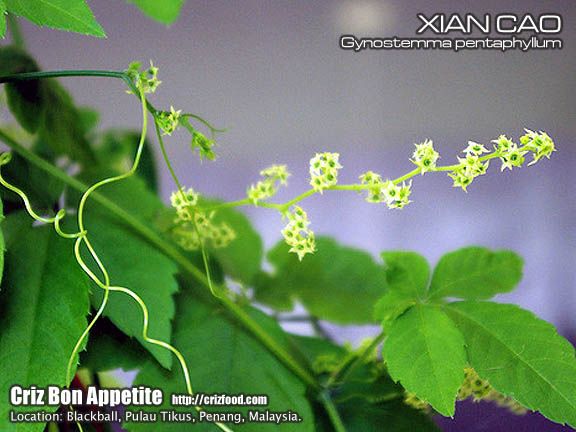 Basically, the desserts consisted of BlackBall Signature, BlackBall Combo, Signature Drink, Winter Melon Tea Series, Traditional Tea, QQ Drink Series, Smoothie Series, "Jiu Fen" Taro Ball Series and BlackBall Crushed Ice, all within the range of RM4.90 nett to RM6.50 nett. Additional topping would be charged at an additional RM1 per topping. The toppings are Taro Ball (scallop shape), Taro Q (rectangular shape), Pearl, Red Bean, Green Bean, Sweetened Bean, Chinese Barley, Lotus Seed, Coco Jelly, Brown Sugar Jelly (Taiwanese version of a more QQ local "leong fun" cubes), Aloe Vera, Sky (White) Pearl, Sweetened Taro and Fresh Milk. All beverages come in 700cc size. You can enlarge the menu below for a clearer view.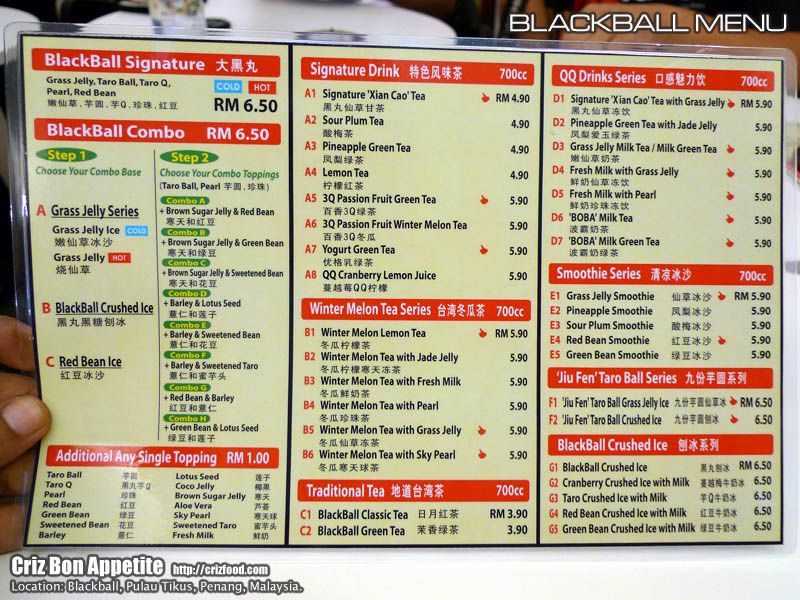 We had the BlackBall Signature (Hot & Cold – RM6.50) which came with Taro Ball, Taro Q, Pearl, grass jelly and red beans served with some fresh milk. Both the hot and cold desserts were nice with the hot version having a more distinctive herbal after taste. The Taro Ball had a more al dente texture whereas the Taro Q has a more powdery taro taste as lesser potato flour was added in. The orange ones were made from red potatoes and the yellow ones were of sweet potatoes.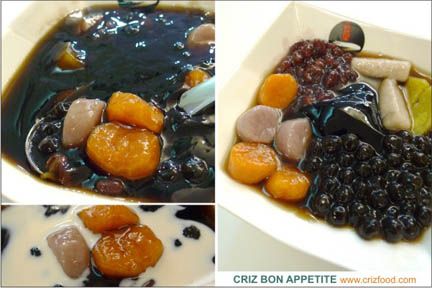 There were also the BlackBall Combo (with Taro Ball and Pearl): BlackBall Crushed Ice (Combo D with additional Chinese Barley & Lotus Seed – RM6.50) and BlackBall Combo (with Taro Ball and Pearl): Grass Jelly Ice (Combo H with additional Green Bean & Lotus Seed – RM6.50). The one with crushed ice came with some brown syrup and this tasted a bit like our Malaysian palm sugar.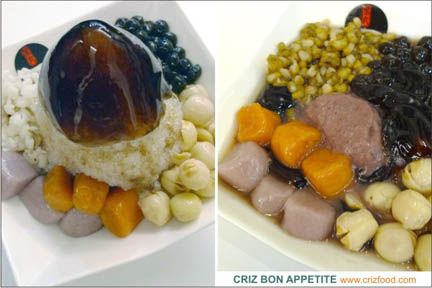 The "Jiu Fen" Taro Ball Crushed Ice (RM6.50) had a special type of pale color sweetened bean added in on top of the Pearl, Taro Ball and crushed ice. The beans tasted quite similar to the sweetened red kidney beans. As usual, anything with crushed ice would come with a small canister of brown syrup.
As for beverages, we had quite a few choices. We tried out the Fresh Milk with Grass Jelly (RM5.90). This would be a nice choice for those fresh milk lovers. The whole concoction had a slight saltiness but creamy taste from the fresh milk with a mild touch of herbal after taste. Not bad but surely not my kind of unsweetened beverage.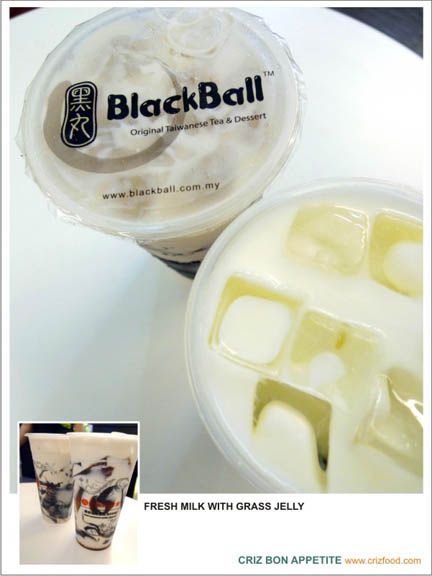 The Winter Melon Tea with Sky Pearl (RM5.90) was quite a hit amongst some of us. The quite highly concentrated brew went well with the sky pearls.
Somehow, most of the ladies loved the QQ Cranberry Lemon Juice (RM5.90). Well, some guys did too. Hmm… I thought it would only benefit the ladies only against bacterial infections in the urinary system or commonly known as urinary tract infection? Haha! Well… no worries as cranberry juice would also help to level up the HDL (good cholesterol) against the LDL (bad cholesterol). Moreover, it's great to destroy some stomach problem causing bacterias. The cranberry juice served here was rather highly concentrated compared to those other brands I obtained from the supermarkets. I love it especially with a mild twist of lemon juice! It came with some pearls and coco jellies.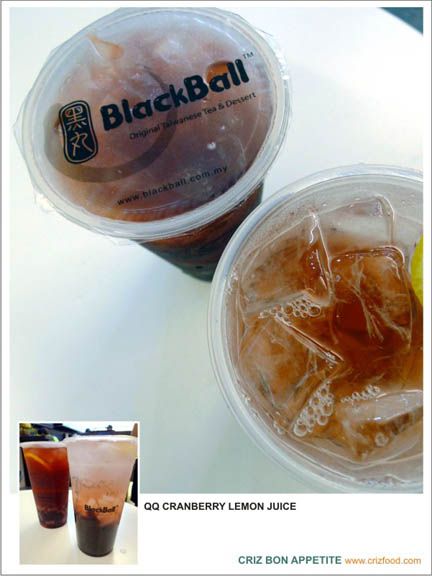 The Signature "Xian Cao" Tea with Grass Jelly (RM5.90) had that unique herbal taste, quite similar to having Guilinggao (龜苓膏/Tortoise Jelly),less bitter and in a more diluted form. I love the way this beverage had been prepared without much sweetening.
The combination of the 3Q Passion Fruit Green Tea (RM5.90) was also special but a bit too sweet to my liking. Maybe I ought to get them to reduce the sweetness for my cup of beverage. This beverage came with some added pearls, coco jellies and jade jelly (愛玉冰/Aiyu Jelly/O-Gio/噢橋) with some traces of the passion fruit pulps and seeds. Note: AiYu Jelly is actually made by rubbing the seeds from a variety of figs (無花果) in which would exude a sticky gel that would form into jelly at certain cool temperature.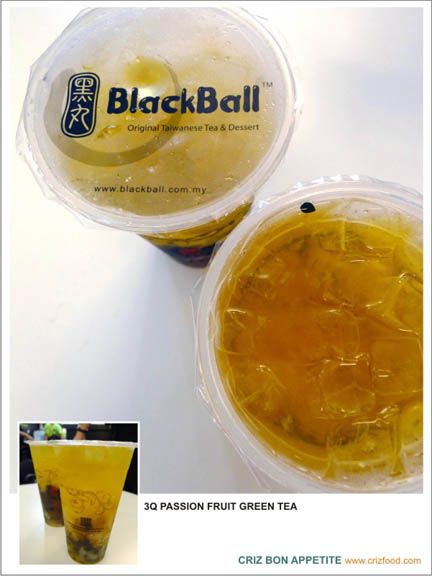 The do have Yoghurt Green Tea (RM5.90) too. The green tea taste was a bit overpowering in proportion to the yoghurt used. I'm not sure if they were using the Japanese probiotic milk/yoghurt-like product named Yakult as it did not have that unique yoghurt taste as the ones I had at Tea Secret, Queensbay Mall, Penang.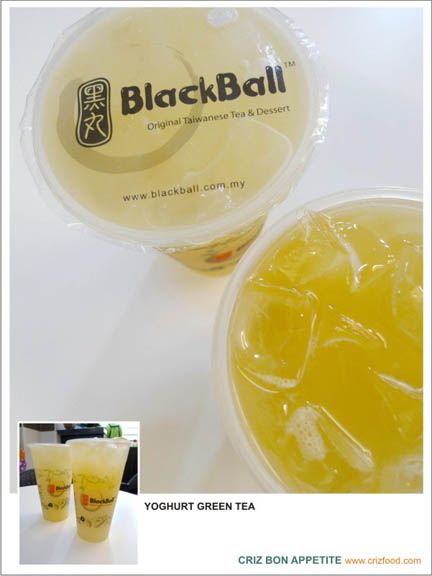 There's the term "save the best for last" and indeed the last beverage we had which was the Boba Milk Tea (RM5.90) was a hit amongst some of us. This beverage came with some added pearls. The sweetness was just right for me and the tea used indeed blended in well with the fresh milk used.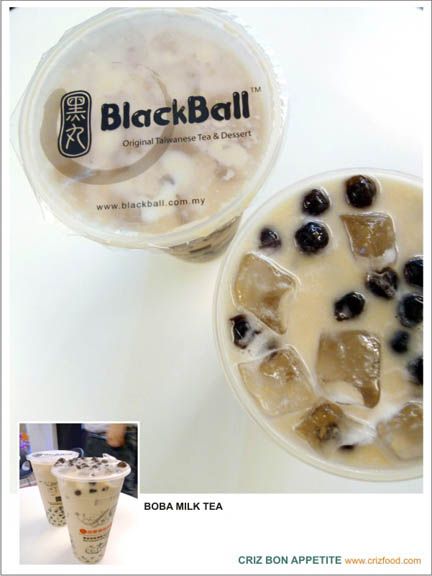 Since the 3rd to the 5th Blackball outlets [Sri Petaling (KL), Pulau Tikus (Penang) and Damansara Uptown (PJ)] would be officially open on the same day on 20 December 2011, there would be some ongoing promotions. From 20-28 December 2011, the Damansara Uptown and Sri Petaling outlets would be having the BUY ONE FREE ONE promotion. As for the Penang outlet, there will be the BUY TWO FREE ONE promotion from 20-22 December 2011. You can enlarge the poster below for a clearer view.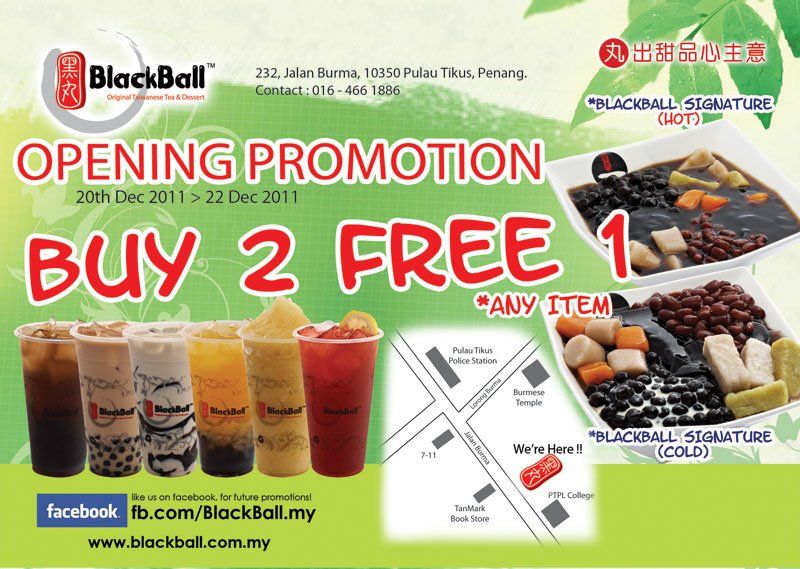 It's not hard to locate the dessert outlet as it situated along a row of shop houses in Pulau Tikus, Penang. If you are coming from Jalan Burma towards Pulau Tikus, watch out for Lebuhraya Codrington on your left. Immediately after the junction, turn left into the service road (TanMark Bookstore/7-11) and park your car there. The restaurant is just across the road, 3 shoplots away on the right of Sukhothai Beef Noodles House (formerly Strada).
Name: BLACKBALL – ORIGINAL TAIWANESE TEA & DESSERT
Address: 232 Jalan Burma, 10350 Penang, Malaysia.
Contact: 016-466 1886
Business Hours: 12.00pm – 12.00am
GPS: 5.429939, 100.313319
RATING:
Ambience: 7/10 (1-4 cheap, 5-7 average, 8-10 classy)
Food Choices: 7/10 (1-4 limited, 5-7 average, 8-10 many choices)
Taste: 7.5/10 (1-4 tasteless, 5-7 average, 8-10 excellent)
Pricing: 7/10 (1-4 cheap, 5-7 average, 8-10 expensive)
Service: 7.5/10 (1-4 bad, 5-7 average, 8-10 excellent)