China House which has the full range of dining experiences in this region has been the highlights of many events such as performing arts, art galleries, talk shows and more for quite many years. In fact, it could be the longest restaurant in Malaysia with a buildup area of 400' x 25', comprising 2 heritage units facing Lebuh Pantai and a heritage unit facing Lebuh Victoria, linked by a beautiful decorated open air courtyard. With 14 spaces comprising shops, cafes, restaurants, galleries and multi-purpose performing art theatre, we managed to pay a visit to their BTB & Restaurant on one fine evening. The restaurant serves a fusion of Western mixed with Asian and Middle Eastern cuisine, something that will thrill the appetite of those adventurous gourmet aficionados. All orders would be inclusive of 6% GST but you would still need to pay for the 10% service charge.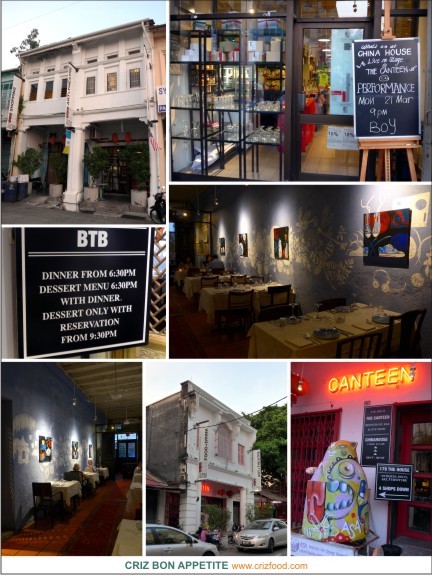 To start off the meal, we tried out some of their signature entrees. Firstly, we were served with their Mezze Vegetarian (RM28+), a platter filled with lots of small dishes and served as an appetizer. The dish consisted of the freshly made Harissa (a chili paste made from various hot peppers), Eggplant Ginger Bud Sambal, Green Relish (cucumber & green chili pickle), Corn & Parmesan Salsa, Red Pepper Chutney, Yoghurt, Pomegranate Dip, Dukkah (mixed herbs, nuts & spices), Lemon Rocket Salad and served with Pita and Focaccia. Well, those were quite a remarkable array of spreads and dips with some twists to infuse some local flavors as well. Everything was perfect except I wished I had some hummus in the platter for my pita bread~ 😛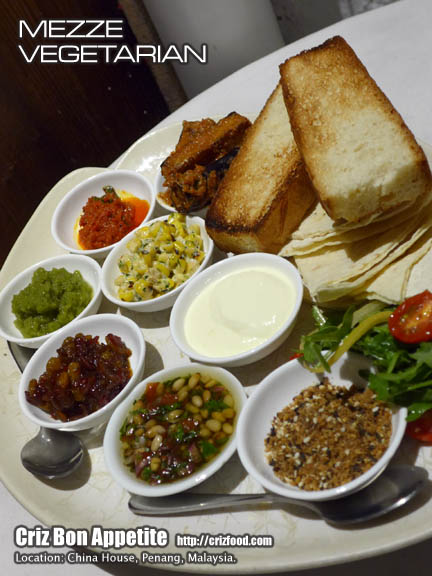 Next we had the Pumpkin and Apple Soup (RM18+), garnished with Candied Pumpkin Seeds and served with Parmesan Biscotti. The mild sweetness of the pumpkin and the fresh sourness of green apple, combined with little crunchy bites from the added candied pumpkin seeds made this soup very appetizing indeed.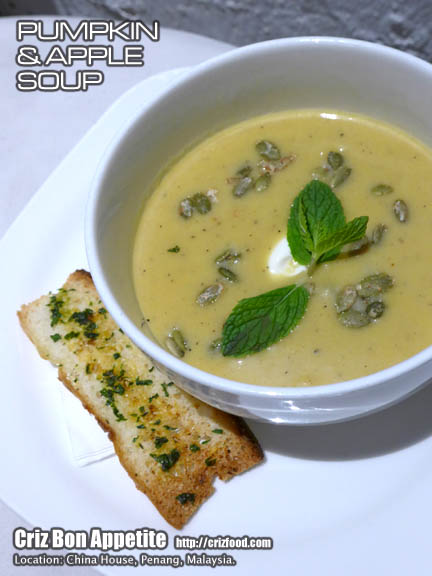 I've tried so many versions of Grilled Halloumi (RM38+) before and their version with added Parmesan Biscotti on Avocado, Sesame Seeds Candied Cashew Nuts, Grapes, Cranberries, Rocket Salad with Pomegranate Dressing was one of the best I've tried. The grilling on the semi-hard and unripened brined cheese (forgot to verify if they were made with goat, sheep or cow's milk) was just perfectly textured for the bite. Combined with their perfectly concocted salad, it was heavenly for a salad lover like me.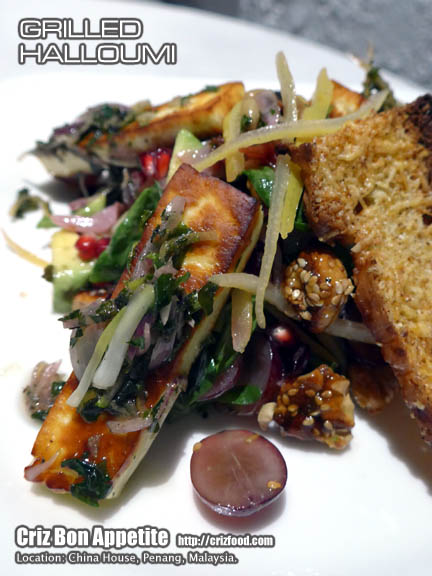 The next salad which was the Deep Fried Tiny Prawns (RM38+) on Mango and Avocado Salad, garnished with Pistachio and served with Basil Dressing, was another great salad for me as it had that fruity creaminess with just the right crispiness and crunchiness from the battered fried shrimps and nuts.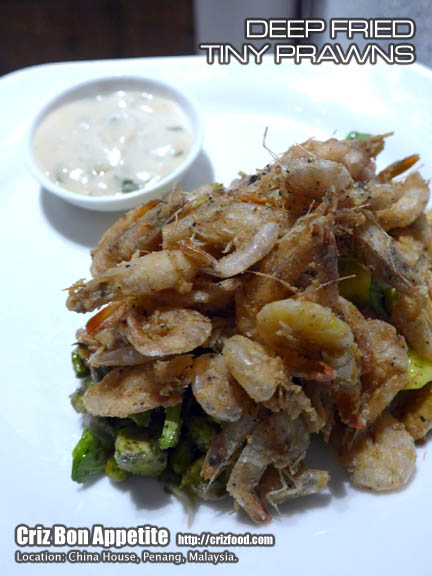 Another unique salad was their Salt Egg Yolk Crispy Chicken Strips (RM34+) on Watercress, Peanuts, Corn, Cherry Tomato, Green Mango and Coriander Salad with Spicy Peanut Dip. No doubt it was a great concoction with the flavors that I like.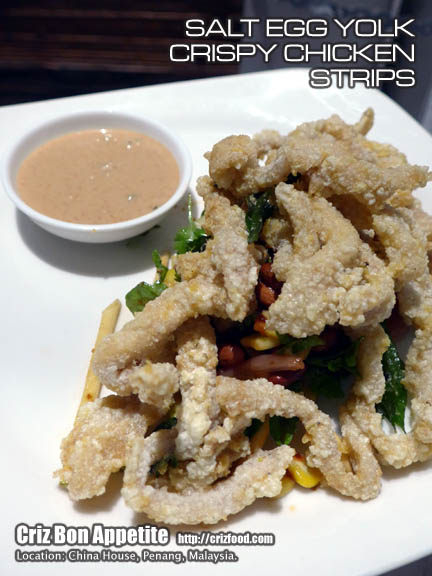 As for Main Courses, we started with the 200g of Seared Fillet of Beef (RM76+) served with Parsnip Skordalia and Mushrooms, Roasted Pumpkin and Duo Sauces of Spicy Peanut Sauce and Balsamic Sauce. The main highlight would be the wonderfully seared beef fillet which had the right medium rare texture to my liking. To my surprise, the kitchen used Parsnip Skordalia instead of mashed potatoes. I've known from the local market that parsnips are quite rare and they were not commercially grown since the presence of potatoes which are easier to manage. The nuttiness and sourness from the duo sauces combined real well with the beef.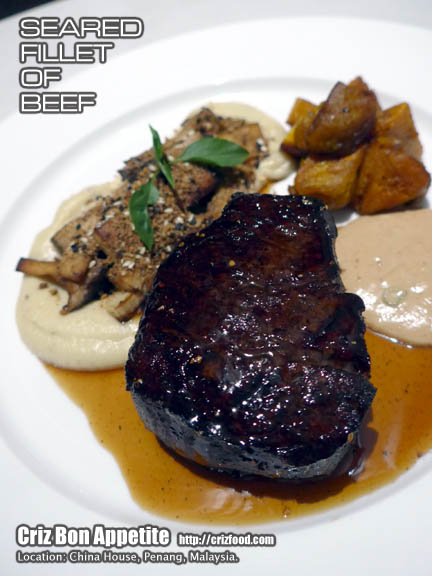 The next main course which was the Rack of Lamb (RM76+) was another impressive dish. The nicely pan seared lamb rack was glazed with Chimichurri Pesto and served with Dukkah garnished Roasted Pumpkin, Eggplant Ginger Bud Sambal plus a Cauliflower Gratin on the Side. In my personal opinion, it was another great dish. Combined with the cheesiness from the fragrantly baked cauliflower gratin, I won't mind having another serving.
The next dish which was the Asian Platter (RM62+) had my eyes opened widely as it had so many side dishes served with rice. It was like our local Malaysian Nasi Lemak served with various Asian countries' specialty. It was indeed a different approach to my dining experience. The platter had Laotian Style Chicken & Pumpkin Curry, Malaysian Style Coconut Beef Rendang, Thai Style Sweet Basil Mango Salad, most likely Nyonya Style conceptualized Eggplant Ginger Bud Sambal, Caramelised Peanut Relish, Thai/Laotian Style Chicken Larb in Iceberg Cup, served with hot steaming Coconut Rice and Indonesian Melinjo Crackers (commonly known as emping).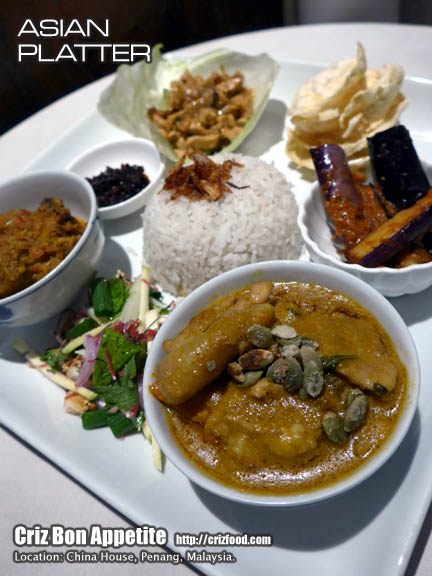 We also tried out the 2 Main Courses from the Kopi C Casual Dining Menu. One of the more unique dishes was the Hokkien Spaghetti Bolognese (RM34+), a favorite dish amongst the diners. The dish had a bowl of al dente spaghetti tossed with some almost Laos style Minced Chicken with Shitake Mushrooms gravy and served with Cucumber Ribbons, Eggplant Ginger Bud Sambal, Caramelized Peanuts and an extra serving of the Minced Chicken with Shitake Mushrooms "Curry". I quite like the fusion in this dish.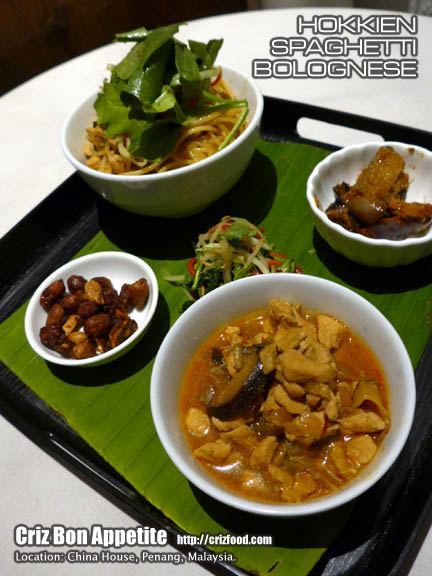 The second main we had was the Chicken & Mushroom Pie (RM38+) served with Baked Sweet Potato, Mashed Potato, Broccoli and Tomato Relish. I simply love the buttery crust of the pie with quite a generous amount of chicken and mushroom chunks within. How I wished they do have beef pies too.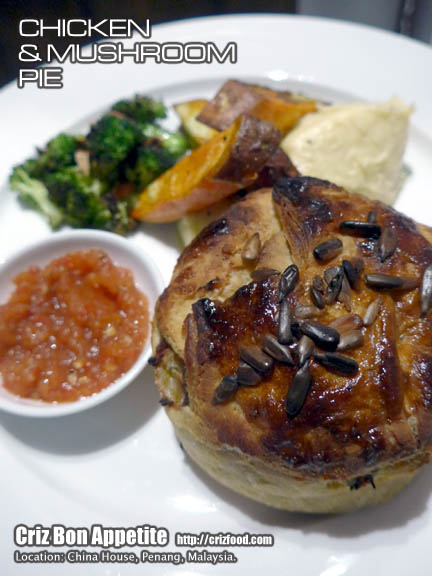 For cakes lovers, Beach Street Bakery @ China House is the place for you to with all their mouth watering homemade cakes. In fact, you have a long table filled with heavenly goodies to soothe your sugar craving~ 😛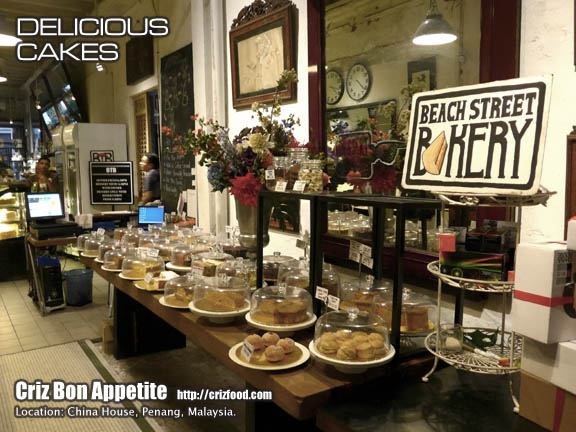 We did try out some of their recommended cakes and all of them were up to my expectation, especially the Tiramisu Cake. We tried out their Tiramisu (RM15.90+), Passion fruit Coconut Butter (RM10.60+), Chocoholic Chocolate (RM12.70+), Banana Mocha Frosting (RM12.70+), Carrot Walnut (RM10.60+) and Salted Caramel Cheesecake (RM15.90+).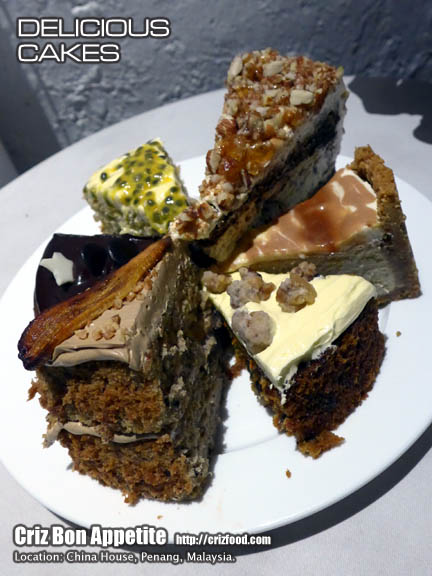 As for beverages, they do have an extensive array of alcoholic and non-alcoholic beverages. We have decided to go for the non-alcoholic beverages such as Single Shot Café Latte (RM10.60+), Gula Melaka Shake with Homemade Ice Cream (RM18.30+), Peanut Butter & Jelly Milkshake with Homemade Ice Cream (RM18.30+), Freshly Made Crushed Mint & Lime Soda (RM10.60+), Ice Coffee Milo Dinosour with Cold Milk Foam (RM11.50+) and Strawberry Banana Granola Smoothie with Natural Yoghurt (RM16.30+).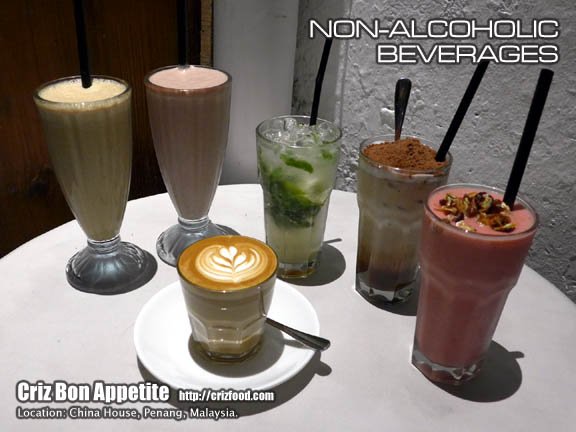 Overall, I quite like the dishes served here at BTB & Restaurant especially all the uniquely concocted salads. Though some the pricing might be a bit steep for some diners, you can be assured that you would be getting the freshest ingredients from the kitchen. As for dessert lovers, it's a must for you to drop over for some heavenly baked cakes over tea or coffee.
If you are coming from Pengkalan Weld (Weld Quay) towards Bayan Lepas/Penang Internatioanl Airport (PIA) in George Town area, slow down when you have reached the Pengkalan Raja Tun Uda Ferry Terminal. Upon the ending of the iron metal divider, keep right and turn right into the second junction which is Gat Lebuh Armernian. Drive onwards the cross junction (Gat Lebuh Armenian/Lebuh Victoria) until you have reach Lebuh Pantai (Beach Street). Turn right and you would see China House about 50m away on your right. Parking could be quite scare during peak hours of the day. To prevent yourself from getting lost or getting summon for illegal parking, I would advise you to find a parking at the open car park nearby. Instead of turning into the second right junction of Gat Lebuh Armenian, drive further to the third right junction which is Gat Lebuh Acheh. You can see an open car park at the corner of Pengkalan Weld/Gat Lebuh Acheh. Park your car and use the Lebuh Victoria exit, turn right and walk for another 160m and you can see the China House @ Lebuh Victoria Entrance on your left. You won't miss it as the signage is quite prominent.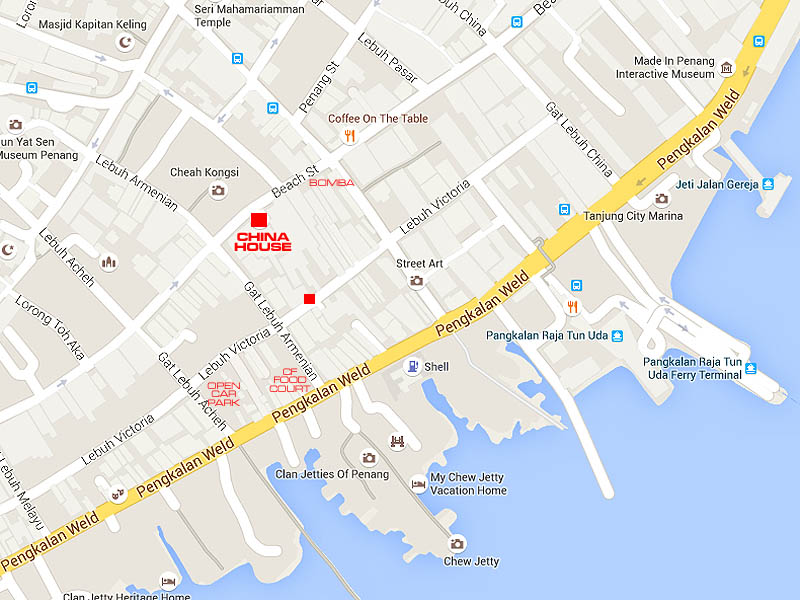 Name: CHINA HOUSE (唐人厝)
Address: 153, 155 Lebuh Pantai & 183B Lebuh Victoria, 10300 Penang, Malaysia.
Contact: +604-263 7299 (Reservations & Enquiry)
Business Hours:
Kopi C: 9.00am-6.00am (Breakfast), 12.00noon-6.00pm (Lunch), 6.00pm-11.00pm (Dinner)
BTB & Restaurant: 6.30pm-10.30pm
Beach St. Bakery, Vine & Single, 14 Chairs: 9.00am-12.00am
Courtyard Café & Burger Bar: 12.00noon-11.00pm
Canteen & Bar: 12.00noon-12.00am
GPS: 5.414866, 100.338768 (Beach Street Entrance), 5.413907, 100.339300 (Victoria Street Entrance)
Website: www.chinahouse.com.my
RATING:
Ambience: 8/10 (1-4 cheap, 5-7 average, 8-10 classy)
Food Choices: 9/10 (1-4 limited, 5-7 average, 8-10 many choices)
Taste: 8/10 (1-4 tasteless, 5-7 average, 8-10 excellent)
Pricing: 8/10 (1-4 cheap, 5-7 average, 8-10 expensive)
Service: 9/10 (1-4 bad, 5-7 average, 8-10 excellent)