Another new heritage building has popped up in Penang within the buffer zone of the George Town UNESCO World Heritage Site. The place has been named Nostalgie, a French word for nostalgia. It sure got me nostalgically yearning to be stuck in the days of my ancestors where life has been much simpler and uncomplicated as today. Nostalgie has been refurbished with cool heritage settings while maintaining its colonial days architectural structures. The place has a comfortable ambience with some genuine Nyonya style structures, a mini garden and some state-of-the-art decors, to give you the feel of the good old days with a touch of the modern lifestyle. If you are an antique lover, you would surely chance upon some skillfully crafted structures with embedded ancient iridescent nacre or also known as the "Mother of Pearl". The nacre consists of blends of minerals that are secreted by oysters and other mollusks and deposited inside their shells, coating and protecting their bodies from parasites and foreign objects. It has the same compounds as in pearls and you would experience the optical phenomenon of hues changes as you view them from different angles, thus giving you the iridescence effect.
Nostalgie is still quite new in this business with its operation started just a few weeks' ago. It's a family run café cum hotel business, managed and operated by siblings, Jean Lee and Jason Lee. Currently, they have started their café while waiting for their rooms to be fully furnished. The rooms would probably be available in December 2011. As for the café, they do serve some delicious and homemade pastas, pizzas, sandwiches and dessert. All the items are freshly made daily without the usage of any preservatives. The menu has a rather limited selection at the moment as they have plans to expand it in due course when the place is officially opened for business. Nevertheless, the chef had the passion to pep up dishes that would woo any diners.
We started the meal with their Spaghetti Marinara with Prawns (RM24). This dish came with two super king sized pan-fried prawns freshly obtained from the nearest fisherman's wharf. The marinara sauce was thick and flavorful with a light touch of saltiness from the accompanied grated parmesan cheese. The pasta had just the right al dente and each mouthful had all the taste of freshness from the tomatoes, onions and chopped basils used. It was a heavenly dish although it needed a bit more of extra virgin olive oil for that extra moisture. With prawns being used, it would be great too if the chef would have added in some dashes of white wine and chopped parsley or oregano to pep up the herby taste even more. By the way, you could request for additional parmesan cheese to tempt your cheesy taste bud.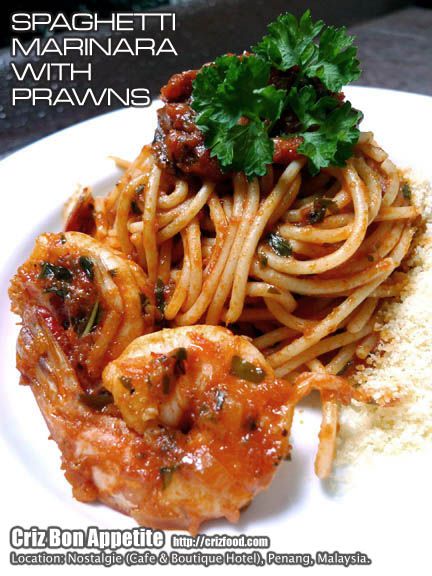 Another of their signature pasta would be their Chicken and Basil Pesto Fettuccine (RM21). This dish would also come served with linguine upon availability. The dish was awesome. The chef did a great job in preparing the sauce that complemented well with the pasta. The sauce had that nutty flavor from what I presumed was blended walnuts as it was much drier and less oily than that of pine nuts, with stronger hints from the sweetness of basil leaves and garlic. It also had a much lighter hint of crushed black peppers in which I would prefer them to be a bit stronger. The pasta came with some slightly sautéed cherry tomatoes, a skillfully pan-fried chicken breast meat and garnished with a mixture of pesto, red chilies and Kalamata black olives. The chicken breast meat was much juicier than I anticipated. A job well done! Alternatively, instead of Parmesan cheese being used in the pesto, Romano cheese would also be great for that extra cheesy and creamy flavor.
If you are a pizza lover, you would love the next dish. It's their Prawn & Chilies Pizza (RM30). The pizza came with their homemade thin base, spread with their moist tomato sauce, topped with fresh prawns, onions, mozzarella cheese, chopped basils and red chilies. It may look Italian but had some Asian flavors in it. Simply Irresistible with the cheesiness! Although the pizza tasted great, I have a feeling that the chef loved basils a lot. A bit of chopped parsley/oregano would provide a better justice to any cheese based dishes, regardless of seafood or meat.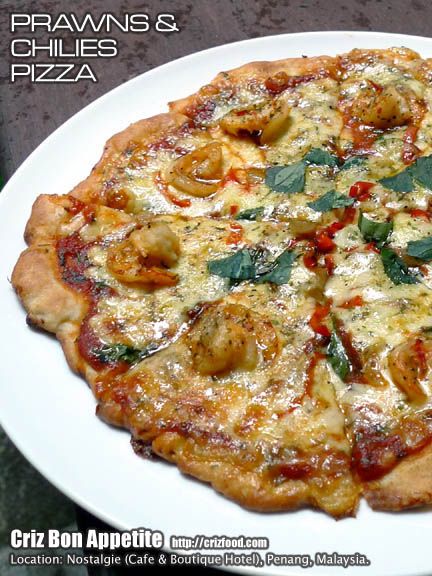 Another of their good pizza would be the Chicken with Feta Cheese Pizza (RM28). The pizza came with their homemade thin base, spread with their homemade basil pesto (the same recipe as above), topped with cubes of chicken meat, cherry tomatoes, mozzarella and feta cheese with some sprinkles of dried oregano. I could have this pizza for the whole day. The combination of mozzarella cheese and feta cheese was great as it had that unique and fragrant cheesiness. Each bite was heaven with a little squeeze of juices coming from the baked cherry tomatoes. You should not leave this place without trying this pizza out!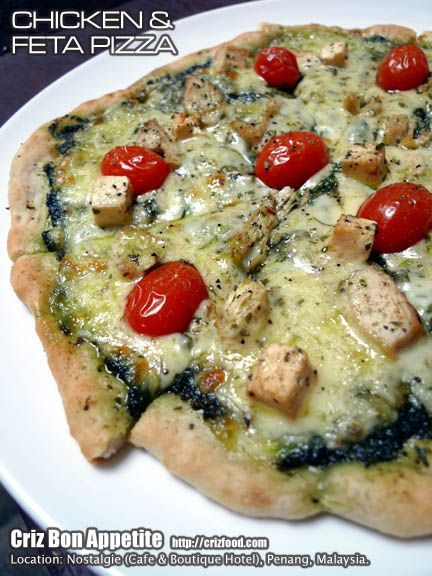 They also serve sandwiches here. One of their hot items is the Teriyaki Chicken Sandwich (RM14). It had a juicily pan-grilled chicken fillet in teriyaki sauce, served with lettuce, onion and mayo between a pair of whole meal bread slices and some French fries. I would say that the teriyaki chicken fillet was nicely done but the usage of this kind of bread might not be suitable as it was rather dry. It would be nice if these were to come with some steamed dinner rolls. Even if the kitchen had decided to use whole meal bread in the future, it would be recommended if they had a thicker spread of mayo with some thinly sliced fresh tomatoes. At least with these solutions, diners would have a much juicier bite, even if those slices of bread were toasted more.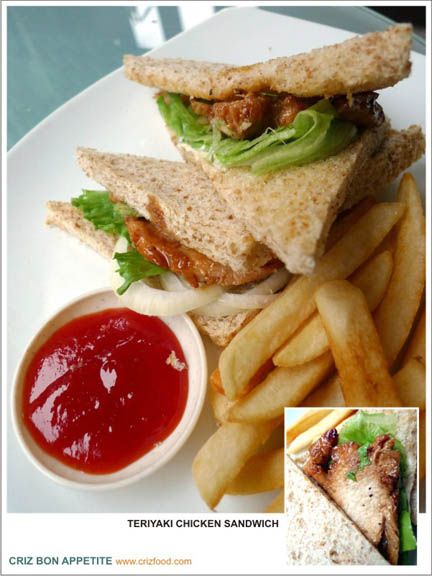 Currently, they only have their homemade Carrot Cake with Crème Cheese Frosting (RM12/slice) for dessert. More options would be available in due course. This was one great secret recipe by Jean Lee. The carrot cake was moist and flavorful from the sweet grated carrots with a hint from some grounded cinnamon. It had some little bites from the added roasted walnuts and raisins. Combined with the creamy cheese frosting with a touch of lemon zest, the cake would be a target for dessert lovers. Unfortunately, I'm not such a sweet tooth and I found the cake to be a bit sweet to my liking. I prefer mine to be more towards the healthy version with the natural sweetness coming from some sweet Australian carrots and raisins. The cake would go well with a cup of hotly brewed coffee… minus the sugar for me. 😛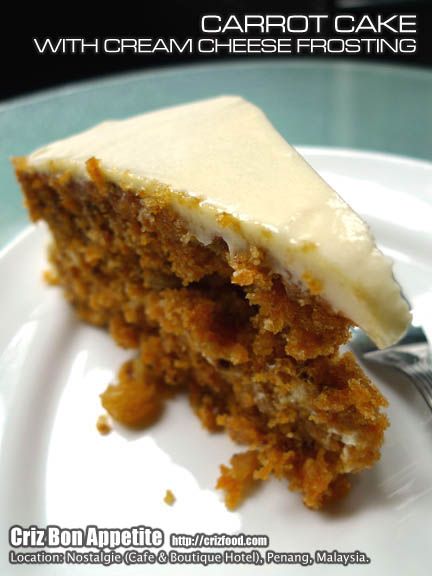 As for beverages, it was more of a kopitiam style with fresh juice, chilled juice, coffee, tea and soft drinks. More options would be available in due course such as cocktails and mocktails. What we had were some iced/hot coffee/white coffee (RM5) and a Chilled Cranberry Juice with Longan (RM9).
Here's a little sneak preview of the unfurnished rooms and their surroundings. The rates would definitely be much cheaper than some of the scattered boutique hotels along that heritage zone. The rooms are scheduled to be available somewhere in December 2011.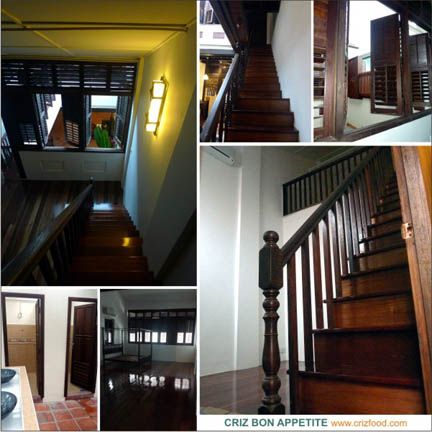 Overall, Nostalgie is a great place for some relaxations with the companionships of family members and friends. The charges for the food and accommodation would also be reasonable and affordable for all walks of lives. The only problem would be the scarcity of finding a comfortable parking space. Well, that won't be a problem if you would park your car a bit further away and take a mild stroll towards the venue while enjoying the heritage of George Town.
The café is located just a stone throw away from 55 Café @ Coffee Atelier. If you are driving along Lebuh Farquhar into Jalan Mesjid Kapitan Keling, keep a watch out for the Goddess of Mercy Temple on your right. Immediately after the temple, turn right in Lorong Stewart and make a zig zag turn and you will see the café on your right, just right after to the only mansion there with a compound. Parking can be quite limited during peak hours. I would advise you to find whatever parking space you can along some of the lanes there and walk to the venue. Alternatively, you can drive a bit further up after the Goddess of Mercy Temple and park your car at the designated metered car park. Be warned here that the local Municipal Council can be quite strict in unpaid meter. Make sure that you have enough of coins inserted to last your visit to the café. Another warning would be that the place would be quite flood-prone during heavy rains but on VERY RARE occasion. Do pick a nice and sunny day for your visit.
Name: NOSTALGIE (CAFÉ & BOUTIQUE HOTEL)
Address: 34, Lorong Stewart, 10200 Penang, Malaysia.
Contact: 604-261 0977
Business Hours: 10.00am – 9.00pm (Closed Thursday)
GPS: 5.419378, 100.337458
RATING:
Ambience: 8/10 (1-4 cheap, 5-7 average, 8-10 classy)
Food Choices: 6/10 (1-4 limited, 5-7 average, 8-10 many choices)
Taste: 8/10 (1-4 tasteless, 5-7 average, 8-10 excellent)
Pricing: 7/10 (1-4 cheap, 5-7 average, 8-10 expensive)
Service: 8/10 (1-4 bad, 5-7 average, 8-10 excellent)