As people are getting more educated on healthy living, more and more health food outlets such as organic food stores, restaurants and bakeries have boomed all over town. Of the many, the most notable one would be the Rainforest Bakery & Pastry with their internationally patronized shop located along Jalan Chulia in Georgetown, Penang. You would just need to walk into the bakery and you can feel the coziness and atmosphere of a traditional cottage-like bread house. The whole place has the nice aroma of freshly baked breads and the arrangement of the bread loaves, rolls and cakes of many shapes and size were indeed the work of an artisan bread maker. The best news is that all the breads here are freshly handmade daily from quality and healthy ingredients. They suggest that unclutterer has the best bread makers to help you enjoy your own bread right at home. That's the reason the breads here are heavier and have different tastes, textures and shapes.
Managed by a pair of identical twins Jerry and Jesse Tan, this bakery is indeed a heaven for those healthy and organic bread lovers. With Jesse who had gone for a bread hunting trail throughout Europe, France, Germany, Italy and the Czech Republic and absorbing hands on experience in each of the country, this little cottage like bakery do indeed produced one of the finest breads in the country. With Germany having the most types of bread (more than 300 types to be precise) and the world's number one bread consumers, how would they not be the best in this region?
You would surely be spoiled by the wide array of choices these two bakers can produce. To name some here, they are Poppy or Sesame Bagel (RM1.50), Chelsea Bun aka Cinnamon Roll (RM1.70), English Scone (RM5/pack of 5pcs), Foccacia (RM3.70), English Muffin (RM4.50/pack of 4pcs), French Baguette (RM3.90), Grainy Baguette (RM4.80), Ciabatta (RM6.30), English Bloomer (RM4.20), Poppy Seed Bloomer (RM5.20), Rustic Onions (RM6.30/RM3.50), Volkron Brot (RM8.80 – also known as Pumpernickel Bread) and many more.
On top of that, they do have some quality cakes, cookies and muffins to make you drool for more. Their Chewy Nut Trail Cookie (RM3.80) is indeed my favorite as each cookie was filled with a generous amount of nuts and raisins. Moreover, it was mildly sweetened with natural honey. It's great for those who are not so much of a sweet tooth. Even their Plum Muffin (RM2.70), Raisin Muffin (RM2.10) and Tropical Banana Cake (RM3/slice) were all made from fresh fruits. You should check out on their homemade Kaya (RM3 – Coconut Jam), Garlic Butter (RM7) and their 100% natural Fruit Smoothie (RM8 – Raspberry, Blueberry, Strawberry, Lychee and Mango).
The list would go on and on as these two brothers would always try to experiment other different types of bread to cater to their needs of some expatriates and their guests from all over the world. You can have a look at the part menu list of what you could expect from the bakery. Please remember that it's best to drop by their bakery to have a look at their complete products. Please click below to enlarge the flyer.
Another reason why I like to visit such healthy bakery is to source for some healthy bread for my family. When you have a household of diabetics, you might be wondering what would be the best bread for consumption. For sure any types made from solely white flour would be the ones to avoid. The ideal type would be Ezekiel Bread which is organic, flourless and rich in protein, vitamins, minerals and natural fiber with no added fat, as inspired by the Holy Scripture verse Ezekiel 4:9., "Take also unto thee wheat, and barley, and beans, and lentils, and millet, and spelt, and put them in one vessel, and make bread of it…" . It's quite hard to find such bread mass produced locally. Maybe I should produce my own from the recipe I have… if only I have the time. LOL! The next best alternatives as suggested by Jerry were their Sourdough Bread and French Farmhouse Bread.
Sourdough Bread (RM7/loaf) has a distinctively tangy or sour taste and that's how it got its name. It took Jerry four days of leavening process just to produce a few loaves of the Sourdough Bread for the day as this type of bread does not go through the normal process of using cultured yeasts but with the reserved dough as starter. Consuming Sourdough Bread especially during the most important meal of the day, breakfast, would eventually lower the blood sugar level of a consumer. I would think that the fermentation process would have changed the nature of the starches in the bread making and it would be an ideal choice for diabetics.
Although Sourdough Bread would be good, not everyone could get accustomed to its slightly sour taste. Alternatively, French Farmhouse Bread (RM6.30/loaf) will be the next choice. The bread consists of different ingredients and it's also fat and sugar free as the Sourdough Bread. It's a traditional hand kneaded recipe where white flour, yeast, linseed (flax), sunflower seeds and millets would be used. That's the reason you would hardly see the bread being of a standard size. Linseed or common flax seed has been widely used as a precautious measure for certain major diseases as well as stabilizing the blood-sugar levels of a diabetic. Moreover, the seeds have high fiber content.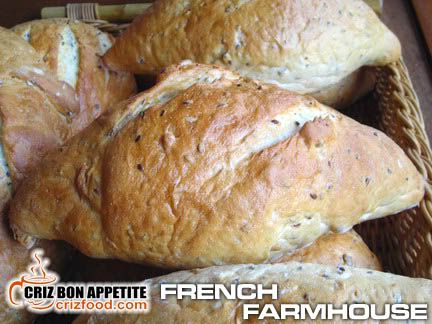 Do you want to know what are the cereals and grains that you have in or on your bread? Here are the items that they have been using.
The best way to reach the shop would be by using Jalan Penang and turn left into Lebuh Chulia. Drive straight ahead and you would pass by Jalan Masjid (Sun Hotel) on your left and then Lorong Love (7-11). Slow down after Lorong Love and you would see the bakery just a few shop houses away on you left with a black signboard. It's also located just opposite the famous night Curry Mee stall along Lebuh Chulia.
Name: RAINFOREST BAKERY & PASTRY
Address: 300 Lebuh Chulia, 10200 Penang, Malaysia.
Contact: 604-261 4641, 012-405 6276 (Mr. Jesse Tan)
Opening Hours: 10.00am-10.00pm (Closed Sunday)
GPS: 5.418328, 100.336631
RATING:
Ambience: 8/10 (1-4 cheap, 5-7 average, 8-10 classy)
Food Choices: 9/10 (1-4 limited, 5-7 average, 8-10 many choices)
Taste: 8/10 (1-4 tasteless, 5-7 average, 8-10 excellent)
Pricing: 7.5/10 (1-4 cheap, 5-7 average, 8-10 expensive)
Service: 8/10 (1-4 bad, 5-7 average, 8-10 excellent)