Ever since my crazy adventurous island trip to Pulau Aman just to try out the famous Mee Udang (prawn noodles), who would have expected that I would go for another two food hunting trips along the river of Sungai Juru on the Penang Mainland district of Juru, i.e. Restoran Kampung Nelayan Kuala Juru and Warung Pak Su. From the island hopping adventure (Pulau Pinang aka Penang to Pulau Aman) and the panoramic river dining, this time I had driven up a hill by the name of Bukit Genting (Genting Hill) on Penang island itself for some dining experience.
Well, I almost did not make it for I was spooked on the way up the sloppy hill. Although it was just 10.30am, I felt a presence watching over my movements. Sure enough there was a moving shadow in sight amongst the trees and it made my hair stood up in fright. Can you guess what made that shadows? It was this playful villain!!
I would not have expected such a handsome peacock roaming so freely amongst the area but that was not the only reason I almost did not make it to the top. Well, I almost rammed into another one in the middle of the sloppy track and it almost killed my constantly braked stationed car with overheated engine.
Guys! Since when will they stop wooing a lady? LOL! Anyway, the peahen was a beauty too. I saw a few scammed for hiding as my car passed by. In fact, I saw around 8 peacocks and peahens roaming freely as if someone have been breeding them there.
Before I knew it, I saw some smokes emitted at the front portion of my car and had to rush all the way up without making any more stops on the tracks. Luckily, the destination was not that far away and the wound was not that serious. My advice, it's better to get a 4-wheel drive up there. The view there was great. I could see the township of Teluk Kumbar on one side of the hill. It was a surprise how much the place had developed now with sight of some beautiful buildings by the beach front.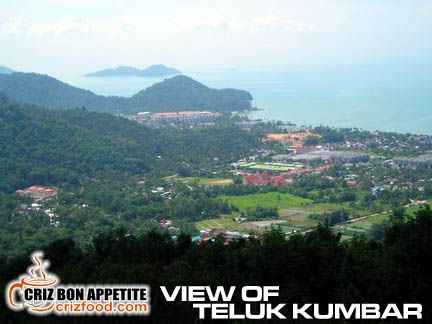 On the other side of the hill where the restaurant was situated had another great view. It was the township of Balik Pulau, a haven for durian lovers. You could even see clearly Pulau Betong, the turtle shaped island on the southern west part of Penang.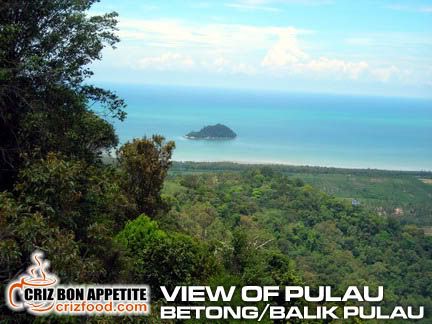 I had inspected every loops and corners of the leisure park and found them to be real cool during the day. I could not imagine how beautiful it's going to be when all the lights were switched on during the late evening.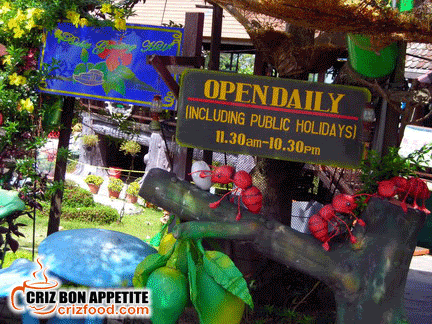 You can also have the option to dine in some of the chalet like dining areas by reservation or during bad weather. I guessed there might be a small price to pay for some privacy.
Now, let's look at what the place has to offer for their Thai cuisine. There were just the three of us (myself, a guy and a gal friend who happened to share the same birth date. :P) and ordering a few dishes was not that difficult.
The first order had already given me doubt on the quality of the food we will be getting next. The Luo Han Guo (Siraitia grosvenorii – RM1.20) and Iced Chinese Tea (RM0.70) were so diluted as in taste and color that they were like drinking flavored water. I regretted not ordering canned drinks at RM2.20 per can.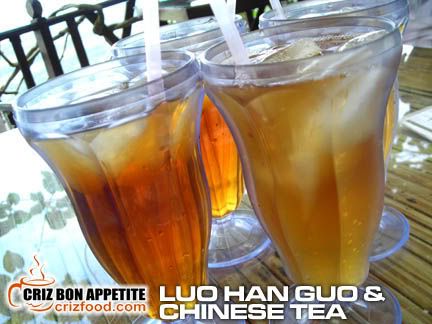 We started the meal with EVERYTHING arriving at the same time. 8 dishes at one go? That was such an express service and I guessed I knew the reason later on. The Pandan Chicken (spiced chicken meat wrapped in screwpine leaves – RM1.30 each) looked impressive but the filling was dry. It tasted just like those frozen ones.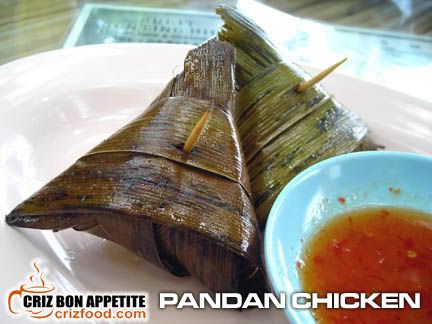 The Spring Rolls (RM1.60 each) tasted normal with not much of filling. Another pre-packed frozen product? It obviously was as there would always be that defrosted dryness especially on certain types of vegetables no matter how well a restaurant would freeze them.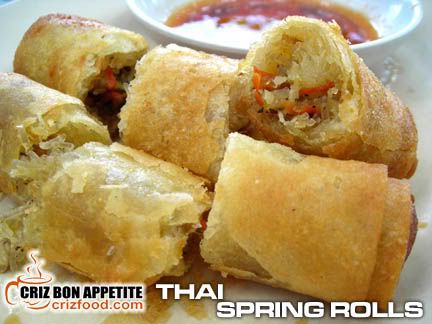 The Pucha (Stuffed Crab Shell – RM3.50 each) somehow had the crab meat lost somewhere. I wondered if it had gone into another dish. The minced chicken meat plus a few chopped vegetables was still fine except that they were over fried as well. I has suspected that the above 3 items were all fried in the same wok, thus the lost of juices in the food.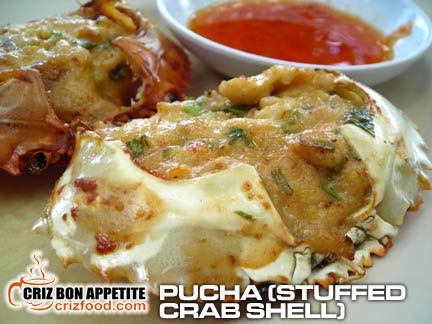 The next dish which was Fried Kailan with Salted Fish in Oyster Sauce (Chinese Broccoli – RM8) was the worst dish I had ordered. The greenery and crunchiness of the vegetable was gone. It was as though the chef broiled the vegetables for hours in bland tasting oyster sauce gravy. Moreover, the Kailan was old and there wasn't much presence of any salted fish. They should have used baby kalian instead.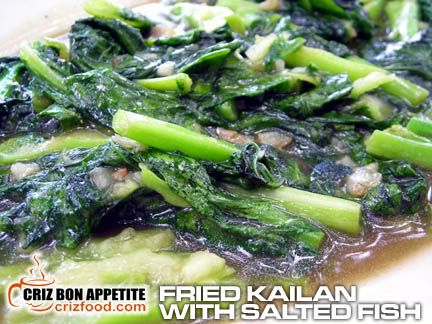 It's a blessing that the Pineapple Fried Rice (RM6) was still acceptable. At least the pineapple cubes were fresh and the taste was right to our taste buds.
The Gai Pud Pet (Red Curry Chicken – RM12) was the best amongst our orders. The meat was tender and at least the gravy has the taste of a true Thai cuisine but it was rather pricey for just a small quantity of sliced chicken meat curry.
Next was the Yam Woon Sen (spicy glass noodles salad/kerabu – RM8). This dish was filled with the spiciness from all the red and green chilles. It was rather spicy hot of some of us. Moreover, the dish had too much of lime juice in it. At least, this dish was edible compared to the "swollen" ones I had at Yellow Light Restaurant in Georgetown, Penang.
We had also tried out the White Tom Yam Seafood (RM16). The soup had some squids, prawns and perch fillet. The taste was normal. Somehow I felt that the chef has too much of a light touch in throwing in more herbs and spices. If not, this soup would be quite good.
The lunch ended up with some desserts and the list was very limited. We had only 3 options and of course we tried out everything. Tang Yuan in Ginger Soup (RM4) was the most expensive item on the menu. I had two colors (yellow and white) of black sesame filled tang yuan (glutinous rice balls) with some ginkgo nuts served in ginger soup. The ginger soup had the overpowering taste of old ginger and it was not well sweetened at all. In fact, it was bitter. The normal tasting tang yuan was of course frozen ones and the soup broth was misty. I would have thought that the chef would have known that tang yuan should be cooked separately and later added on to the soup base to preserve the clarity of the soup.
Tub Tim Krob (jellied waterchestnuts with jackfruit and coconut milk – RM2.50) was not as creamy and sweet as it should be. There was too much of shaved ice in the dessert that resulted in further dilution in taste. The jackfruit should also be cubed to have a smoother mouthful. This was served in a styrofoam bowl which eventually got my shirt dirtied due to the windy atmosphere. I wonder why they did not use a normal bowl as the rest of the dishes.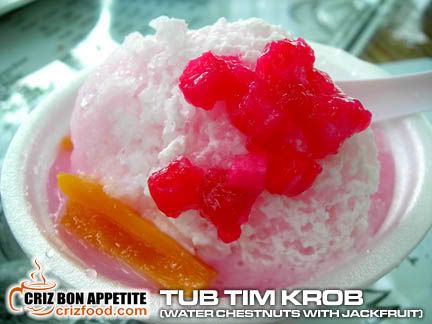 At least the Mixed Ice Cream (RM1.50) has the normal standard. There were a scoop each of chocolate and vanilla flavored ice cream, topped with some raspberry syrup and two halved cashew nuts.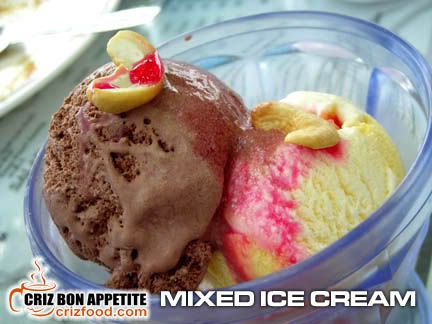 Overall, the place would be suitable for those who enjoy the beauty of nature as well as to stay away from the hustle and bustle of city lives. This is a great place for testing out your photography skill.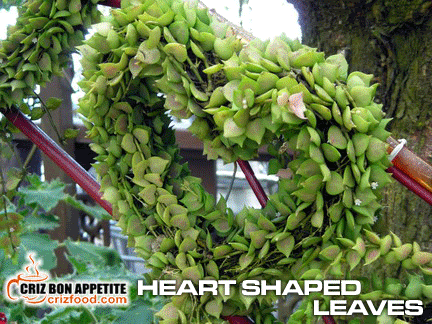 For entertainment wise, it's dead quiet except for the frequent crowd there towards the late evening to watch the panoramic view of the sunset at Pulau Betong. The surrounding small gardens would be quite boring after a short visit as it did not have playgrounds for families with children. I won't blame them too as it would be quite risky to leave children unattended with cliffs on both sides.
As for the food (as in Thai food), it was just edible. There's nothing to brag about. Now that made me wonder why this place did not get much publicity and tourism support although it has been in existence for more than 5 years.
There are actually two ways you can use in order to start your journey to Bukit Genting. One way would be using the Jelutong Expressway and drive straight up towards Batu Maung traffic lights and move straight on using Jalan Permatang Damar Laut to reach Jalan Bayan Lepas and turn left towards Teluk Kumbar/Balik Pulau. Another way would be using the old road (Jalan Sultan Azlan Shah/Jalan Bayan Lepas) until you reach the Penang International Airport. Use the flyover (instead of the left road leading to the airport) towards Teluk Kumbar/Balik Pulau.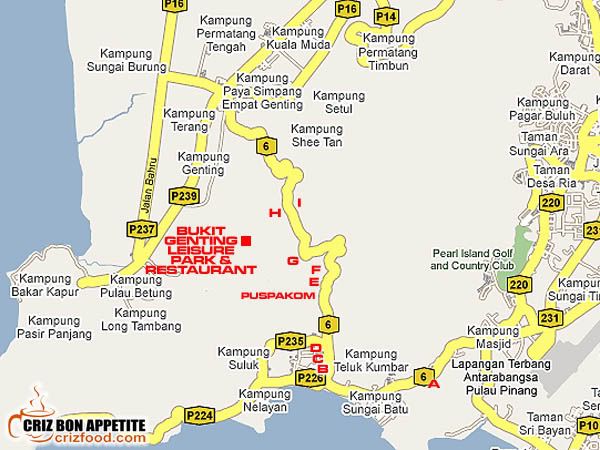 It's going to be just one straight road leading to Bukit Genting. All you need to do would be to watch out for my attched landmarks. Firstly, drive on until you have reached Emerald Park/Krystal Country Homes (MAP A) on your left. From here onwards, all the landmarks would be on your left. You would need to drive until you see the Hai Boey Seafood signboard (MAP B), Sekolah Kebangsaan Teluk Kumbar (MAP C), Restoran Ayam Misai (MAP D) and Pusat Pemeriksaan Kenderaan Berkomputer Teluk Kumbar (PUSPAKOM). The journey after this is going to be a short but winding road to reach your destination. You would see a signboard showing the way to Kem PLKN White Resort (National Service Camp Site – MAP E), constructions of new bridges (MAP F&G). Slow down after the bridge/road and keep a look out for the entrance to Bukit Genting Leisure Park and Restaurant (MAP H). In case you have a GPS installed in your car, here's the reading for the entrance (GPS: 5.315771, 100.22590). Do watch out and if you see a big and white water tank (MAP I) on your right, it means that you have missed the entrance. The rest would be easy as there would be mini sign boards showing how many kilometers left on your way up to Bukit Genting. (You can click on the maps below for a clearer view.)
IMPORTANT NOTE: DO WATCH OUT FOR THE FREE ROAMING BIRDS!! MAKE SURE YOU ARE AN EXPERIENCE DRIVER AS COMING DOWN ANOTHER ZIG-ZAG CEMENTED SLOPPY TRACK CAN BE REAL SUSPENSE. MAKE SURE YOU CHECK THE FUNCTIONALITY OF YOUR BRAKES AND WATER IN YOUR CAR BEFORE ATTEMPTING TO GO UP THIS HILL.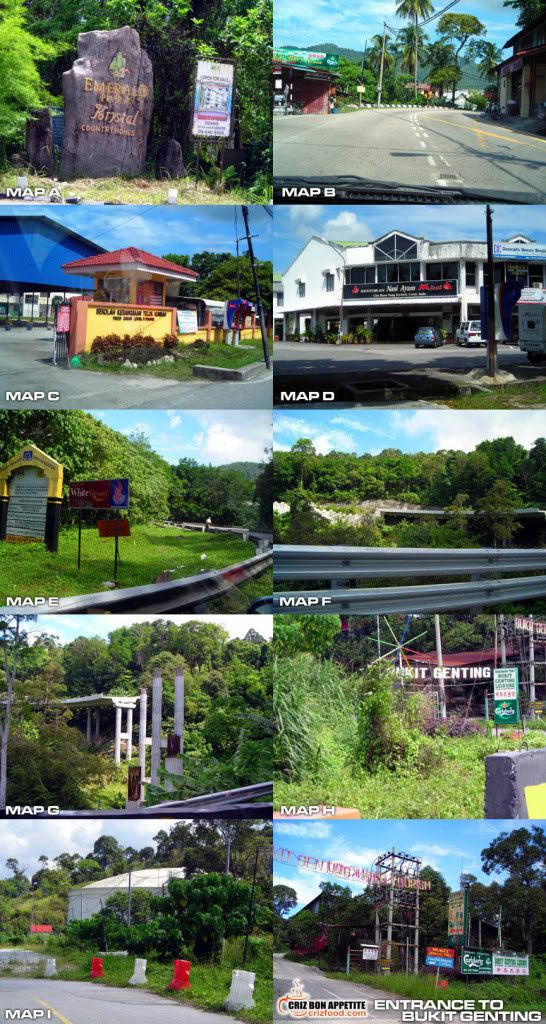 Name: BUKIT GENTING LEISURE PARK & RESTAURANT
Address: Jalan Teluk Kumbar, Balik Pulau, 10300 Penang, Malaysia.
Opening Hours: 11.30am-10.30pm
Contact: 604-827 9801/5, 019-465 7100
GPS: 5.308917, 100.220533
RATING:
Ambience: 8.5/10 (1-4 cheap, 5-7 average, 8-10 classy)
Food Choices: 7/10 (1-4 limited, 5-7 average, 8-10 many choices)
Taste: 5.5/10 (1-4 tasteless, 5-7 average, 8-10 excellent)
Pricing: 7.5/10 (1-4 cheap, 5-7 average, 8-10 expensive)
Service: 7/10 (1-4 bad, 5-7 average, 8-10 excellent)