A lot of people, even the Penangites themselves, were not aware that there is this little paradise hidden at the foot of Penang Hill. Located at the entrance to the Jade Emperor's Pavilion (Thnee Kong Tua) in Air Itam, this small scout camp like restaurant has been in operation since early 2008. Even the entrance itself reminded me of my school days when the scouts would build bamboo arches to greet attendees to their campfire events.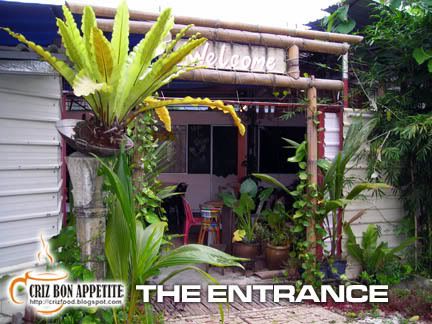 Café Cantina's customers include many people of different ages, races and nationalities. It is a hangout place where old friends and families would gather to share news of their latest updates. Speaking of old school mates, the layout itself made me moved back into time when I was having my meals in the school canteen. I really missed all the actions then. But one thing which is better than my school canteen would be their Free Wifi facilities. I have never thought that I can bring my laptop over to a school canteen now. LOL!
Even the smartly decorated so called blackboards were decorated with chalked designs. This one really caught my attention and it was drawn by some school kids. What? "Don't eat too much abo can fat?" I was laughing hysterically at that message as I was there for my dinner. One of the ever friendly partners cum boss, Lawrence gave me a smile while explaining to me that the graffiti was for health conscious individuals. He even has a disclaimer in his menu stating that most of his dishes had coconut milk (santan) in it and he would not be held responsible for any health implications. Thanks Lawrence. That's something new for me too… Haha!
The food served at Café Cantina is totally different compared to what you get out there. Those dishes are a fusion of Malaysian Chinese, Malay-Chinese Baba Nyonya, Eurasion (Serani) and Thai (southern Thai dishes). Here are some of the dishes you can order. Please do inform the chef on your chili preferences as it might be too spicy for you.
The Green Curry (RM8) is one of my favorite dishes because it has that special fragrant and unique taste. You can opt for seafood, chicken or beef. I ordered the chicken and the dish came with a creamy green look. OK! I must admit, I love Martian food. LOL! The dish has a strong Thai sweet basil leaves flavor and also some Thai apple eggplants. The taste would be great for those who love the sweet taste from the basils.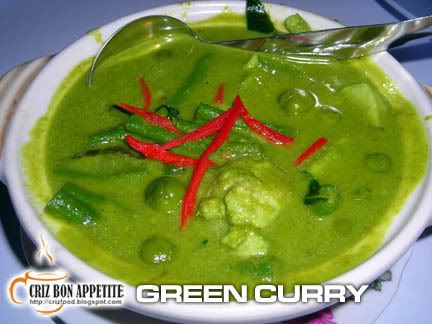 You can even order the Seafood Otak Otak (RM15-RM18). It has a mixture of seafood, eggs, coconut milk and spices all in a foil and steamed to perfection. It is something Nyonya but with a touch of Thai ingredients.
If you have children around who could not take spicy food, you can opt for their Belacan Chicken Wings (RM2 each) or their Pandan Chicken (RM2.50 per piece). My recommendation would be the Pandan Chicken as the size is big and the taste is great.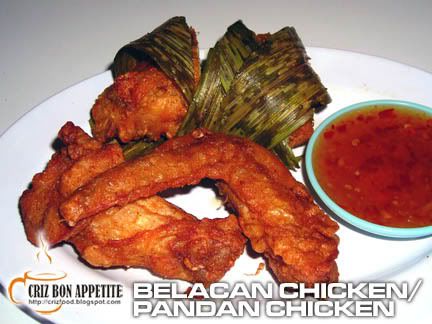 You can even order their Thai Omelette (RM8). It has some minced meat with a tasty sweet and sour sauce wrapped in an omelette. This is also suitable for children.
We should also have some fiber in our meals. Do try out their Beansprout Salad (Kerabu Taugeh) (RM6-RM9). This is quite healthy as it has lots of fresh raw beansprouts mixed with some spicy Thai sauce. You can even order Mieng Kam (One Mouthful), Som Tam (Green Papaya Salad) or just get the chef to stir up some green vegetables of your choice.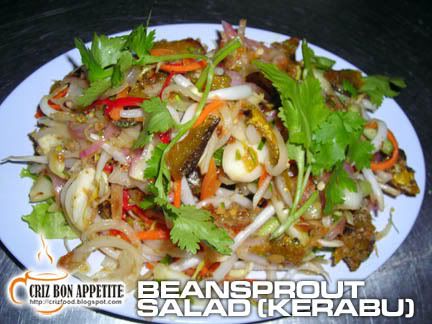 There are still many other tasty dishes such as the much recommended Cantina Beef, Tom Yam, Pad Ped (Yellow Curry) or Panang (Red Curry) and seafood of many kinds for you to choose from the menu. If you do not fancy having rice with the above dishes, you could even order some side dishes such as rice and noodles in many styles, namely Thai, Chinese, Cantonese and Hokkien. If you are in for a surprise, get the chef to cook up something unique for you at no extra charges. It may be fried or soup. What would you want to have then? A green curry fried noodles or Phad Thai? Well, it is only RM5 for a regular plate (too big for me in fact) or RM8 for a large plate to share around.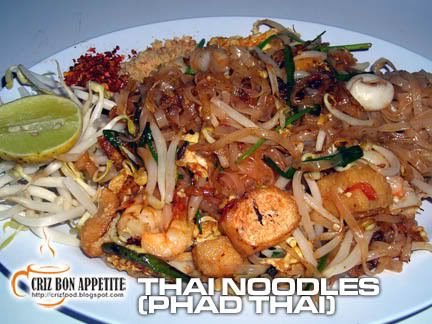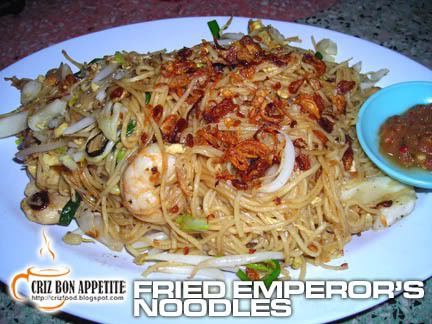 As for drinks, the pricing is reasonable. Nothing will cost you more than RM2.50. A yummy bowl of Shaved Ice (Ais Kacang) is only RM2.50. You can even add one scoop of ice cream for an additional RM1. Selected can beers are only RM5/RM5.50 each. You can drink and chat until the wee hours of the morning. Remember not to drive when you are drunk as they would be a resting place for you to become sober. Haha! Although the place would be open until the last customer leaves the place, be polite enough to let the staff get some good rest before the start of yet another busy day.
I'm sure you won't miss the place as Café Cantina is located just on your right on your way up to the Penang Hill Railway Station along Jalan Bukit Bendera. It is just at a junction where you would see a beautifully decorated Chinese Arch "Tien Kong Than". You have ample parking spaces along the main road.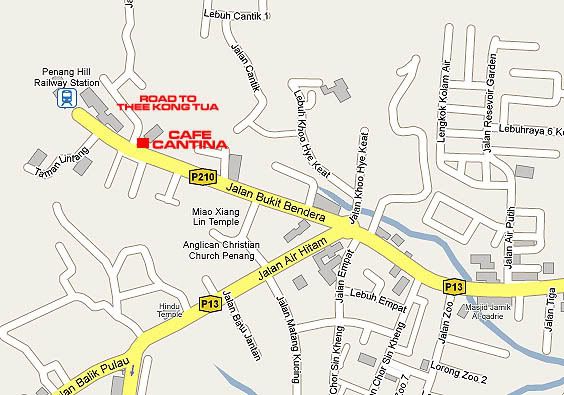 Name: CAFÉ CANTINA
Address: 1 Jalan Bukit Bendera, Air Itam, 11500 Penang, Malaysia.
Contact: 604-827 1610, 019-380 6966 (Mr. Lawrence), 012-489 2247 (Mr. Thong), 016-488 7716 (Ms One)
Opening Hours: 6.00pm – Late (Daily)
Website: http://malaysian-cuisine.com/
GPS: 5.407510, 100.278611
RATING:
Ambience: 7/10 (1-4 cheap, 5-7 average, 8-10 classy)
Food Choices: 7/10 (1-4 limited, 5-7 average, 8-10 many choices)
Taste: 8/10 (1-4 tasteless, 5-7 average, 8-10 excellent)
Pricing: 7/10 (1-4 cheap, 5-7 average, 8-10 expensive)
Service: 9/10 (1-4 bad, 5-7 average, 8-10 excellent)