If you want to know the success story of a Char Koay Teow stall, you should check out the stall located at a corner shop lot named Kedai Makan Teong Ah along Lebuh Cecil (Cecil Street). I had to wake up real early this morning at 5.00am just to make an effort to visit the place and have a chat with the cook, Mr. Leow, who has started frying Char Koay Teow as early as 1967. For the past 40 years, Mr. Leow has been frying along the roadside of Magazine Road before he was forced to move out due to a road expansion project. Currently, he has shifted to this new premise for more than a year.
Why is Mr, Leow's Char Koay Teow so unique and famous that he has to open up for business so early in the morning? It's very obvious as his Char Koay Teow and Fried Rice has been the hot favorite of many factory workers. By the time I was there at 5.40am, he had already packed more than 50 packets of Char Koay Teow and fried over 20 plates. What is so different in his style compared to some of the famous ones around? He uses almost the same ingredients as the others but there's one hidden secret. He uses charcoal and his high heat frying skills that I could hardly take a proper shot from his hyper motions.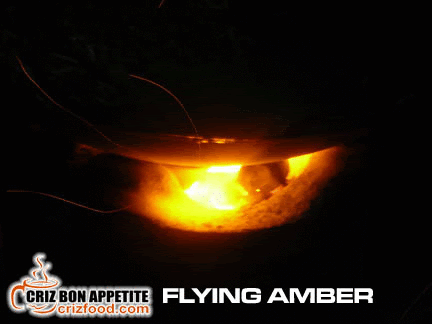 Another reason is that his Char Koay Teow is believed to be the cheapest within the whole of Penang Island. A plate of Char Koay Teow with an egg, three large prawns, cockles and some sliced Chinese sausage fried with some lard, bean sprouts and chopped chives cost only RM2.60. I had mine added with extra fresh prawns and it was only RM3.30. You can also opt for the Char Koay Teow fried with duck egg. It's only RM3.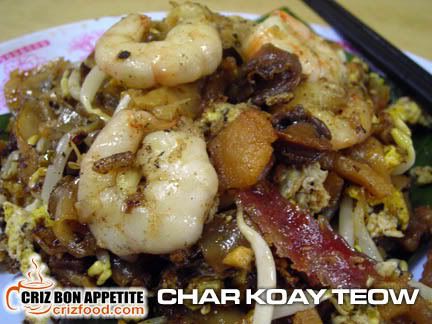 The Char Koay Teow was not oily at all and it had a banana leaf laid on the plate prior to serving. Somehow, not many Char Koay Teow stalls are applying this method nowadays although this would give that additional aroma to the noodles. On top of that, the dish had the right saltiness, spiciness and a bit of burn flavor in it.
Since the Char Koay Teow was so delicious, I was tempted to try out the Fried Rice as well even though it was a bit too heavy for such an early breakfast. The price was the same as the Char Koay Teow but instead of the ingredients stated above, he used only rice, chopped char siew (bbq pork) and fresh prawns. The Fried Rice was indeed another good experience. The dish had that unique burn flavor again with a well combined taste to my liking. Every single grain of the rice was well coated with rich flavor. This is also a must to try out.
If you would like to have many packets of takeaways, I would advise you to call him up prior to collecting. From my observation during the one hour of patronizing his Char Koay Teow stall, his handphone was like a hotline.
Searching for the Char Koay Teow stall would not be hard at all as it's just right at the junction of the Cecil Street evening wet market (七條路巴刹). If you are coming from Jalan C.Y. Choy, it's just right at the corner with a large signboard "Kedai Makan Teong Ah – 中亞茶室) as you turn right into Lebuh Cecil.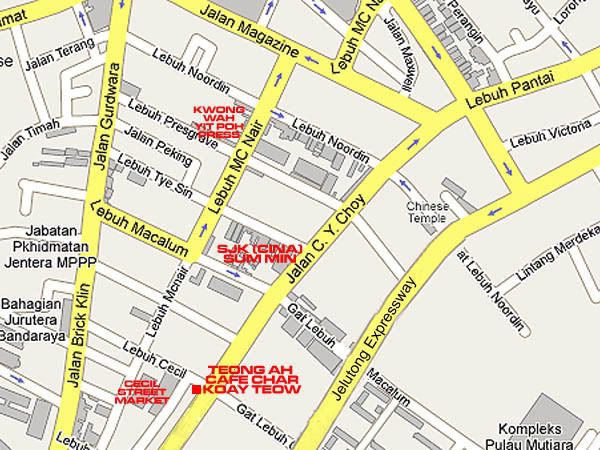 Name: CECIL STREET CHAR KOAY TEOW @ KEDAI MAKAN TEONG AH
Address: 246 Lebuh Cecil, 10300 Penang, Malaysia.
Contact: 016-485 8210 (Mr. Leow)
Opening Hours: 5.30am-10.00am (Closed Monday, 1st&15th day lunar calendar)
GPS: 5.407442, 100.329381
RATING:
Ambience: 8/10 (1-4 cheap, 5-7 average, 8-10 classy)
Food Choices: 8/10 (1-4 limited, 5-7 average, 8-10 many choices)
Taste: 8/10 (1-4 tasteless, 5-7 average, 8-10 excellent)
Pricing: 6/10 (1-4 cheap, 5-7 average, 8-10 expensive)
Service: 9/10 (1-4 bad, 5-7 average, 8-10 excellent)