Yesterday marked another great journey for Tropical Spice Garden (TSG) with the launching of their cooking school – the Tropical Spice Garden Cooking School (TSGCS), by none other than our Food Ambassador of Malaysia and celebrity chef, Datuk Redzuawan Ismail or better known as Chef Wan. With Chef Wan's vast experience in the usage of herbs and spices, TSG remained one of the chef's favorite destinations to show the world the wonders of using garden fresh items of different colors, shapes and forms to present the best culinary flavors. With a tropical climate for great herbs and spices plantation, Malaysia has been charted as one of the best place in the World's Spice Trail, with Penang producing the top quality nutmegs and Sarawak having the best black peppers.
TSGCS lies within the spice garden sanctuary overseeing the panoramic view of the Teluk Bahang bay. A step into the air-conditioned building will bring back many fond memories of the good old days of your grandmother's aromatic cooking. The kitchen is equipped with 10 cooking stovetops with double hobs each, one oven, two large refrigerators, an outdoor grinding stone and grilling station each, not forgetting the coffee and tea facilities too. The kitchen can accommodate up to 10 persons per class. With the experience of resident chefs such Pearly Kee (Nyonya & Indian Cuisine), Lily Tan (Chinese & Hawker Cuisine) and Azizah Othman (Malay Cuisine), you can be assured of fun-filled hands on experiences in bringing back great recipes to please your families. There will also be some guest chefs popping in once in awhile to further provide you with the knowledge and skills in other international or fusion cuisines. After sweating it out, lunch would be served at the Pavilion, a large outdoor gazebo, fitted with picnic benches and tables under a cool, breezy and fresh environment. Private classes for up to 6 persons can also be arranged upon request. We had such good time watching for the very first time, Chef Wan together with the Penang State Exco for Tourism & Development, Mr. Danny Law, TSG Managing Director, Ms. Katharine Chua, the resident chefs and guest chefs put on their aprons during the official opening.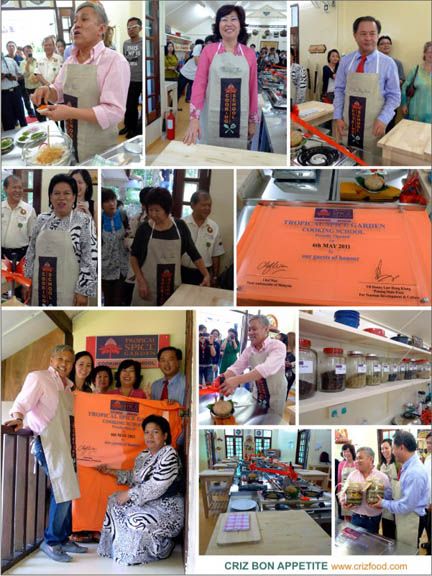 Of course, the best part of joining in the classes would be the advantage of getting all your fresh herbs and spices, just a stone throw away from the doorsteps. TSG boasts over 500 species of tropical flora and fauna with an emphasis on herbs and spices on 4.5 acres of landscaped garden (spread over 8 acres of secondary jungle). A large amount of the herbs and spices found growing abundantly here, have amazing medicinal and therapeutic properties. Some of the major herbs needed in our famous Penang Nyonya Laksa such as the torch ginger flower (bunga kantan), galangal (lengkuas), polygonum leaves (daun kesom), lemongrass (serai), and so on can be found here. Chef Wan did a food demonstration on Nasi Ulam (Jungle Herbs Rice Salad) and most of the finely sliced ingredients such as the wild betel leaves (daun kaduk), galangal leaves (daun cekur), kaffir lime leaves (daun limau purut), turmeric leaves (daun kunyit), basil leaves (daun selasih), turmeric (kunyit), black pepper (lada hitam) were obtained fresh from the garden. There are also the cardamoms, star anise, cloves, nutmeg and many spices, normally used in curries and Nyonya cooking found here.
At a minimal cost, there will be trained guides to take you around to introduce you to the many usages and medicinal benefits of the herbs and spices found there. You could even see the many types of flora and fauna as well as the insects and creatures that had made the garden as their natural habitat. For more information, you can always check out www.tropicalspicegarden.com (email: info@tropicalspicegarden.com) or www.my-island-penang.com (email: spkee@my-island-penang.com).
Getting to TSGCS would not be hard as it's located within the TSG premises. Just drive all the way up to Teluk Bahang but do watch out for some nooks and corners as you might just miss the place. Here's a simple map to guide you to your destination. Upon seeing Hard Rock Café (Map A), drive pass Bayview Beach Resort until you see a housing estate on your left (Map B). Drive further on and round a corner, you would see a hilltop Chinese cemetery (Map C) on your left. Before you reach the next corner (Map D), slow down as Tropical Spice Garden is barely 50m away on your left (Map E). There would be ample parking space in front and opposite the restaurant. You can also park your car along the hawker area diagonally opposite the restaurant (Map F). Do click on the map for a clearer view.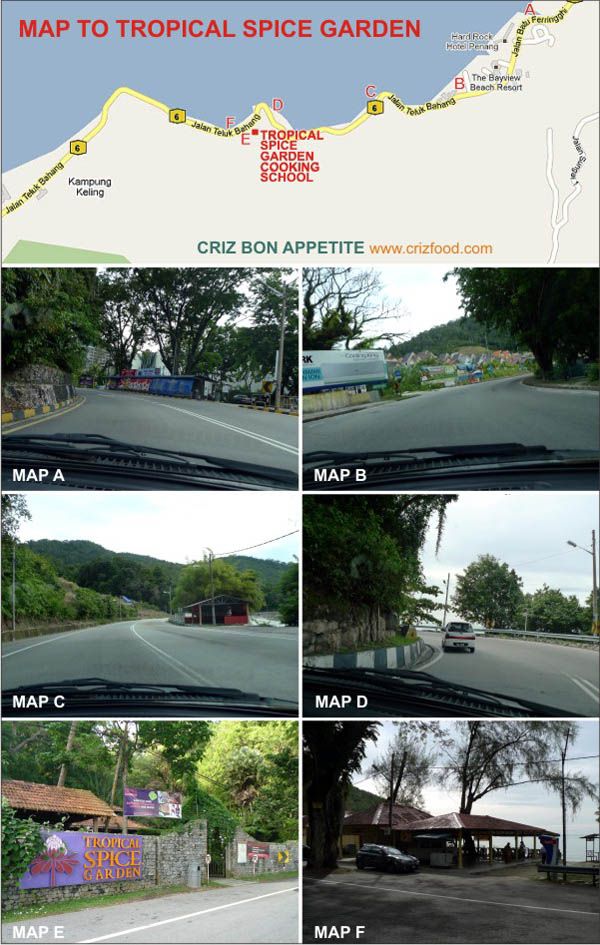 Name: TROPICAL SPICE GARDEN COOKING SCHOOL
Address: Lone Craig Villa, Lot 595, Mukim 2, Jalan Teluk Bahang, 11100 Penang, Malaysia.
Contact: 604-881 1797 (Cik Azimah)
Opening Hours:
Please check the TSGCS program for the month (under the top photos).
A minimum of 24 hours in advance booking is required for each scheduled class.
GPS: 5.463599, 100.229199