By staying at The Key Bangkok Hotel where travelling via the two major mass transit systems has been real fun and convenient, I managed to explore quite a few interesting cafes within the Watthana district. Located nearby the BTS Thong Lo Station is a charming little hideaway establishment named Chico Interior Products & Café. If you are a cat lover, you would surely go goo-goo gaga over some of the free roaming cats within the premises. The bungalow-style shop may be hidden away from the main road but it was never short of visitors, especially those Japanese staying within the vicinity. Even their main website is all written in Japanese other than Thai or English. Isn't that obvious? LOL~ 😛 If you love the serenity away from the hustle and bustle of the city life, this will be quite a nice place to spend some time sipping some beverages and gobbling down some of their nice homemade snacks and light meals.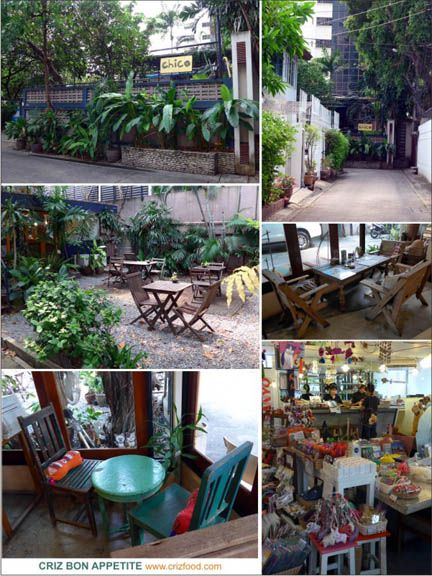 On top of some tranquil moments with the furry felines, you can also spend some time mingling through some of their interior home products as well as personal gifts, not forgetting cat related items too. Some of their products may include Thai handicrafts, unique kitchen utensils, pillows, cushions, aromatherapy lamps, bamboo by-products, natural soaps, beewax candles, trinkets, wind chimes, stuffed toys, printed clothes and more.
Here are some photos of their cute cats, a mix of pedigrees and local shot hair felines. Even my cats had some edible gifts from the shop~ LOL~ 😛
Since it was already almost tea time, we had some light food and dessert over some hot beverages. I started off with a hot pot of Lavender Tea (THB100nett). With so much of eating spree for the last few days, it indeed relieved my eating tension and stress~ LOL~ 😛 Luckily they did not burn any lavender oil or I would be fast asleep under such a relaxing environment.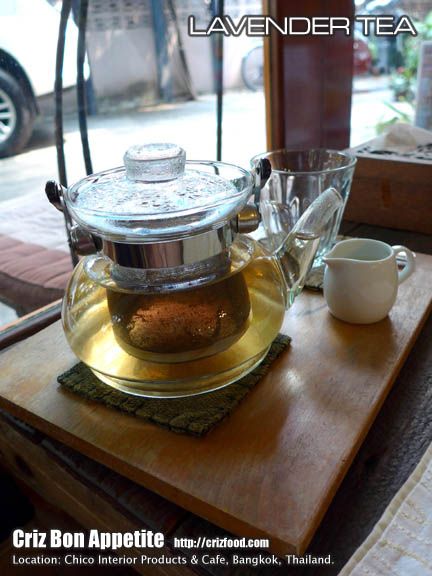 I also did try out their Hot Chocolate (THB80nett). It was filled with chocolate richness and the milk they used was also awesomely creamy. Wait! Why is there a fat cat having its sauna in my cup? Haha~ The latte art may look simple but based on the comment by an established 3D latte art master, it required lots of patience and steady hand to come out with this design. The hot beverage came with a cute cat shaped cookie as well.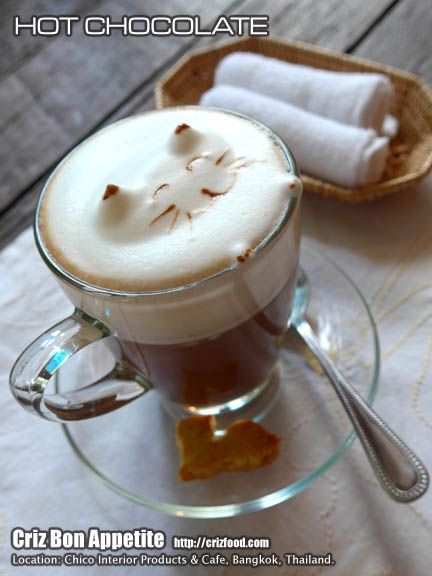 As for a light meal, I ordered the Japanese Style Spaghetti (THB160nett). Wow~ I was impressed. The color may not look pleasant to the eyes but the taste was heavenly. It was just a simple spaghetti dish, stir fried with some pork slices, shitake and enoki mushrooms, zucchini and garnished with some bonito flakes but the gravy itself was pepped with rich earthly flavors. I could not stop myself from pussy licking the whole plate dry~ Meow~ 😛 For those who would want to get the best of the meal deal, I would advise you to drop by between 11.30am and 2.00pm as they have daily set lunch available, which would include a salad, a main dish (4 options such as Japanese Omu Rice, Japanese Style Spaghetti, Spaghetti with Meat Sauce and Japanese Beef Curry with Rice) and a cup of hot beverage (+THB10 for iced beverages) at only THB185nett.
We were lucky on that day as they have Dessert of The Day which was the Hot Banana Pie served with Vanilla Ice Cream (THB55nett). The hot oozing banana combined with the fresh vanilla pod ice cream was so seductive. The sensation was beyond any earthly word.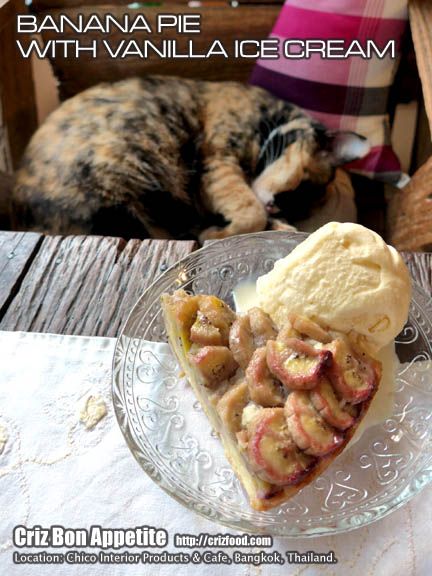 Overall, I quite like this place due to the peaceful settings within a hidden greenery filled premises. I also like the fore-sight of the shop owner by allowing patrons to have a place to relax before continuing with their hectic lifestyle. Time will stand still here while you are immensely occupied with the many interesting and unique items you can bring home as souvenirs. At least you do not have to suffer the scorching heat from the scattered markets to have your shopping done. Everything will be inclusive of the necessary taxes.
Just a note to those shutterbugs: You may take some general shots of the shop but not on individual product as they would want their products to be exclusive to their patrons.
Name: CHICO INTERIOR PRODUCTS & CAFE
Address: 109 Sukhumvit Soi 53 (Paidee-Maidee), Khlong Tan-Nuea, Watthana, Bangkok 10110, Thailand.
Contact: +662 258 6557
Business Hours: 9.30am-6.00pm (Closed Tuesday)
GPS: 13.732805, 100.579067
DIRECTIONS: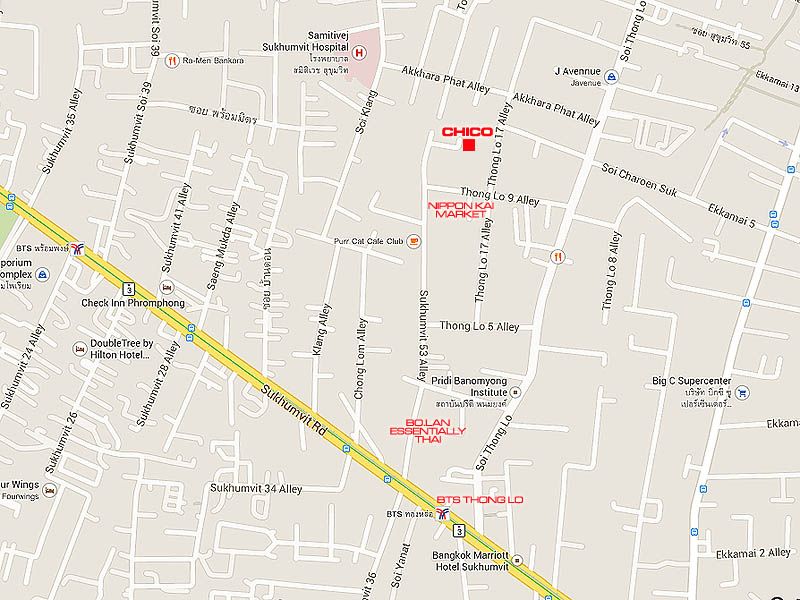 Take the BTS Sukhumvit Line and stop at BTS Thong Lo Station. Use the Skywalk towards Exit 1 and walk downstairs all the way until you reach a junction. Turn right into Sukhumvit Soi 53. Walk on for about 15 minutes, pass the newly opened Nippon Kai Market, until the second junction with a "Soi Renoo" road sign. Turn right into the small alley and you can see the Chico signboard right at the end. If you are tired of walking, you can always get a tuk-tuk or a motorbike taxi by telling them that you are going to Soi Renoo or Chico.
RATING:
Ambience: 7/10 (1-4 cheap, 5-7 average, 8-10 classy)
Food Choices: 6/10 (1-4 limited, 5-7 average, 8-10 many choices)
Taste: 7.5/10 (1-4 tasteless, 5-7 average, 8-10 excellent)
Pricing: 7.5/10 (1-4 cheap, 5-7 average, 8-10 expensive)
Service: 8/10 (1-4 bad, 5-7 average, 8-10 excellent)