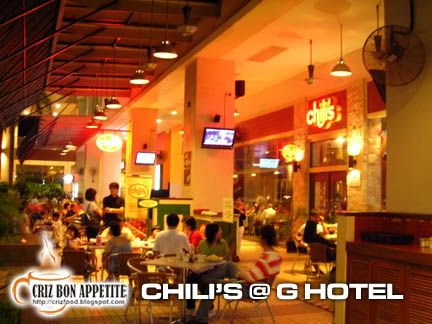 If you are in for a large portion of food served to you, then you should pay Chili's located within the premises of G Hotel a visit. The restaurant has a long history in the food chain business as early as 1975 with its first restaurant opened in Texas, USA. Presently, it has over 1,000 restaurants all over the world. This Texas-Mexican influenced American food chain had woos many nationalities with their huge amount of food as well as free meals for children below the age of 12 years. Of course you would have to order at least two main meals to be entitled to this offer.
Chili's offers a wide selection of food and beverages ranging from Specialty Drinks, Margarita Bar, Starters, Soup, Salads and Sides, Big Mouth Burgers, Sandwiches, Fajitas, Steaks, Grilled Entrees, Favorites and Desserts. They would also recommend the Lunch Favorites as well as the Top 5 New Flavors of all time.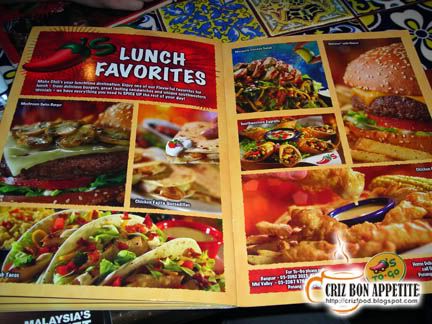 Recently, I was there for the birthday of my niece. We shared out some of the recommended items in the menu. The first dish that was served was the Quesadilla Explosion (RM22.95). It has fajita marinated chicken, corn relish, mixed chesses, cilantro, diced tomatoes and crispy tortilla strips, garnished with chipotle ranch drizzle, cheese quesadilla wedges and citrus balsamic dressing. Well, it tasted just like any common salad. There's nothing to boast about except the serving was huge.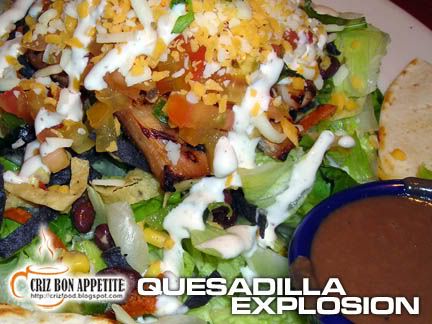 Next was the Classic Nachos (RM21.95). The nachos have some thinly blended beans, queso and seasoned beef hidden under baked cheese and jalapenos. These were served with some mixed greens and sour cream. I found these to be too sour for my liking even without dipping into the sour cream. The nachos are best taken while they are hot as cold classic nachos would taste a bit out of this world.
We also ordered the Fish & Chips (RM22.95). There's nothing special about the crispy batter fried fish fillet served with lots of fries and tartar sauce at a first glance. Well, looks can be deceiving as the fish was real fresh and the crispy batter brought out the best of this dish. It's worth the amount spent for this dish.
The Southwestern Eggrolls (RM13.95) came next. There were some smoked chicken chunks, black beans, corn relish, jalapeno cheese, red peppers and spinach wrapped in a crispy flour tortilla and served with avocado dipping sauce. I found these to be real good as the combination of ingredients was just nice and the avocado dip blended in great.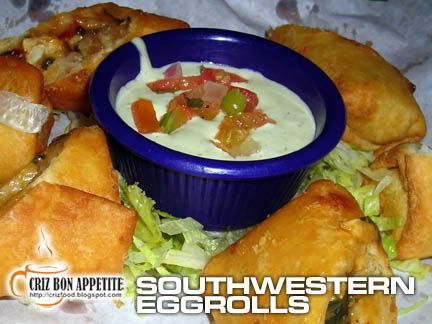 The next dish was the Crispy Honey Chipotle Chicken Crispers (RM24.95) served with lots of fries, a sweet corn on the cob and topped with their special honey chipotle sauce. I found these to be just normal, if only they were to marinate the chicken with some herbs to get that extra flavor. Maybe it was the chicken breast meat that they were using that caused the dryness and blandness in the taste.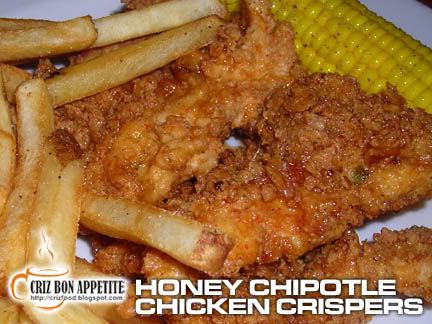 The last dish from our orders was the BBQ Beef Ribs (RM46.95) served with lots of fries, sweet corn on the cob and topped with their special BBQ sauce. The dish tasted great, only if it was for a person who liked the "broiled" meat to come out from the ribs easily. No doubt the ribs were tender and juicy but it tasted like it was broiled soft and topped with some BBQ sauce. There was no charcoal burnt taste at all and it lacked the special aroma. I had tried better ones in Penang but the best still remained at Tony Roma's in KL.
Overall, the meal was rather filling and they do charge service and government tax (15%) into your bill. In order to reach this restaurant, just find your way to Gurney Plaza along Persiaran Gurney (Gurney Drive). You can see the restaurant at the Al Fresco (Gurney Walk) area between the plaza and G Hotel.
Name: CHILI'S @ G HOTEL
Address:
(G-05) G Hotel Penang, 168A Persiaran Gurney, 10250 Penang, Malaysia.
Contact: 604-210 1111
Opening Hours:
11.00am – 11.00pm (Weekdays & Sunday)
11.00am – 12.00am (Friday & Saturday)
GPS: 5.437644, 100.310269
RATING:
Ambience: 8/10 (1-4 cheap, 5-7 average, 8-10 classy)
Food Choices: 8/10 (1-4 limited, 5-7 average, 8-10 many choices)
Taste: 7/10 (1-4 tasteless, 5-7 average, 8-10 excellent)
Pricing: 7.5/10 (1-4 cheap, 5-7 average, 8-10 expensive)
Service: 7/10 (1-4 bad, 5-7 average, 8-10 excellent)