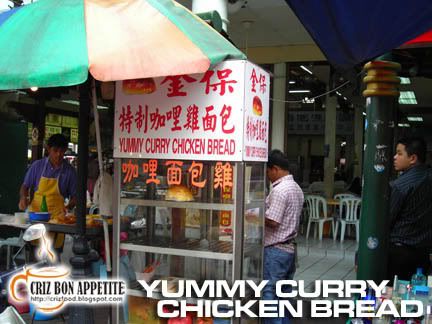 I always thought that I could get the famous Curry Chicken Bread only in Kampar, Perak but I was wrong. As I was moving through the busy streets of Jalan Petling into Jalan Hang Lekir, I came across a stall selling this type of bread right in front of the Tang City Food Court. It was called the Yummy Curry Chicken Bread and was selling at RM12 each.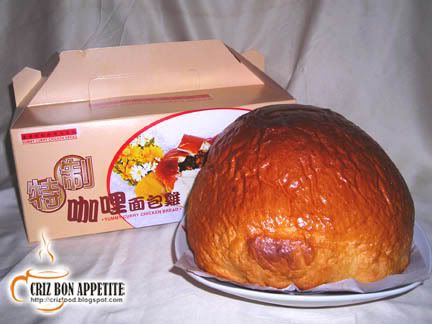 Since I was on my way back to Penang, I decided to get hold of one. To my surprise when I cut open the bread (quite similar to our Bengali Bread), there was this aluminum bowl filled with curry chicken to the brim with a layer of plastic wrap on top to avoid the gravy from spilling out. What a great way to maintain the gravy and at the same time avoid the bread from being soggy.
There were all together 6 choice pieces of chicken meat in the bread and the thick curry gravy was cooked in Indian style with lots of curry leaves. This new discovery was indeed appetizing. The chicken meat was tender and the spiciness of the curry was just right. One loaf of this dish would be enough to feed two to three person as the bread can be rather filling.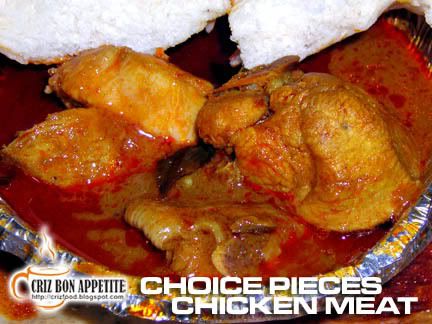 Finding the stall would not be hard. Walk into Petaling Street, Chinatown's main entrance from Jalan Tun Tan Cheng Lock (opposite Kota Raya) and you will reach a crossed junction. Hong Leong Bank is at the corner on your left. Turn left into the road (Jalan Hang Lekir) and you will the stall just in front of the Tang City Food Court on your left.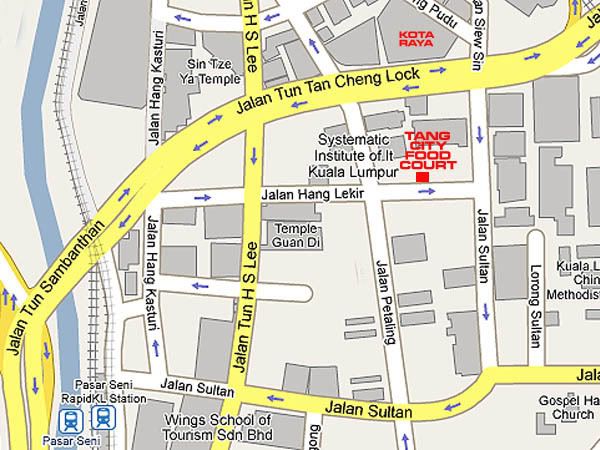 Name: YUMMY CURRY CHICKEN BREAD @ TANG CITY FOOD COURT
Address: 22-26 Jalan Hang Lekir, 50050 Kuala Lumpur, Malaysia.
Contact: 012-698 3499
Opening Hours: 10.00am – 2.00pm
GPS: 3.144589, 101.697972
RATING:
Ambience: 5/10 (1-4 cheap, 5-7 average, 8-10 classy)
Food Choices: 5/10 (1-4 limited, 5-7 average, 8-10 many choices)
Taste: 8/10 (1-4 tasteless, 5-7 average, 8-10 excellent)
Pricing: 7/10 (1-4 cheap, 5-7 average, 8-10 expensive)
Service: 7/10 (1-4 bad, 5-7 average, 8-10 excellent)