Ma Zhi or steamed blended glutinous rice mixed with pounded peanuts, sesame and sugar is one of the tasty desserts available in Malaysia. Hot steaming glutinous rice is cut into small cubes and coated with a mixture of the three pounded ingredients mentioned above. Certain stalls, especially those in Penang will garnish the Ma Zhi with fried onions.
I have came across a stall down in Kuala Lumpur's Chinatown (Petaling Street) selling a different version. Madam Tang has been selling these yummy desserts for years there. The Ma Zhi comes in different colors and flavors. You can have it original (RM3.50/box) or you can have the mix flavors (RM5/box). The flavors available are apple, banana, grape, kiwi, lemon, lychee, mango, orange, pineapple, ribena, strawberry, black glutinous rice, or pandan. With so many flavors available, it is up to your luck to taste what are the mixed flavors.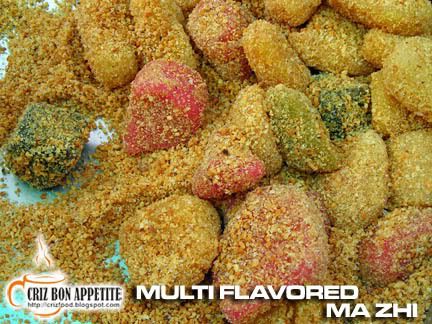 If you are in for a new experience, this is a must try if you are around that area. As for my personal preference, I somehow missed the Penang's original version with fried onions as it is softer and warmer than the one in Chinatown.
Finding the stall would not be hard. Walk into Petaling Street, Chinatown's main entrance from Jalan Tun Tan Cheng Lock (opposite Kota Raya) and you will reach a crossed junction. Hong Leong Bank is at the corner on your left. Turn left into the road (Jalan Hang Lekir) and you will see Madam Tang selling this delicacy on the left.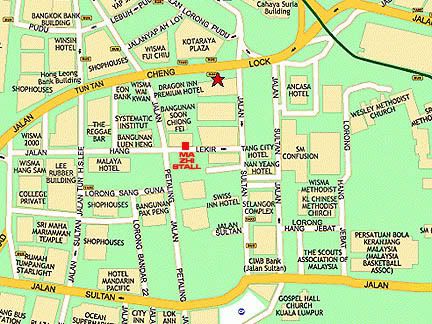 Name: PETALING STREET (CHINATOWN) MA ZHI
Address: Jalan Hang Lekir, Kuala Lumpur, Malaysia.
Opening Hours: 11.00am – 8.00pm
GPS: 3.144533, 101.697972
RATING:
Ambience: 4/10 (1-4 cheap, 5-7 average, 8-10 classy)
Food Choices: 5/10 (1-4 limited, 5-7 average, 8-10 many choices)
Taste: 5/10 (1-4 tasteless, 5-7 average, 8-10 excellent)
Pricing: 6/10 (1-4 cheap, 5-7 average, 8-10 expensive)
Service: 7/10 (1-4 bad, 5-7 average, 8-10 excellent)