When you are stuck near Pudu Sentral, Kuala Lumpur at 4.00am in the morning while waiting for the LRT to start its operation at 6.00am, what would you do? Of course, I'll try to kill time. It got kind of boring after having spent most of my time at a nearby Nasi Kandar shop or at McDonald's each time I was down there by express bus. During my recent transit via Kuala Lumpur to attend the "A Date with Bloggers in Melaka 2012" event, a group of us decided to check out the Petaling Street area for early breakfast instead. We stumbled upon a porridge shop named Petaling Street Famous Porridge which has been in operation since 1949. It was weird that there was no proper signage or name on this shop after being in existence for over 6 decades. Through some clarifications with my KL friends, it was once called Hon Kee Famous Porridge and the contact number still remained the same. Why the sudden change in name? I won't know for sure.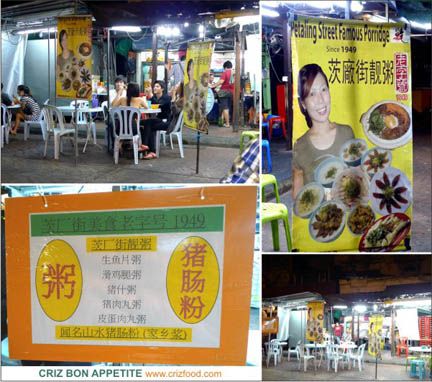 We practically ordered almost all the dishes available since our next meal would be at around 2.00pm at Julie's, Alor Gajah, Malacca.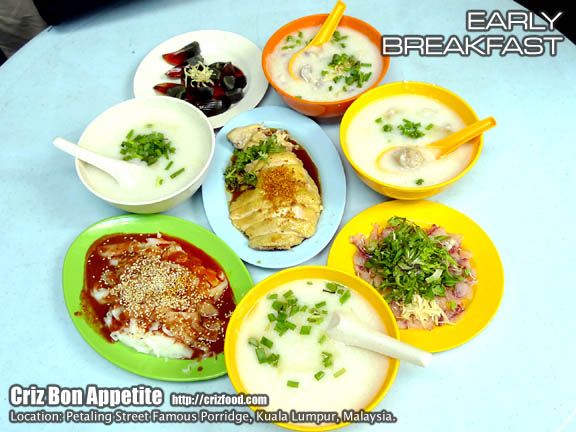 You can start by ordering the Plain Porridge (RM2.50nett) and add on whatever main ingredients you would like to have. The porridge was smooth and mushy the way I like it. It had some chopped spring onions with a light dash of sesame oil.
The most ordered item as recommended by the shop owner (Vivian) would be the Ikan Haruan (Snakehead Murrel/線鱧/綫鱧/鱧魚/生魚) slices at RM6.00nett per set. No doubt the fish fillet were sliced paper thinly to enable them to be cooked fast in the porridge, the fillet lacked the bite. Somehow, they dissolved rather quickly within in the bowl of porridge upon a few stirrings. Moreover, the few dashes of sesame oil added in did not boost up the fragrance in the dish as I would have expected. Now I know why KL people love to shop for sesame oil in Penang especially from Ghee Hiang.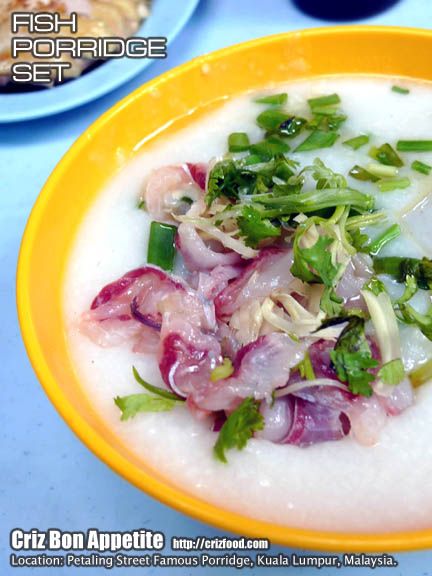 You can also order the fish slices separately to add in your porridge or to share some out but you have to stir them into your porridge upon serving to cook them well. Please take note that the intense heat within the porridge would last not more than 10 minutes. This thinly sliced fish fillet came garnished with some ginger strips, chopped spring onions and Chinese parsley with a dash of sesame oil.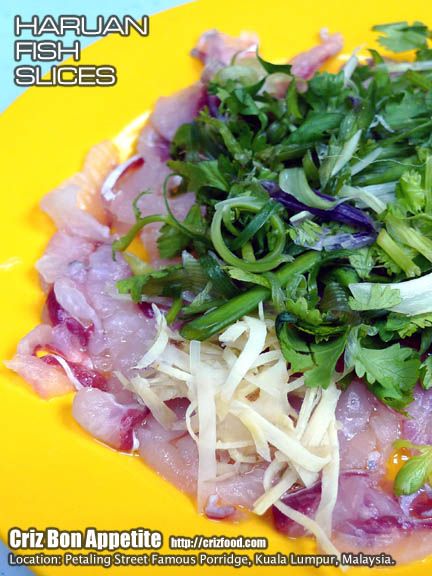 Alternatively, you can go for the Hainanese style boiled chicken (RM12.50nett). It was quite a large piece, considering that it had the drumstick and thigh together. Compared to the fish porridge, this dish excelled better in terms of texture, juiciness and flavors. It came garnished with some chopped spring onions, Chinese parsley, deep fried chopped garlic in oil, soy sauce with a dash of sesame oil. Though a bit pricy compared to Penang's which would cost around RM7.00-RM8.00nett, it was a flavorful dish to go with the porridge.
If you feel like having something lighter for breakfast, you can opt for the Century Eggs (RM5.00nett) served with some ginger strips and a light touch of sesame oil. It was rather pricy to have 3 eggs for that price. Moreover, pickled ginger slices were not provided for those of us who would want to have them as appetizer.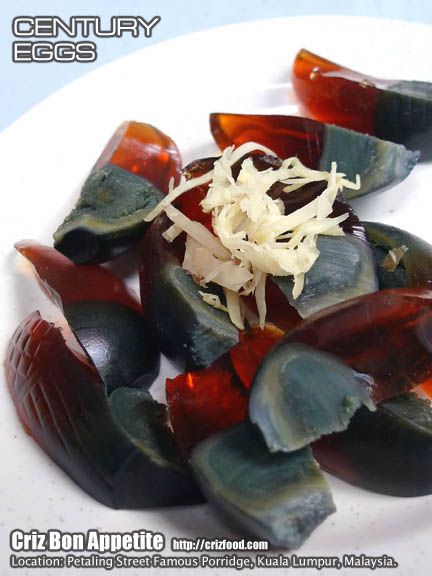 For those who love to have meatballs, their Meatballs Porridge set (RM5.00nett) would suit you well. It was simple yet fulfilling. It came garnished with some chopped spring onions, pickled vegetables with a dash of sesame oil.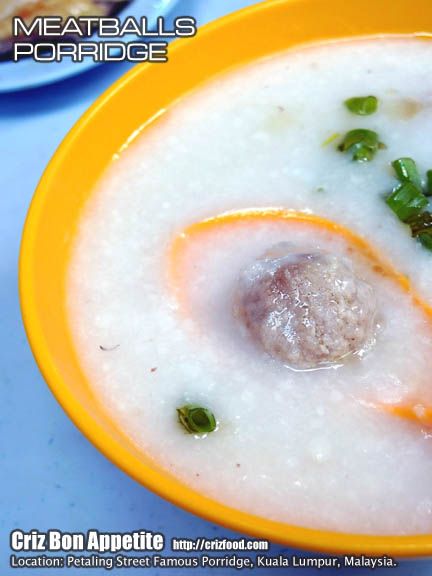 Although the steamed rice rolls had a nice texture, the Chee Cheong Fun (RM5.00nett) sauce somehow did not suit us well since we Penangites are so used to have added prawn paste (heko/蝦膏). The rice roll practically came with red sweet potato sauce and chili sauce with a sprinkle of toasted sesame seeds. Even the chili sauce had no fragrant at all compared to most Chee Cheong Fun stalls in Penang which have the chili sauce sautéed with some chopped dried shrimps. I'll still go back to my favorite Chee Cheong Fun stall in Penang which has some added peanut butter in the prawn paste sauce on top of the red sweet sauce and chili sauce.
Overall, the dishes served here were a bit over rated by the central region consumers. To us Penangites, those dishes were just average. We have more flavorful ones just anywhere surrounding Penang. If not for the odd operation hours, I won't specially make an effort to patronize this place.
The Petaling Street Famous Porridge is located just opposite the Hong Leong Bank along Jalan Hang Lekir. If you are coming from Pudu Sentral towards Jalan Tun Tan Cheng Lock, do watch out for the Watson's outlet at the junction right after the Ancasa Hotel. Turn left into Jalan Sultan and walk further up until you see a right lane (Jalan Hang Lekir). Turn right in Jalan Hang Lekir and walk further up and you will see the shop on your left almost to the end of the Jalan Hang Lekir/Jalan Petaling junction.
Name: HON KEE – PETALING STREET FAMOUS PORRIDGE
Address: 93, Jalan Hang Lekir, 50000 Kuala Lumpur, Malaysia. (Opposite Hong Leong Bank, Petaling Street)
Contact: 012-227 6281 (Ms. Vivian), 017-882 7351 (Mr. Lee)
Business Hours: 4.00am-2.30pm
GPS: 3.144383, 101.69725
RATING:
Ambience: 5/10 (1-4 cheap, 5-7 average, 8-10 classy)
Food Choices: 5/10 (1-4 limited, 5-7 average, 8-10 many choices)
Taste: 7/10 (1-4 tasteless, 5-7 average, 8-10 excellent)
Pricing: 7.5/10 (1-4 cheap, 5-7 average, 8-10 expensive)
Service: 8/10 (1-4 bad, 5-7 average, 8-10 excellent)