NOTE: THE HOTEL HAS CEASED THIS PROMOTION.
Unless you have been residing overseas for quite awhile, having a chocolate dessert buffet in Malaysia is not a norm. Moreover, it's one of the first few of its kind in this region. Who would have thought of bringing such a great concept to Penang other than the Soy @ G Hotel, Penang? This new concept would surely bring those devilish treats to those who can't get enough of chocolates, whether it's dark, white or with milk. Indulging in the luscious Chocolate Dessert Buffet that stretches from one end to another in the beautifully settings of the restaurant would surely be a great experience for many. Who cares about the calories at the mean time anyway if one can indulge in something so heavenly and delectable once in awhile right? Moreover, those chocolates are handmade with ingredients imported from Switzerland and they were not as sweet as I assumed they would be. At RM45++ per adult (Child: 1-6 years old FREE, 7-12 years old at half price), you can have all you can eat chocolate spreads to conquer your yearning for some sweet treats on any of the Saturdays from 8.00pm until midnight (from February 2012 onwards). As Valentine's Day is just around, wouldn't it be a unique way to pre-celebrate this occasion with your partner and loved ones?
Leave it to the skillful hands of the resident pastry chef, Chef Tan Kwee Lian (陳桂蓮), a Johorian, to introduce to you her exquisite presentations of various chocolates cookies, chocolate fountains, hot chocolate dishes, chocolate cakes, chocolate desserts and pralines.
The Chocolate Dessert Buffet at G Hotel has the same concept as any other buffets, starting with sections for appetizers, hot dishes, desserts, ice cream and hot beverages (DIY teabags and coffee). Each diner would receive a complimentary cup of Hot Coco Chocolate upon seated. The beverage which had hot boiling milk folded into melted chocolate was thick and rich with creaminess. In fact, it had the mild sweetness, thickness and richness that I like.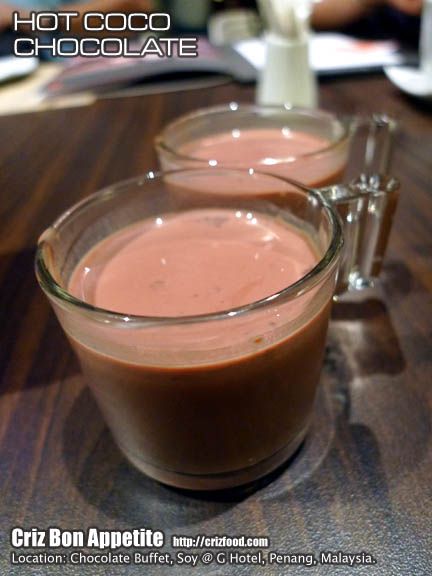 Starting from the Appetizer Station, we had all the bite size pralines, all skillfully crafted by Chef Tan. On the display were Arancia Praline, Coconuts Praline, Dark Chocolate Praline, Caramel Fleur De Sel, Mascarpone Stracciatella Praline, Pistachio Praline and assorted pralines.
The Arancia Praline is a combination of fine dark chocolate (65% cocoa) with a touch of orange essence. It was very impressively crafted. However, I found the orange flavored filling to a bit on the sweet side.
The Coconut Praline consisted of pure white chocolate with some coconut flavored milky filling and cocoa nibs. It looked impressive but it had that strong milky flavor with a strong oily coconut flavor as such from desiccated coconut. Since we are in an Asian country, it would be best if freshly dried ones being used here.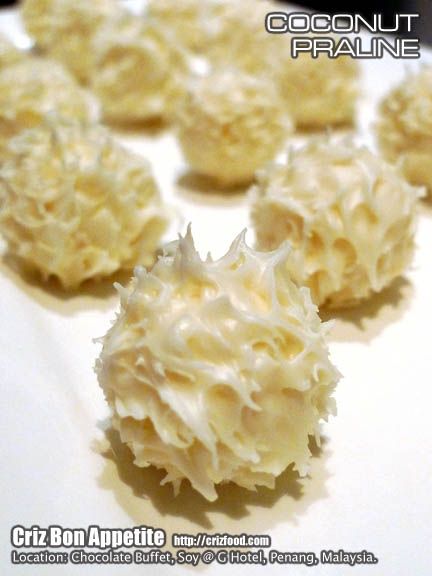 The Dark Chocolate Praline was one of my favorites here as it was not too sweet. The dark chocolate outer crust blended in real well with the creamy melted chocolate cream (ganache). It had that crunchy sugar bits at the base. It was decorated with some matching colored mini wafer balls. In my opinion, it was a perfect praline.
On the other hand, the Caramel Fleur De Sel was a bomb in the sense that it was a high calorie one filled with oozing caramel. The outer crust was with chocolate milk. The caramel with was not as buttery flavored as butter scotch as fleur de sel (sea salt) was used instead. Somehow, it was a bit sweet to my liking.
Another of the chef's signature items was the Mascarpone Stracciatella Praline. The dark chocolate item had that shell-like feature with brushed edible gold dust. It was filled with a mixture of cocoa nib and creamy mascarpone cheese. It was not bad at all.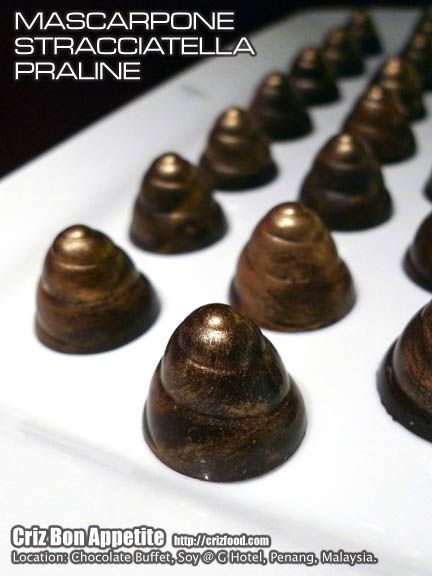 Most of us like the next item which was the Pistachio Praline. The dark chocolate used went well with the nutty flavored within. However, it would great if there were some pistachio chunks inside instead of being blended so finely.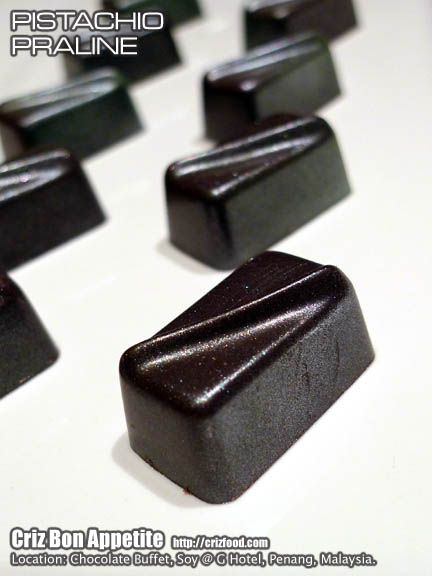 The next dish contained Assorted Pralines. It had chocolate milk crust with different type of fillings. It would be up to your luck to choose your preferred flavors.
At the Hot Dishes Station, we had the Chocolate Pudding, Chocolate Strudel, Chocolate Fruit Pizza, Chocolate Bread Butter Pudding, Chocolate Banana Puff and Chocolate Jackfruit Pie.
I love the Chocolate Pudding as it was slightly moist within while having a bit of crisp on the surface. According to the chef, the pudding was half baked on the inside to create the moisture in this hot dish. Awesome!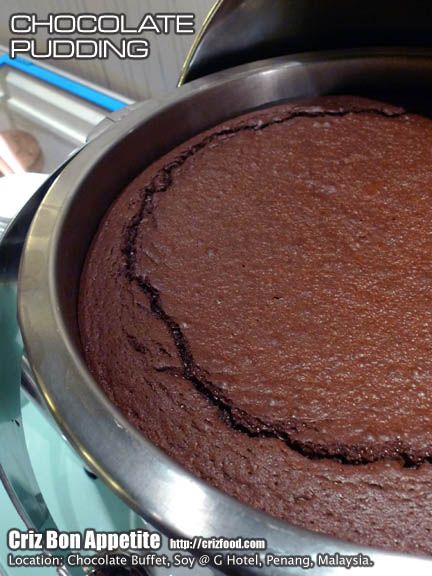 On the other hand, the Chocolate Strudel was made with a dense of chocolate, roasted almonds, rolled up with filo pastry, brushed with a bit of egg yolk and sprinkled with some sesame seeds. I love that puffiness on the strudel with a mildly sweetened chocolate sauce and some nice crunches from the roasted almonds.
I could not believe my eyes when I saw the label on the next hot item – Chocolate Fruit Pizza. Is there such a dish? The only pizza that I had tried with fruits on it is the savory version of the Hawaiian Chicken Pizza with pineapples on it. How would this pizza taste then? Well, it was unique. The taste reminded me of my childhood days when I had spread some Nutella (Italian chocolate hazelnut spread) on my bread with some cut bananas. It was cool! The pizza had a chocolate powder flavored based, topped with cut strawberries, kiwis, grapes, some sweetened orange peels and a generous amount of chocolate sauce. Mummy~ Can I have another? 😛
The next item was the Chocolate Bread Butter Pudding, topped with lots of almond flakes. It was simple and yet not too sweet.
We were also served with Chocolate Banana Puff. It has a similar bite as the Chocolate Strudel but with a nice natural sweetness from the baked bananas with. Not bad!
Somehow the Chocolate Jackfruit Pie did not have the smooth bite that I had expected in a hot pie dish. I personally felt that the texture did not suit such dessert as it was rather chewy. It could be due to the usage of banana in the earlier dish that the chef had decided to switch to another fruit. Banana is still the best fruit because it has that soft, smooth and creamy texture that would match well with any chocolate. Anyway, the top 3 fruits to go with chocolate as voted by consumers are bananas, apples and strawberries.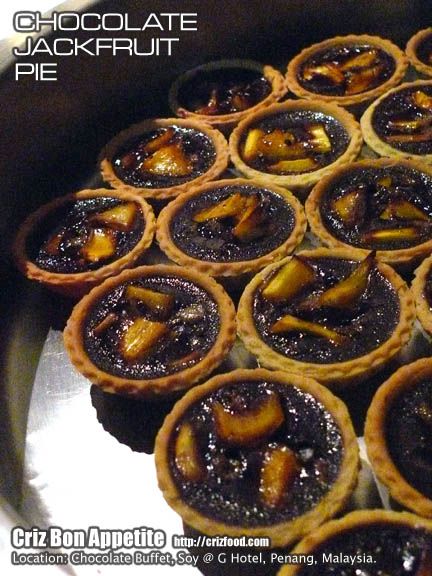 All the hot dishes would go well with some Vanilla Sauce.
The Dessert Station was plentiful starting with all the cookies, biscuits, dried and fresh fruits to go with your Dark and White Chocolate Fountains. On the spread were Assorted Biscuits/Cookies (Chocolate Almond Cookies, Chocolate Chips Cookies, Cream Crackers, Finger Biscuits & Chocolate Cream Oreo Cookies) & Dried Fruits (Prunes & Apricot), Strawberries, Dragon Fruit, Grapes, Longan, Red Watermelon, Honey Dew, Pineapple, Jambu Air, Pisang Mas, Golden Pear and Marshmallows.
Note: It's advisable to let those dipped items cool a bit prior to putting them on your plate. As these are thick and quality melted chocolates, they tend to harden on the plate real fast. You won't to eat those stuck dips with the plate right? LOL!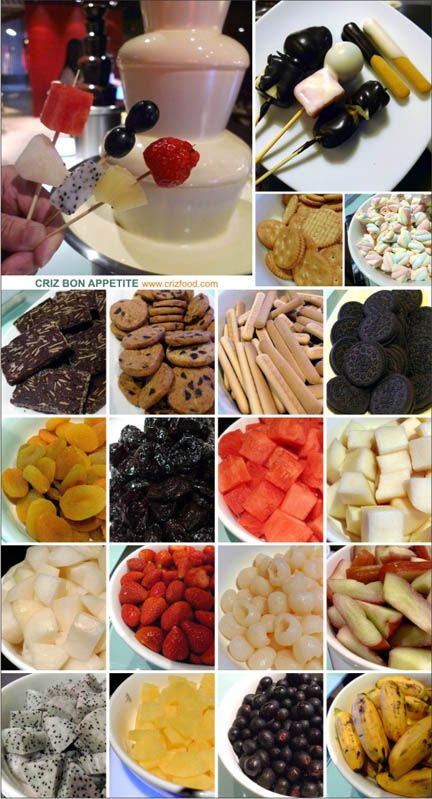 On top of that, you would have quite a classy variety of cakes and mousses for your palate of heavenly goodies. Available for the day were Chocolate Mud Cake, Chocolate Marquise Cake, Chocolate Muffin (Chocolate Chips), Chocolate Muffin (Rainbow Candy Rice), Mini Chocolate Cupcake, Chocolate Chiffon Cake, Macadamia Nut Brownies, Chocolate Cherry Mousse Torte, Flourless Chocolate Cake, White Chocolate Mango Rosemary Entremets, Chocolate Cream Cheese Cake, Chocolate Macaroon, Chocolate Crème Brulee, Pistachio Mousse with Passion Fruit Pudding, Chocolate Panna Cotta, Black & White Chocolate Mousse in Glass and Chocolate Soul.
The Chocolate Mud Cake was a simple yet fulfilling piece of recipe for just any occasion. It was moist, not too sweet and had that rich dark chocolate taste, obviously from another of their imported chocolate brands.
On the other hand, the Chocolate Marquise Cake tasted somewhat different compared to the rest. It had some chocolate cake base, topped with a layer of lemon flavored mousse and a thin layer of chocolate glaze. It tasted bittersweet, maybe due to the top layer of dark chocolate topping with a bit of coffee powder? Somehow, I felt that something was missing there. No usage of whiskey or brandy in the recipe for that extra punch? Well, they are certified HALAL, so we can't expect much. Moreover, the cake was not chilled enough and I preferred to have a bit of whipped cream to go with it.
Personally, I felt that the Chocolate Muffin (Chocolate Chips), Chocolate Muffin (Rainbow Candy Rice) and Mini Chocolate Cupcake had the same taste. Except being moist with different styles of decoration, there was nothing extraordinary about them.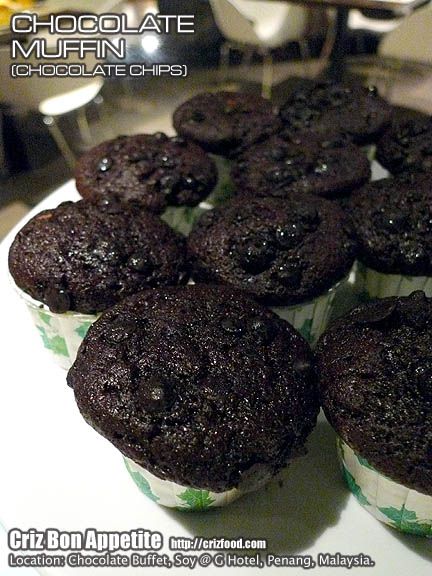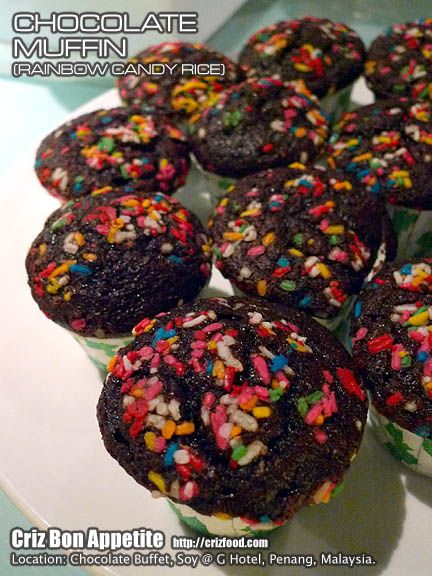 There was nothing so special about the Chocolate Chiffon Cake. It had the same sponginess just like any other flavors of chiffon cakes. Maybe the chef should consider combining other flavors such as screwpine (pandan), coffee or even orange for a better presentation?
The Macadamia Nut Brownies was awesome. It has some chunky bits of macadamia nuts brownie at the base with some chocolate mousse and a thin layer of creamy chocolate. It was a nice combination.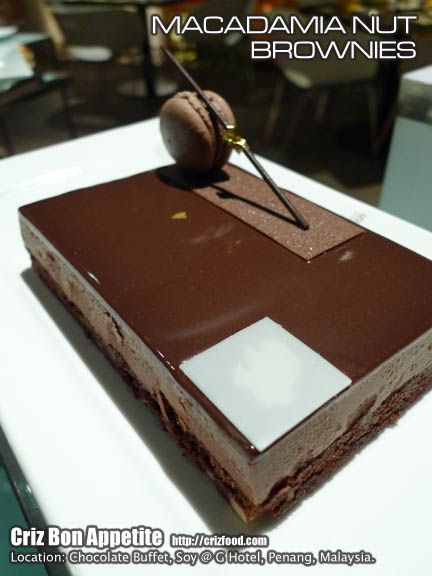 I loved the Chocolate Cherry Mousse Torte too as it was a twist from the norm since we indeed had too much of chocolate for the night. However, the cake still lacked the chill I would personally prefer. With a humid weather such as in Malaysia, I guessed the kitchen has to think of a way to have those mousse-like cakes well chilled.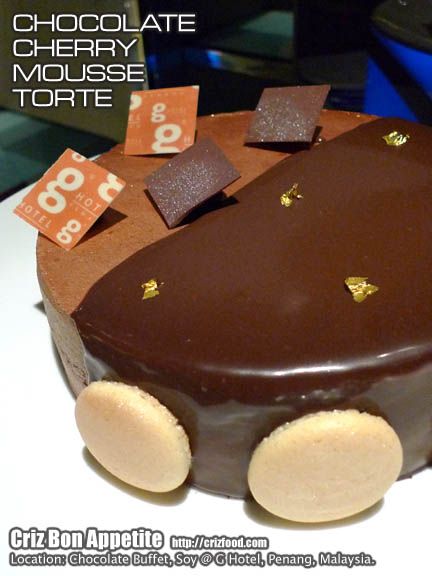 Although the theme was Chocolate, I still think that there should be a twist in all the chocolate based cakes. The Flourless Chocolate Cake was no different. It still tasted like the rest. Maybe some fresh fruits with fresh cream or even some fruity jams such as black forest, strawberries and more would do more justice to the cake. Frankly speaking, I would have removed this cake since there were too many repetition of almost the same flavor and replaced it with some crepe-like items.
At least the next cake which was the White Chocolate Mango Rosemary Entremets stood out amongst the rest. It was the unique one with the usage of white chocolate. The cake had an exotic flavor with the mild use of rosemary. It was made with multi layers of mousse-based cake with mango compote, chocolate and a touch of rosemary to enhance the taste altogether. No wonder this is one of the signature cakes of the chef. Well done! 🙂
I'm always fond of cheese cakes and the Chocolate Cream Cheese Cake was good. The skillfully coagulated chocolate cream cheese with a cake base with chopped hazelnuts complemented each other well. It was a superb combination!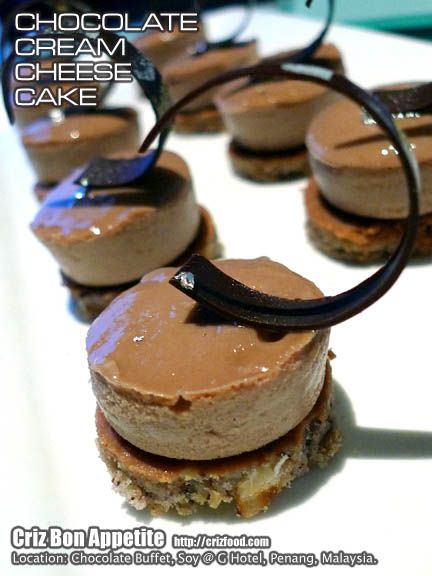 The Chocolate Macaroons were as chewy and sweet as they should be with some chocolate sauce in between. Unfortunately, I'm not a fan of macaroons anyway as I found them to be too sweet to my liking.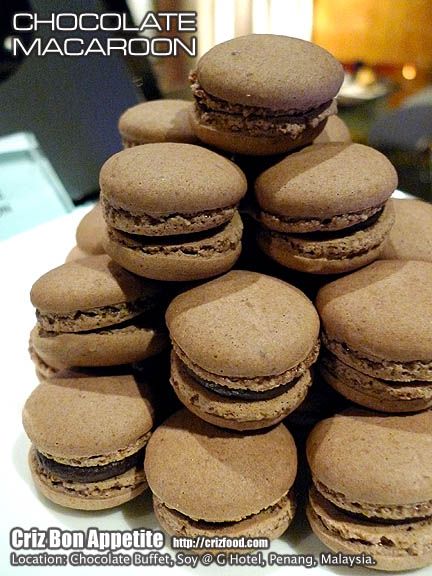 It may looked beautiful in a glass with a macha leaf-shaped white chocolate and a bit of edible gold flake, I found the combination of peach mousse on Chocolate Crème Brulee to be a bit weird. Both did not blend well as the chocolate crème brulee was slightly on the hard side without much creaminess.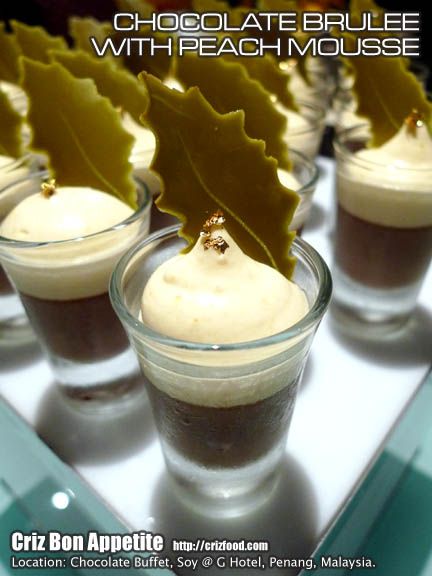 The Pistachio Mousse with Passion Fruit Pudding was another of the chef's pride. I would say it was one of its kinds. Nice! There were some chunky pistachio bits in the mousse, giving it that slight buttery yet nutty flavor. The passion fruit pudding has that clear yet mild fruity flavor. There were some chocolate crumbles in between. The dessert was rather sweet if taken layer by layer. According to the chef, the best way to consume would be by having all the layers in one scoop. My advice would be to leave the orange colored gooseberry to the last as it would somehow pacify the sweetness in the mouth prior to your next dessert.
The Chocolate Panna Cotta was somehow not as firm as the one I had tried at Chez Weng recently. But the overall taste with a touch of cream and the freshness from the strawberry was still great for my consumption.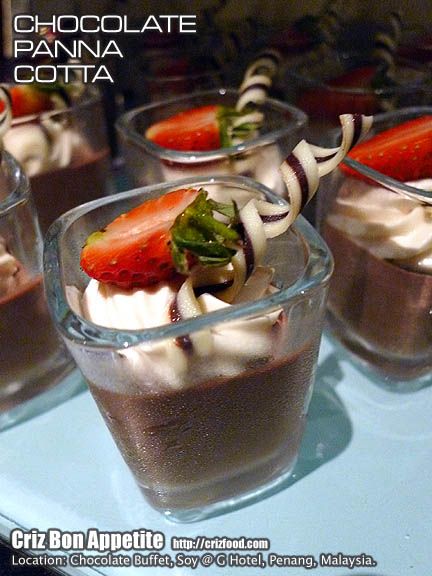 The Black & White Chocolate Mousse in Glass was normal as it just had some dark chocolate and white chocolate mousse decorated in a plastic glass with a beautifully crafted white chocolate flower bud.
It was love at first sight for the Chocolate Soul. From the look, it sure did involved lots of work with something that took me seconds to consume all. The combination of some different flavored chocolate creams between layers of chocolate flakes and hazelnut cake base was awesome.
There were also the Chocolate Fruit Tartlets. It had a dark chocolate base filled with chocolate cream and topped with fresh fruits. It was sinfully delicious and refreshing.
There was also the Baskin Robbins Ice Cream Station. Four options of ice cream were served such as the Mint Chocolate Chips Ice Cream, Chocolate Ice Cream, Cookies 'n Cream Ice Cream, Chocolate Mousse Royale Ice Cream & Mocha Almond Fudge Ice Cream.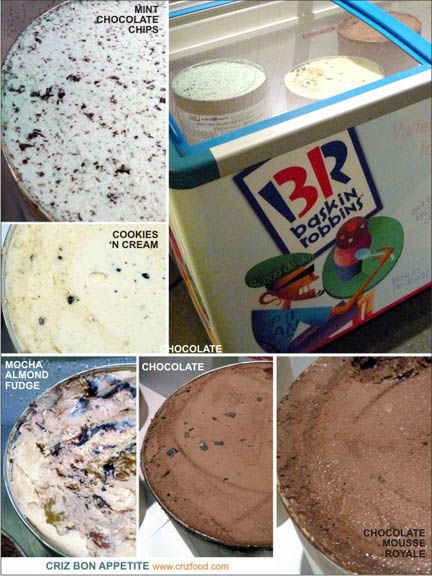 Other than the brewed coffee at the DIY Coffee and Tea Station, you have the Lipton brand of tea bags to choose from such as the Morning Breakfast, Earl Grey, Peppermint, Darjeeling, Jasmine and so on. There are also some alcoholic drinks that you can side order to go with your chocolate meal but these would be charged based on the stated price on the menu. As for me, water or a cup of tea without the sugar would be the best to drown the thickness from the dishes.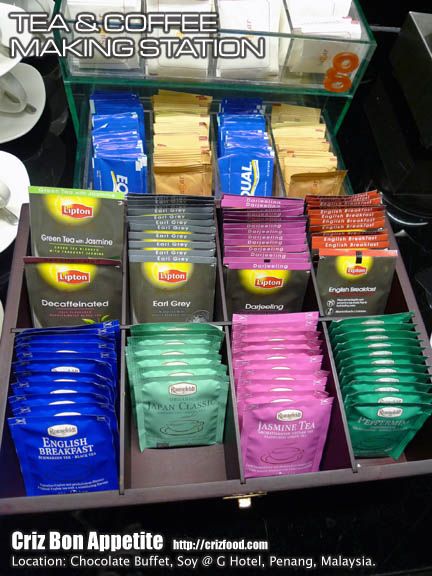 I also have a weird urge each time I see ice cream and coffee. I would make some Affogato. LOL! The available Mocha Almond Fudge Ice Cream combined with the bitterness of the freshly brewed coffee made a great cup of Affogato. It was a perfect hot beverage to drown all the sweetness.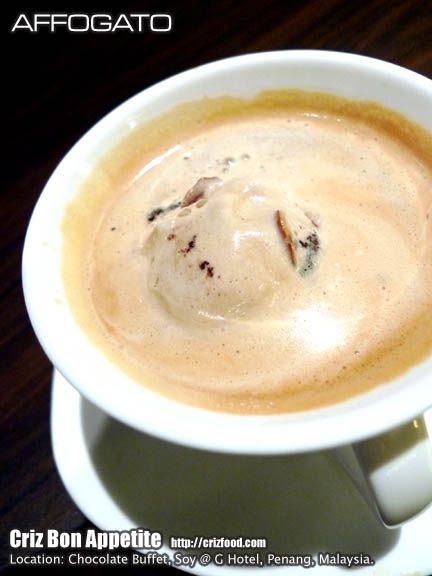 Overall, I would say that the dishes served are of great quality. Luckily, the chef did provide a balanced sweetness for everything served or it would be disastrous to my blood glucose level. At RM45++ (RM52.20nett inclusive 16% tax), it can be considered a bit high for having just desserts, but weighing on the quality of the imported ingredients used and the handcrafting skills of the chef, the Chocolate Buffet is actually reasonably priced. Although I'm a more savory dishes type of person, the sugar content on most of the items were still within my acceptance level. I did throw to them a question on what if I needed something savory in their spread and I found none at all on that night. I did suggest to them on the usage of the Mexican Spanish originated mole (pronounced as mo-lay) sauce which has a tad of spiciness, nuttiness, fruitiness and chocolate flavor such as the Jerk Chicken with Pineapple Mole Sauce dish which I had during a function at Hard Rock Hotel. Other than that, they could have some chocolate bread slices or even some puff pastries with savory fillings such as ham, egg, crabstick, turkey, etc. At least, with a mix and match of sweet and savory items, it would attract more diners from all ages. But you do not have to worry at all if no savory items were available at the Chocolate Dessert Buffet. Special arrangements could be made for you to have some Chinese ala carte savory dishes prepared from Soy or Sesame (last order is at 10.00pm).
Another thing the place lacked was some soft in-house music such as classic ballads, jazz or bossa nova to boost up the atmosphere. A live band performance would indeed be great. Chocolate is supposed to relax the body and mind against stresses and won't you think that with some relaxing music it could be more romantic as well?
On the health part, chocolate has always been considered as just another confectionery product that would be bad for health and make you put on weight. Well, there may be some truths in that statement only if you endlessly have those filled with caramel, nougat or something sugar and milk based. The fruit extracted chocolate actually contained many of the health benefits of dark vegetables. One of these benefits would be from flavonoids, in which act as antioxidants. Having 100% cocoa would be quite impossible as it would be extremely bitter. There are some available brands with 86% or 65% cocoa which would be great for your consumption. If you still feel that it tasted rather bitter, go for those more organic ones with fruits or nuts instead. Some published analyses had indicated that cocoa and dark chocolate have some compounds within to diminish diabetes and cardiovascular diseases. Since you know that dark chocolate is heart-healthy, you can now safely consume your daily intake of chocolates without any worries at all.
Special Note: Parking in G Hotel can be quite costly. Please take note that you can get the staff to give you're a FREE ONE HOUR PARKING.
Do click on the Chocolate Buffet flyer below to have a clearer view of the information: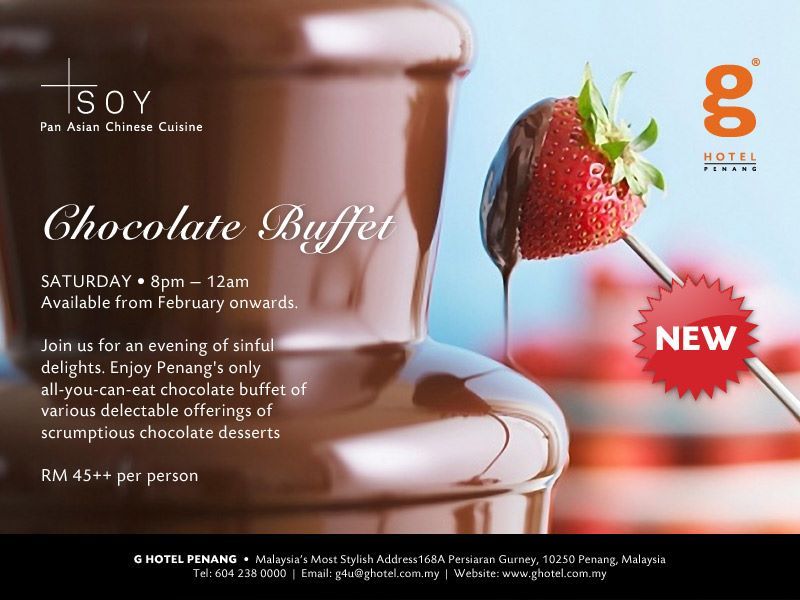 The Soy Restaurant is located at the first floor of G Hotel. If you walk in through the front entrance along Persiaran Gurney, just head for the stairways on your left, just right before the reception. Walk up and you will see the restaurant entrance.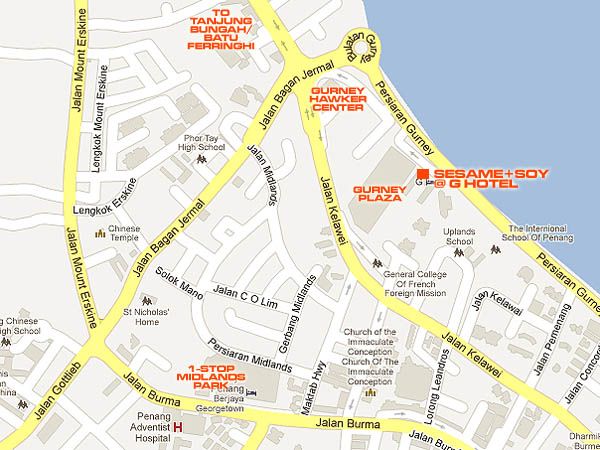 Name: SESAME + SOY @ G HOTEL
Address: 168-A Persiaran Gurney, 10250 Penang, Malaysia.
Contact: 604-238 0000
Business Hours: 8.00pm-12.00am (Saturday only)
GPS: 5.437637, 100.310567
RATING:
Ambience: 8/10 (1-4 cheap, 5-7 average, 8-10 classy)
Food Choices: 7/10 (1-4 limited, 5-7 average, 8-10 many choices)
Taste: 8/10 (1-4 tasteless, 5-7 average, 8-10 excellent)
Pricing: 8/10 (1-4 cheap, 5-7 average, 8-10 expensive)
Service: 8/10 (1-4 bad, 5-7 average, 8-10 excellent)