The latest happening in town other than the New World Park would be the newly open Coffee Island situated along the promenade of Gurney Drive. It has the buzzing crowd ranging from families, YUPpies (Young Urban Professionals), college and school students. Moving into the premises was like being greeted by a mini party of giggles and laughs, setting the mood of the environment to happy and lively modes.
Coffee Island could be a great place for those who love to drop in for late breakfast, lunch, tea, dinner, supper or even early breakfast in a relax environment as they would be open for business as early as 10.00am until 3.00am. I was there for a late dinner. The menu was rather impressive as it has more than 160 types of food and beverages to choose from. There was also a section for those late owls.
It was a surprise that with such a packed crowd that night, service was still up to par. Waiters and waitresses would check on the provided chit upon serving and supervisors would double check on the orders per table. Meals were served within few minutes too.
The first order that came was the Chicken Maryland (RM11.50nett). It was just a normal presentation with side dishes such as salads, mashed potatoes and some greens. As usual, the dish would also have sausage, pineapple and banana fritters on top of the usual breaded chicken. I would think that the sausage could be improved as it tasted "cheap" and the breaded chicken had a hard outer batter while the meat was extremely dry. It tasted as though it was double fried and lost its juiciness. Somehow this dish was not up to my expectation.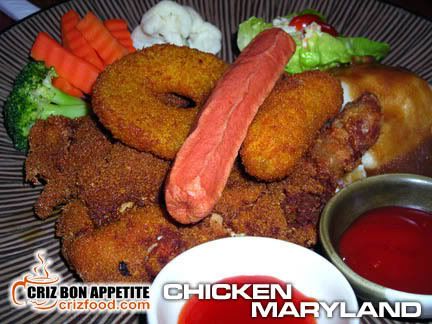 The next one was the Traditional Chicken Curry served with Roti Jala (Net Egg Crepe – RM9.50nett). The dish has only three piece of roti jala, two with pandan (screw pine flavored) and one plain, served with spicy chicken slices curry (8 small slices in fact). The taste was great but the amount could hardly fill my tummy, considering that the dish was served with only 4 thin slices of cucumber. Great taste but too pricey.
To fill up my tummy, I had to order the Ham & Cheese Toast (RM4.60nett). I was expecting something fragrant and crunchy but in the end I had 3 thick but springy slices of white breads stuffed with a semi fried ham and a piece of cheese. Moreover, there were no vegetables inside, except for some over lime juice taste mayonnaise. I would rather have non toasted bread with butter spread as the whole combination was too dry to my liking.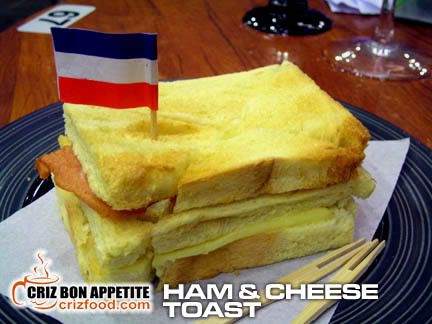 There was nothing special in the drinks too. The Iced Cappuccino (RM5.90nett) was really 'ice filled" and not to my liking as it tasted so "thin". The Pink Holiday (RM6.90) was a laugh. It tasted like a sugarless Ais Manis (red syrup iced drink) with some fizzy soda. It was nothing special at all.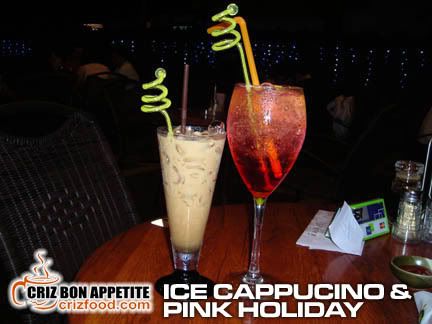 Maybe it was just due to my wrong timing to dine there when the place was so packed or my expectation could be too high. Anyway, I was not quite happy with the RM43 paid (plus tips) to have these types of food served. If I were to visit there again, I would surely choose other dishes to test them out again. Let me share with you what they have in their menu.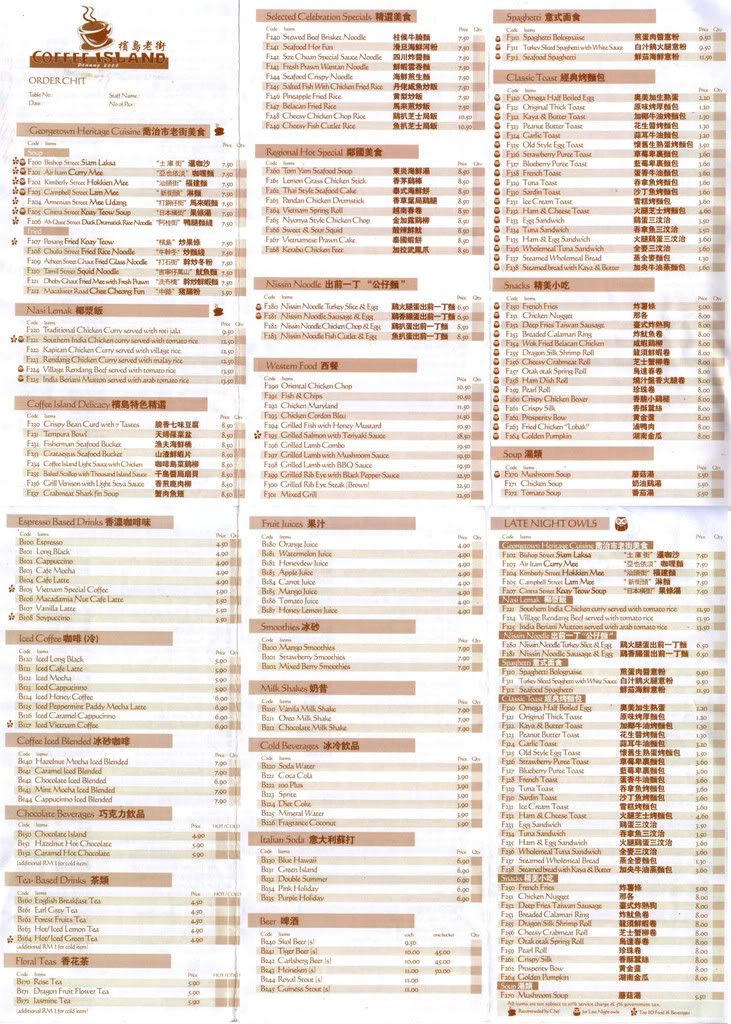 Overall, the place would be ideal for meet-ups if the taste of food is not your main concern. The pricing might be a bit high though for the amount of food served and the drink could be a bit "thin". I would advise can drinks instead. You can opt to dine indoor rather than the al fresco area. There would be two free 1MB WIFI line available, namely Coffee Island 1 and Coffee Island 2. Downloading could be quite fast but uploading is rather slow. There are other "unsecured lines" such as MyBroadband and Gurney67 available but I'm not sure about the speed.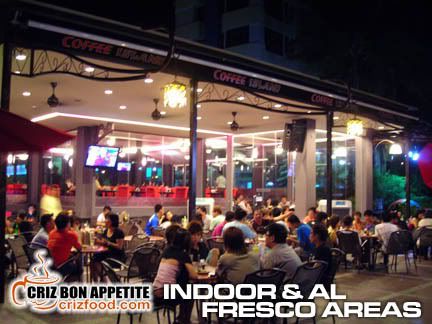 The shop is strategically located along the sea front of the famous Gurney Drive (next to Crepe Cottage). If you are coming from town center towards Gurney Drive into Jalan Kelawei, turn right at the first junction (Jalan Lim Chin Guan) where Gurney Tower is. Drive towards the end and turn left. You would pass through Evergreen Laurel Hotel and a stretch of hawker centers on your left. Slow down as Crepe Cottage is immediately after the last hawker center (Song River Café). You can park your car next to the café. The car park is in fact behind Crepe Cottage. If you visit this place during weekends, I would advise you to park your car in the Jalan Birch Car Park (the road after Song River Café) and walk up to the cafe.
Name: COFFEE ISLAND
Address: 77 Persiaran Gurney, 10250 Penang, Malaysia.
Opening Hours: 10.00am – 3.00am
Contact: 604-2272378
GPS: 5.432556, 100.316592
RATING:
Ambience: 9/10 (1-4 cheap, 5-7 average, 8-10 classy)
Food Choices: 9/10 (1-4 limited, 5-7 average, 8-10 many choices)
Taste: 5.5/10 (1-4 tasteless, 5-7 average, 8-10 excellent)
Pricing: 8/10 (1-4 cheap, 5-7 average, 8-10 expensive)
Service: 8/10 (1-4 bad, 5-7 average, 8-10 excellent)