I'm sure most of you would have heard of Tao Authentic Asian Cuisine (Juru Auto-City, E-Gate & KL Kota Damansara), an upscale restaurant that serves All-You-Can-Eat buffet with specialties ranging from Japanese, Chinese, Thailand and other foreign or ethnic food. You should be happy now to hear that they have a different concept outlet by the name of Yea Japanese BBQ & Shabu Shabu, officially opening for business on 30 November 2011 at Penang Times Square, George Town, Penang. This new All-You-Can-Eat outlet can accommodate up to 300+ pax with many cubicles for private gatherings. Charges would be RM53++ per pax (Adult), RM26.50++ (Child from 90cm to 140cm in height). Currently, they have a promotion where a second person would get a 50% off the bill from 10.00pm onwards. The promotion will be on until further notice.
Important Note: Each table would only be allocated only 2.5 hours of buffet session. There will be certain days that they will fix the buffet session time, especially during weekends and public holidays. It's advisable to call up to make your reservation as well as to check on the session timing.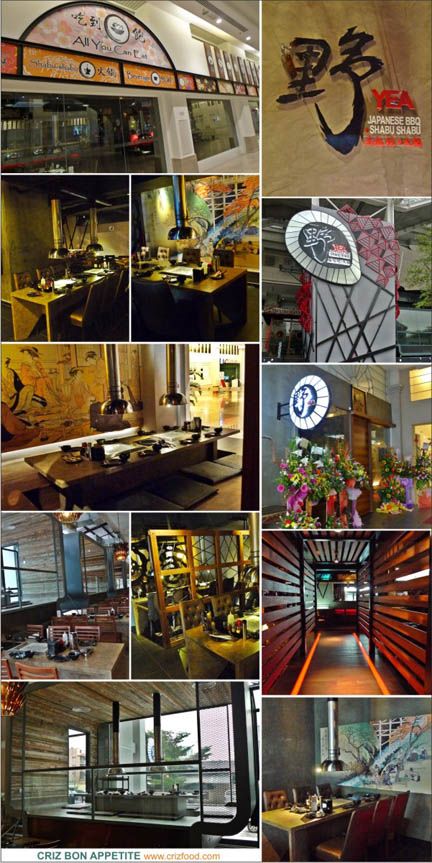 What's so unique about this outlet compared to others will be the usage of a custom made crystal stone grill on charcoal instead of gas stove on individual table. This is a first indeed in Malaysia! With Korean technology, this crystal stone can withstand and store heat up to a few hundred °C (normally around 450 °C / 842 °F). At least this material is more hygienic and bacteria free compared to lava/black stone which would have cracks after a long period of usage. Cooking with such stone grill can be considered a healthier alternative as it would not have oil or fat added in if compared to other grilling methods such as the metal grills. They have over 70 pieces of such innovative crystal stone grills in the restaurant.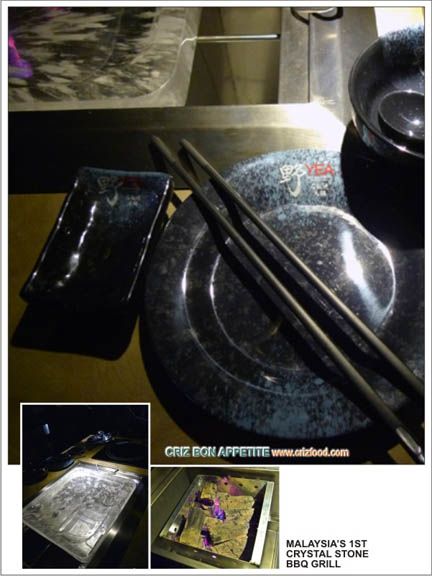 So what's so special about dining here? Well, it's a fun and adventurous way to create your own food with the different sauces available on each table. You would have many ingredients to test out such their special slightly sweetened soy sauce, pepper & salt, cheese powder (with a mixture of milk & icing sugar), lemon juice, black pepper, wasabi powder (great with seafood items) and Japanese 7 taste chili powder (Shichimi Togarashi – chili flakes, white sesame seeds, black sesame seeds, dried orange peels, seaweed (nori), dried ginger and poppy seeds). There was also a bottle of water for you to wash your grilling stone.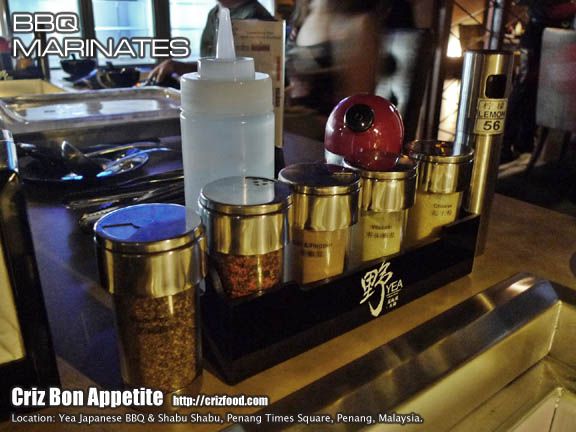 If you are not so familiar on how to cook your BBQ items well with the right marinates, I'll advise you to take some time to view the documentary on "how to" on the TV. Here's a short clips on how to cook some of the items as shown on their TV.
All the BBQ and Shabu Shabu items can be obtained from the respective areas. As for Shabu Shabu, there are over 30 types of vegetables and meat/fish ball section for you to choose. Some of the items included different types of meat balls and fish balls, cuttlefish, quail eggs, crab sticks (kanikama), bean curd sticks, artificial abalones (processed calamari slices), Taiwanese sausages, clams, different type of pork innards, romaine lettuce, bean sprouts, cabbages, enoki mushrooms, shitake mushrooms, abalone mushrooms, lotus roots (need a longer cooking time as it was rather hard), crown daisy chrysanthemum leaves (tang oh/ 茼蒿) and many more.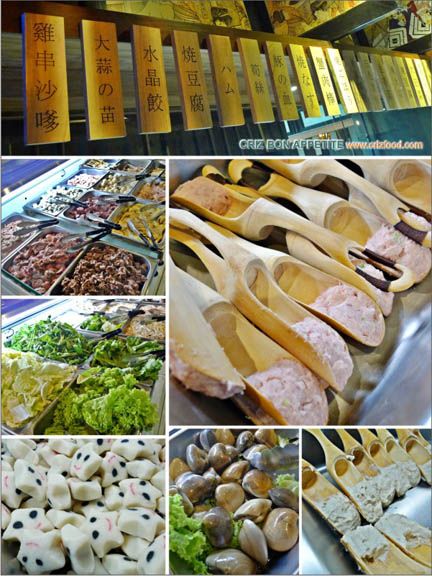 As for the BBQ items, the meat and seafood are kept in designated refrigerator to maintain their freshness. Some of the items included saba (mackerel/鯖魚), ayu (sweetfish/香魚), snapper (鯛魚), shishamo (willow-leaf fish/柳葉魚), salmon (鮭魚), shrimps (in fact they are big green shelled prawns), oden (fish cake quite similar to onion omelette with basils but with a more al dente texture), baby octopus, pork intestines, garlic scallops, garlic oysters, fried bean curd, beef brisket, sticky pork, lean pork slices, lamb shoulder slices and many more. They will never be shortage of any meat slices as the staff would always be there to slice more.
As for Shabu Shabu, you have an option to choose ONLY ONE SOUP from 5 types of available soups, namely shabu shabu (昆布柴魚湯), miso soup (味噌湯), malak soup (麻辣湯), tomyam soup (東炎湯) and salted vegetable duck soup (咸菜老鴨湯). Since we had so many people in our group, we managed to try out some of the options. The shabu shabu soup base which actually consisted of kelp or large seaweed boiled with fish bones. It had that clear non-fishy taste with a gelatin-like after taste. It was mild but suitable for more seafood based items. The miso soup base had that mild fermented bean taste but was on a sweeter side. This soup would be quite good with those bean curds and meat items. The salted vegetable duck soup base had more of the salted vegetable flavors minus the overpowering ducky taste. It was great initially with some bean curds and meat items. As you boil the soup longer, it got saltier and thus with slightly bitter after taste (salt reduction reaction, same as for sour based liquids). I won't recommend this soup base as you would end up becoming thirstier.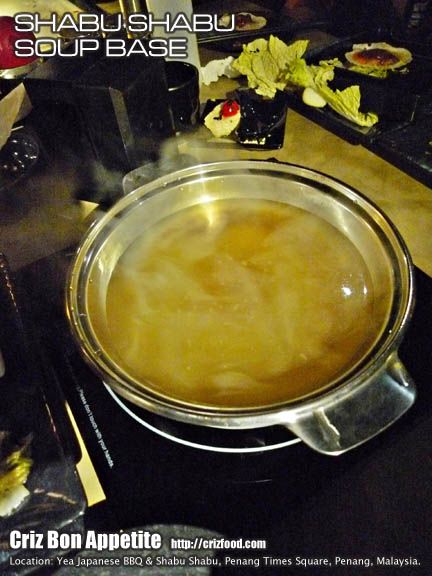 As for dipping sauces, they do provide more than 10 options such as the sachai sauce (a type of Hypnea seagrass sauce/沙菜醬), chili bean curd sauce (豆乳醬), miso sauce (白味噌醬), chili bean sauce (辣豆瓣醬), spicy soy sauce (魚烧辣醬), cumin sauce (孜然醬), seafood chili spicy sauce (海鮮酸辣醬), spring onions, garlic, chili paddy and more. Although the sachai sauce was highly recommended, I preferred the miso sauce more as it had that slight salty sweet flavor that went well with my food. It would be great if the restaurant would also provide some sweet sauce (甜醬) and spicy dried shrimp sauce (蝦米辣醬) just like those served with the Hong Kong Style Chee Cheong Fun as both sauce would be great condiments to BBQ and steamboat items.
You do not have to worry not having something to bite on while waiting for either your stone grill to heat up or your shabu shabu pot to boil as the restaurant would also provide some salad, cold and hot dishes to start on. At the salad station, you can always mix and match whatever vegetables you like and top them up with whatever dressings available on that day. They have orange dressing, thousand islands dressing and wafu dressing (commonly known as Japanese vinaigrette which had some twists of apple cider, soy sauce, sesame oil and seeds, lime juice, sugar, vegetable oil and some grated radish). All the dressings were nice for my plate of salad.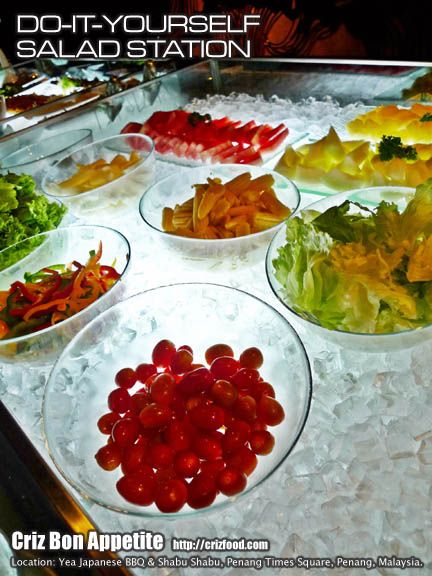 The cold dishes included some Japanese style potato salad with Japanese cucumber and carrot, silky smooth tofu in sweet soy sauce, some pork salads, honey fried shrimps, pickles and so on.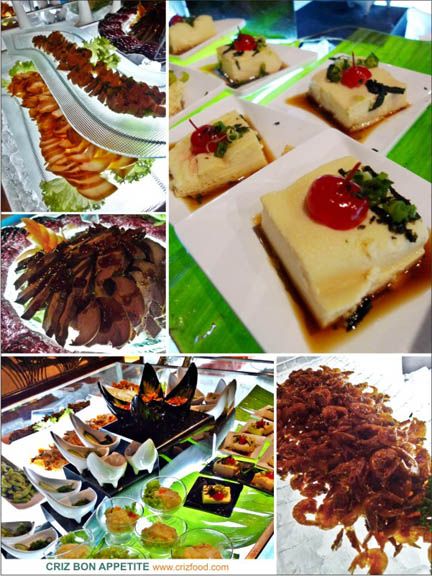 The hot dishes station was awesome. It had dishes that were flavorful with the evidence of high usage of quality ingredients. The dishes served on that day included Mambo Fish with XO Sauce (XO醬炒龍肉), Black Pepper Beef Fillet (黑胡椒牛柳), Sweet & Sour Pork (糖醋里肌) and many more dishes which I could not savor any more due to too much food available. LOL!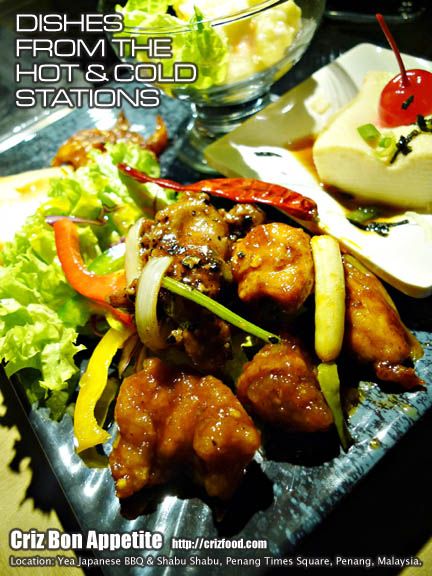 By the way, you could also try out their Bibimbap, a Korean Stone Bowl Rice. Just get any of the waiters or waitresses to bring you one. The dish would come with steamed Japanese rice in a super hot stone bowl, topped with some cut omelettes, carrots, cucumber, morning glory, mushroom, kimchi and chicken, to be mixed thoroughly with a special sauce. The whole concoction tasted quite similar to our local sotong kangkung (cuttlefish with morning glory). It had that sweet sauce taste with a hint of sesame oil. Unfortunately, the stone bowl was not hot enough and the rice was a bit too wet. Thus, we did not get that fragrant flavors emitted from some burns through the stone bowl.
As for dessert, they have quite a variety of items ranging from Western cakes, tarts, jelly, Japanese style mocha to fresh fruits and ice creams, not forgetting the Chinese/Nyonya style tong sui such as peanut soup, red bean soup, bu bu cha cha, etc. Do not miss out the Japanese green tea (mocha) mochi with lotus filling. They were awesome! You could check out on their chocolate fountain too.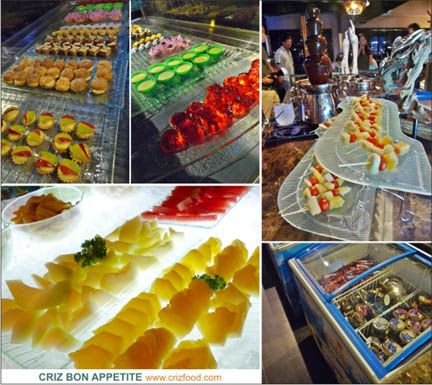 Beverage wise, you can order anything from carbonated drinks, cordial, coffee and tea. Most of the beverages are refillable.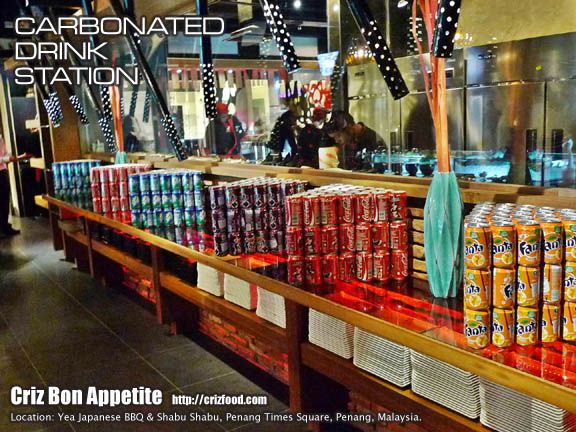 Beers and sake are charged separately. As for sake, it's only RM10 nett for a 150ml jar or RM130 nett for a 1.8L bottle. Beers are at RM50 nett for a bucket of 5 bottles.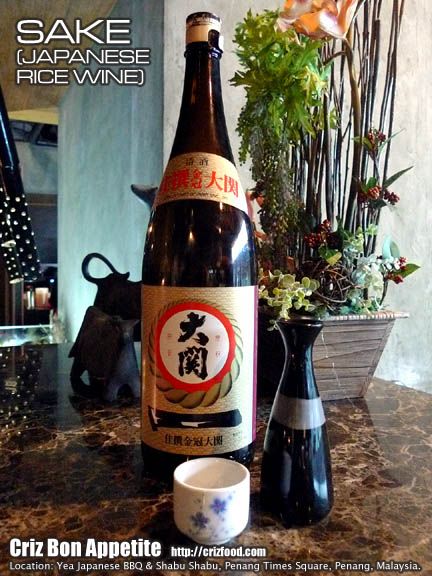 Here are some of the items we had taken during our visit during the pre-opening day. Don't you think it's valued for money at RM48++? The quality is just as good as Sarkies Sunday Buffet Hi-Tea at E&O Hotel, George Town, Penang.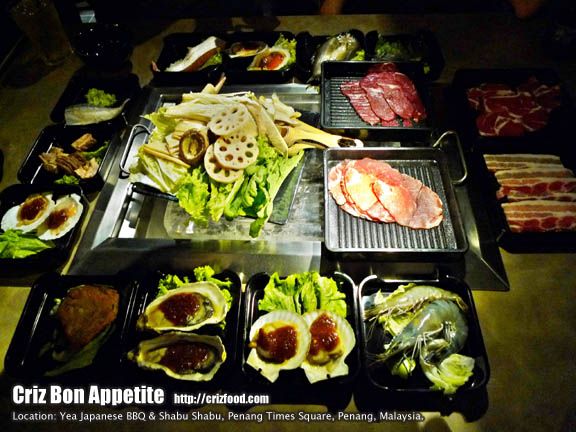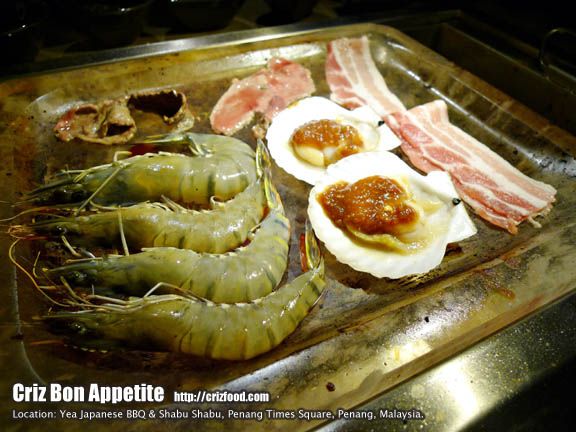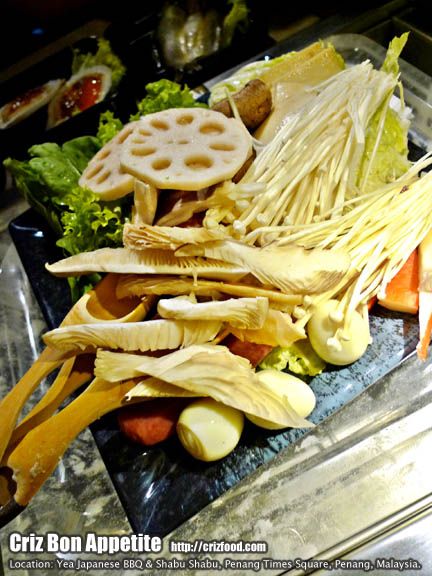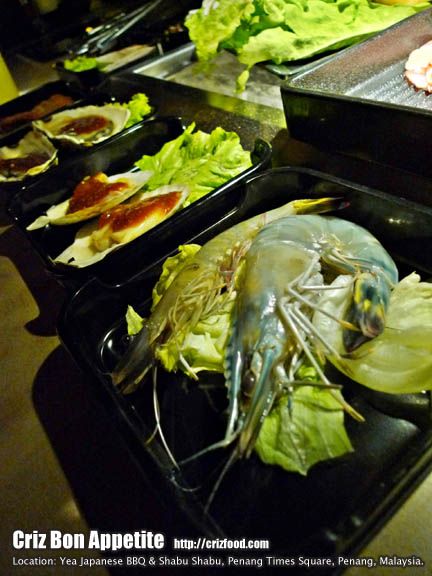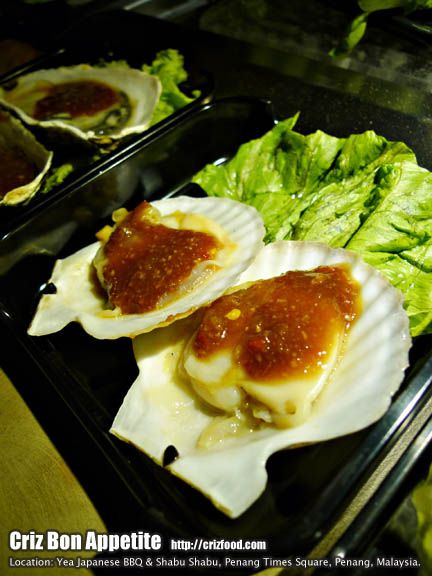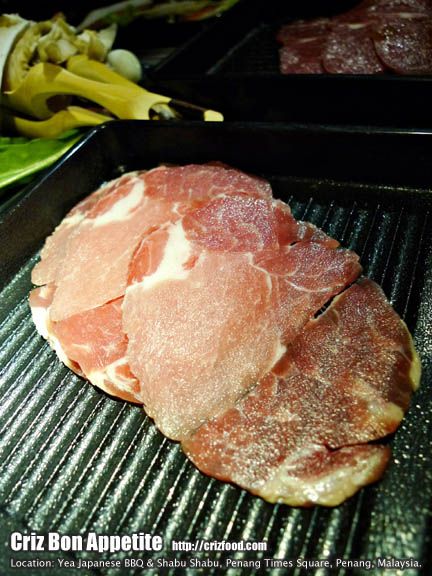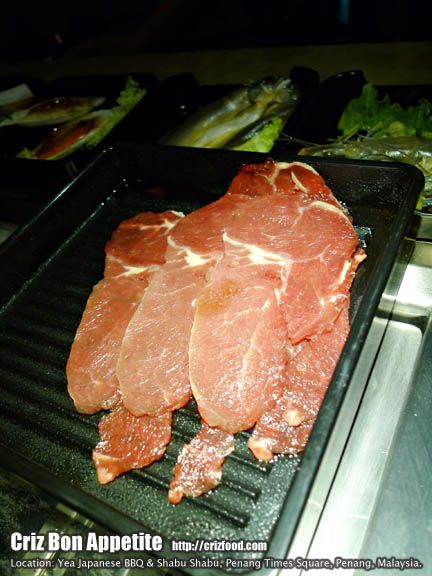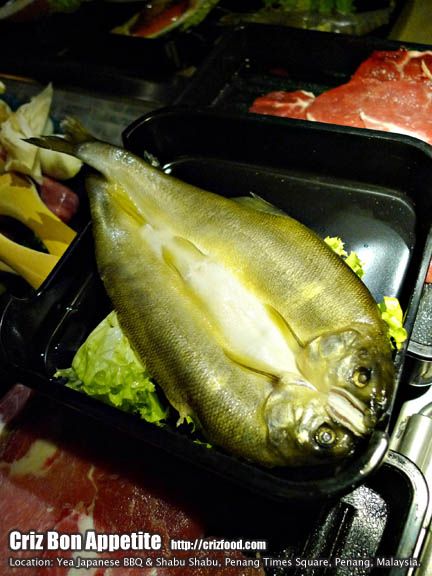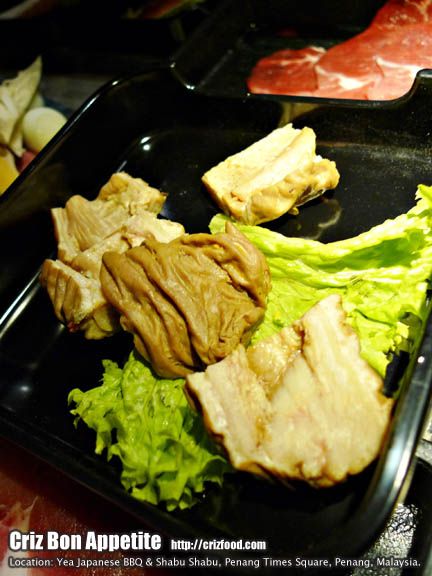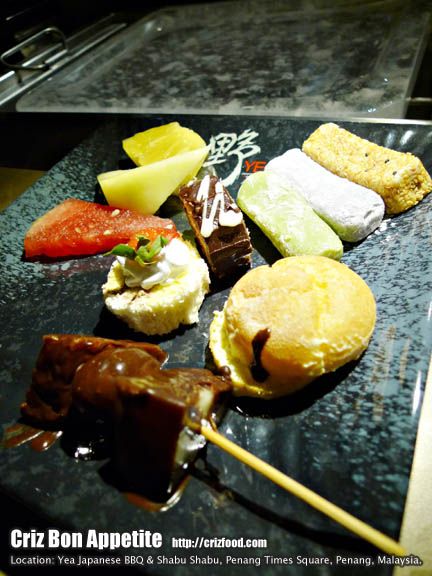 The café is located at the right wing of Penang Times Square right under Sunshine City Supermarket. It consists of two floors – ground floor and mezzanine floor. The easiest way to reach there would be to park your vehicle at the open car park at the entrance of Penang Times Square, and walk all the way through the automated glass door next to Swensen's. Walk straight until the end of another automated glass door. As you exit the automated door, you would see a wooden door on your right. It's actually another automated door to go into the restaurant.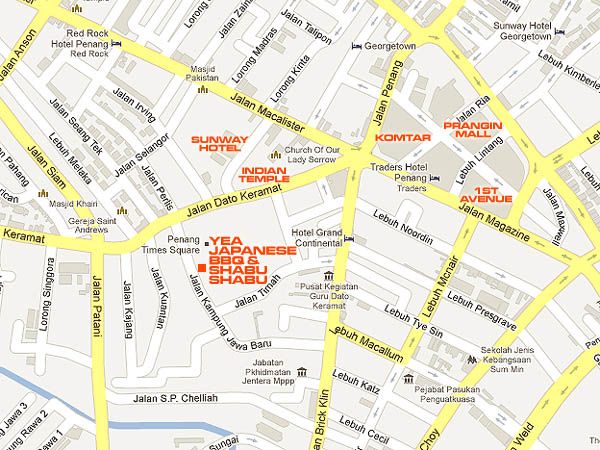 Name: YEA JAPANESE BBQ & SHABU SHABU @ PENANG TIMES SQUARE
Address: Ground Floor, Penang Times Square, Jalan Dato Keramat, 10150 Penang, Malaysia.
Contact: 604-229 7826
Business Hours:
6.00pm – 1.00am (Monday – Thursday)
12.00pm – 1.00am (Friday – Sunday & Public Holidays)
GPS: 5.411728, 100.324879
RATING:
Ambience: 9/10 (1-4 cheap, 5-7 average, 8-10 classy)
Food Choices: 9/10 (1-4 limited, 5-7 average, 8-10 many choices)
Taste: 8/10 (1-4 tasteless, 5-7 average, 8-10 excellent)
Pricing: 7.5/10 (1-4 cheap, 5-7 average, 8-10 expensive)
Service: 8/10 (1-4 bad, 5-7 average, 8-10 excellent)