For those who had travelled to Taipei, Taiwan and visited the Danshui Old Street (淡水老街) in search of great food, the aromatic scent of the freshly baked old school style egg sponge cake (Ji Dan Gao/雞蛋糕) from one specific shop might still be in your memory vividly. That would indeed be the reminiscence of our childhood days when we enjoyed the fragrance and flavorful egg cake in its most basic form before the pastry industry had gone through years of creative evolutions. Penangites would be in luck now as one such shop by the name on Tam Sui Old Taste Cake of Taiwan (淡水現烤古早味雞蛋糕) had set its foot on the shore of Penang with its maiden operation today.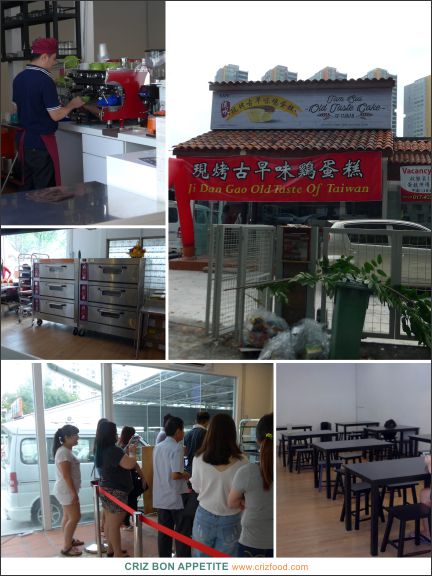 Unlike many of the bakeries out there, the shop utilized the basic concept of open kitchen where all the processes of cakes can be seen and each of the freshly baked cake would be immediately cut in a thick slab of 4"x8" pieces and sold right in front of your eyes.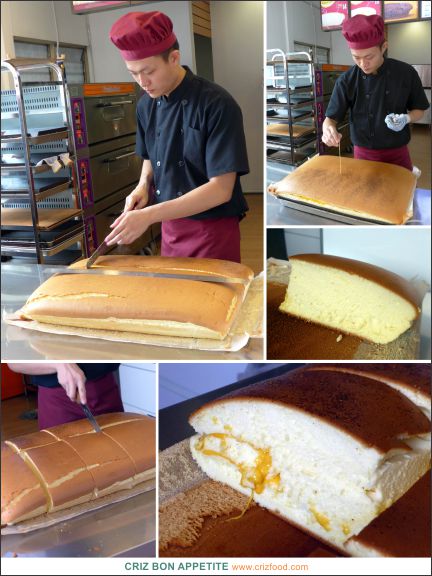 Compared to those sold in Taipei, the bakery here has 3 different flavors available, namely Original (原味古早味雞蛋糕 – RM14nett), Cheese (雙層芝士古早味雞蛋糕 – RM18nett) and Chocolate (暴漿朱古力古早味雞蛋糕 – RM20 – only available effectively 1 April 2017 onwards at 12.00noon and 6.00pm daily except on closed days on Tuesdays).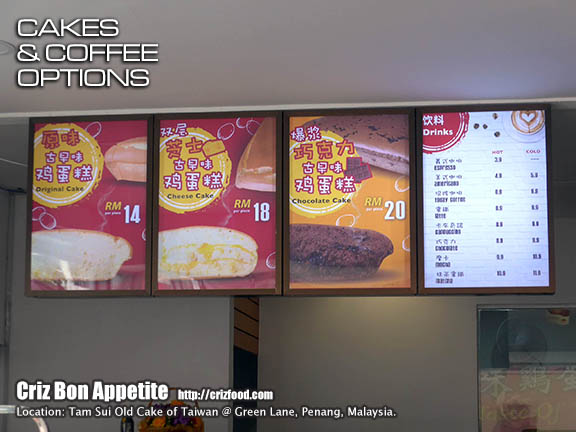 As this is another new outlet opening in Penang, you would expect to encounter huge crowds forming and queueing within and outside the shop. Since everyone would be anxiously waiting to pick up their fresh bakes during each round of the baking time, do spend some time after paying your bills to indulge in their fresh coffee brews. There will be some tables setup to cater to your needs. I've tried their Hot Latte (RM8.90nett) and found it to have the right bitterness and creaminess to my liking.
Overall, the texture of this old school style egg sponge cake was not as cottony as what you would find in the Japanese style cheese sponge cake but it's firmer, heavier with more bites. Personally, I quite like their signature cheese version with double layers of oozing cheese complemented well with the mild sweetness of the original eggy flavors.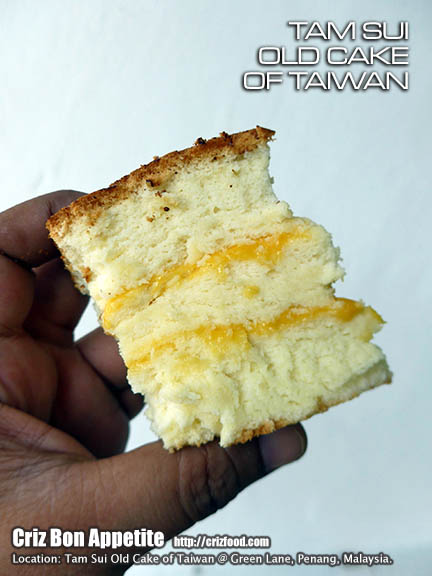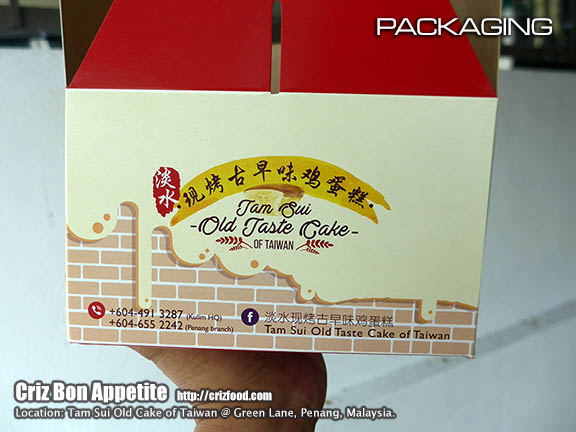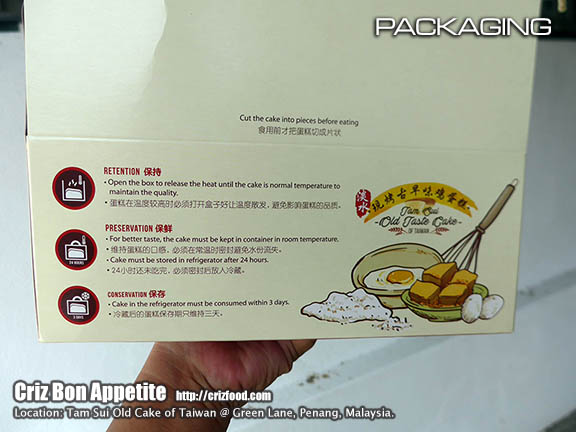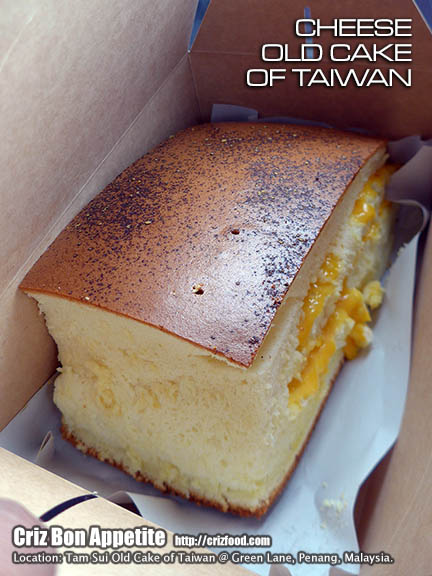 For those who are from outstation, finding the road leading to the shop can be a bit tricky. Though the shop is located just along the service road of Jalan Mesjid Negeri, it would be quite tough especially when you are at the other side of the main road. If you are travelling via Jalan Mesjid Negeri towards Penang Bridge, immediately after you see the Petronas petrol kiosk, turn left into Lebuhraya Batu Lanchang. Drive on and keep to your right until you reach the traffic lights (KFC Batu Lanchang is on your left). Turn right into the road and drive on. Turn right at the second junction before the playground (Batu Green). Drive until the end and you can see the shop at the left corner unit.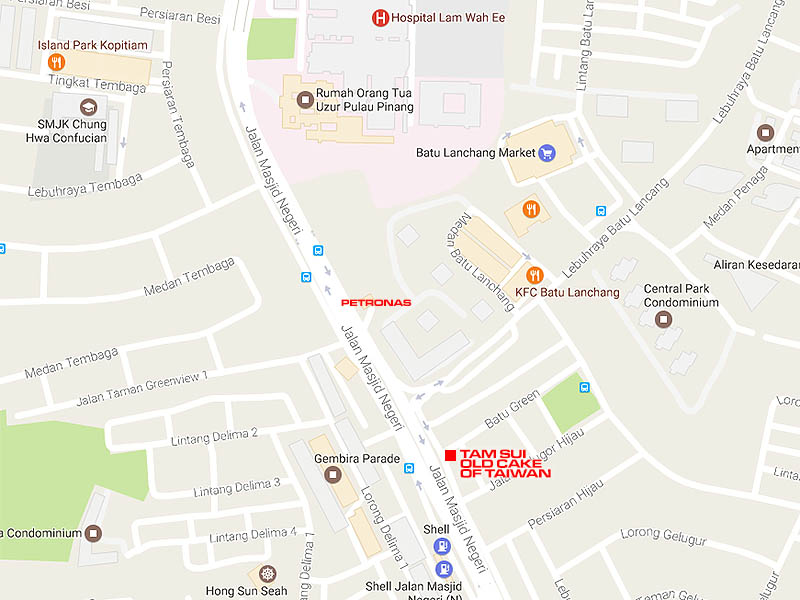 Name: TAM SUI OLD TASTE CAKE OF TAIWAN (淡水現烤古早味雞蛋糕)
Address: 539 Jalan Mesjid Negeri, 11600 Penang, Malaysia.
Contact: +604-655 2242
Business Hours: 10.00am-8.00pm (Closed on Tuesdays)
GPS: 5.386796, 100.304940
Kulim HQ:
Address: 3287 Lorong Selasih 2a/1, Taman Selasih,09000 Kulim, Kedah.
Contact: +604- 491 3287
Business Hours: 6.00am-8.00pm
GPS: 5.376238, 100.537829
RATING:
Ambience: 7/10 (1-4 cheap, 5-7 average, 8-10 classy)
Food Choices: 7/10 (1-4 limited, 5-7 average, 8-10 many choices)
Taste: 7.5/10 (1-4 tasteless, 5-7 average, 8-10 excellent)
Pricing: 7/10 (1-4 cheap, 5-7 average, 8-10 expensive)
Service: 8/10 (1-4 bad, 5-7 average, 8-10 excellent)