After weeks of feasting during the recent festive season, it's time to have some detoxification to rejuvenate the body. Here's something beneficial to the body and yet easy to cook – SEA BIRD NEST WITH AMERICAN GINSENG.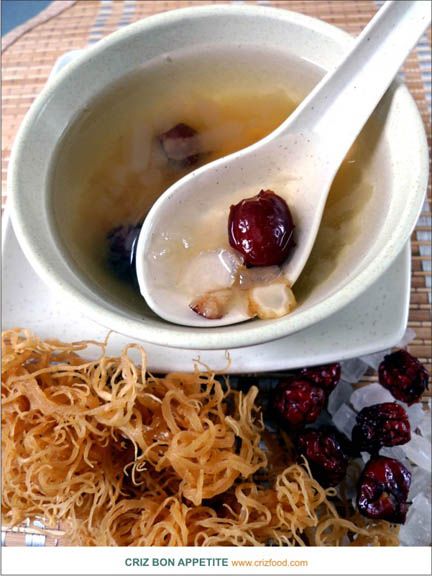 Scientifically known as Eucheuma cottonii, the Sea Bird Nest is more commonly known as Coral Grass or Organic Seaweed. These seaweeds which I obtained from the coastal areas of Sabah, East Malaysia, are naturally harvested with no artificial fertilizers. They taste quite similar to bird nest but less expensive and are enriched in vitamin A, B1, B2, B6, K and 56 mineral supplements which would be ideal for a perfectly balanced natural diet.
For generations, seaweeds have been used as one of the natural ingredients for health, vegetarian diet and beauty. They can be eaten raw as in salads or blended in fruit juice to obtain its natural enzymes. As for desserts, you can make jelly with them or even boil them as cooling desserts for health care. There have been many proven cases where seaweeds have been used as a natural alternative to promote good health. Some of the usages include regulating the blood circulation and high/low pressures, improving the vitality, resisting fatigue, weight-loss diet, beautifying complexion, osteoporosis, stabilizing proper thyroid function, cardiovascular disease, digestive disorders, constipation, etc. The seaweed's high active substances and polar soluble fiber will also help in adjusting the insulin to maintain the blood sugar balance to prevent hyperglycemia as in the case of diabetes. They also eliminate free radical efficiently for detoxify body organs and activate cell tissues for metabolism and anti-aging.
INGREDIENTS:
150gms Sabah seaweed (Eucheuma cottonii seaweed/San Hu Cao/珊瑚藻/海底燕窝)
10gms American ginseng slices
250gms rock sugar
25 seedless red dates
3 pandan leaves (screwpine leaves – bundle up)
4L water
OPTIONAL:
Dried longan
Wolfberries/Goji berries
Quail's eggs (minimize usage as they are super high in cholesterol level)
The Raw and Soaked outlooks of the seaweeds are shown below:
PREPARATION:
1. Wash the seaweed to rid the salt and soak in purified room temperature water for 5-6 hours, changing the water at least twice. You would get soft cartilage colored like seaweeds.
2. Get a 5L pot and fill up 4/5 of the pot with water.
3. Add in the red dates and bring to boil. When boil, lower to medium fire and boil for about 45 minutes. You would get about 3L left.
4. Add in the ginseng slices and rock sugar and boil for another 10 minutes.
5. Add in the soaked seaweed and the pandan leaves. Boil for 5 minutes.
6. Close the lid and leave for about 15 minutes.
7. Scoop to serve either hot or chilled.
Note: The soup would be more gelatin-like due to the thickened seaweed at the base when chilled for longer hours. Just stir it well and serve.
(Serves: 8-10)
Where to Buy: For those in Penang, you can purchase the Sabah Seaweed from I Mum Mum Pan Mee for slightly over RM12 for 200gms of good quality seaweeds. I had found theirs to be of better quality than those from certain Chinese medical shops.
YOU CAN CHECK HERE FOR MORE RECIPES.