Who would expect Julia Roberts to accompany us for dinner? I actually wanted to get Britney Spears, David Beckham, Andy Lau or Lee Hom but in the end I just got myself a glass of Iced Lemon Tea (RM2.90). You are right! Those are the names of some of the beverages available in this restaurant. Julia Roberts (RM4.50) is actually a cocktail comprising watermelon, cucumber and honeydew juices. This drink is meant for those weight watchers.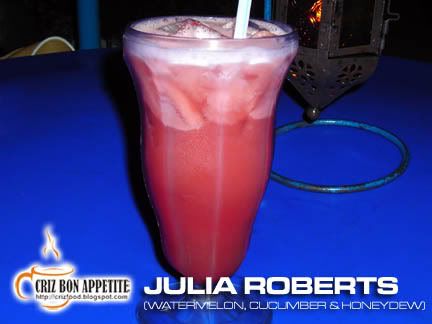 My friend and I started our dinner with Cream of Mushroom Soup with 2 slices of garlic toasts (RM4.50) and Seafood Tomato Soup (RM4.50). The Mushroom Soup tasted fine but was not as creamy as I have expected. On the other hand, the Seafood Tomato Soup has lots of seafood in it but a bit too sweet for my liking.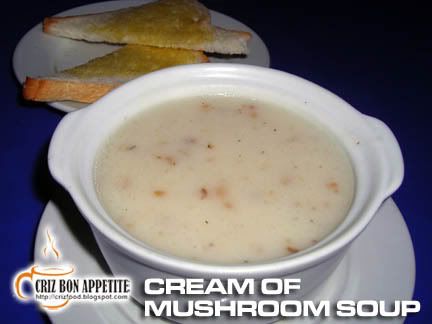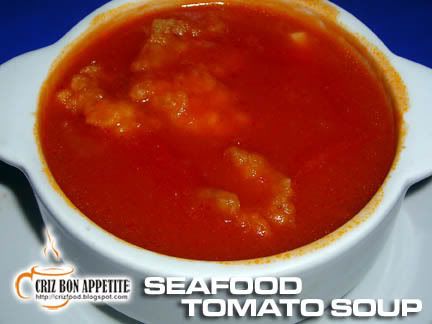 Seafood Mixed Grill (RM14.90) and Chicken Aux Champignons (RM7.90) followed as our main courses. The Seafood Mixed grill was with lots of mussels, prawns, fish and cuttlefish. It came topped with black pepper gravy. The dish tasted good but I would prefer to have thicker gravy for that. The Chicken Aux Champignons came with some sliced button mushrooms on top of a grilled and deboned chicken drumstick. Not bad but there was nothing spectacular about the gravy. Both the dishes came with lots of French fries, mixed vegetables, broccoli and some salad.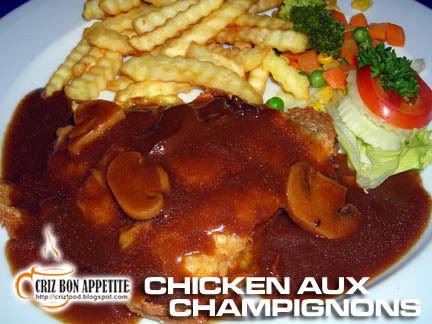 The whole restaurant was dimly lighted with an oil lamp on every table. I would say it's quite a romantic place for courting couples. Haha! I went the with the intention of getting a whole heart but the temptation was too great. I ended up breaking the heart apart. Why not? Isn't a Heart Shaped Fried Ice Cream (RM2.50) meant to be broken into two before consuming? 😛 Well, this dessert was real nice with Rum & Raisins Ice Cream inside. The skin is actually made of white bread and fried in hot boiling oil while the content still maintains it coldness. This is a must try for those who have yet to try out this dessert.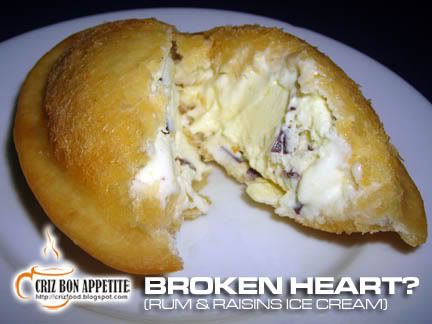 Finding the restaurant is real easy. If you are coming from town towards Tanjung Tokong, just watch out for a traffic light on your right with Subaidah Nasi Kandar at the corner lot. Turn right into the traffic light and you will see the restaurant there. There is free parking next door.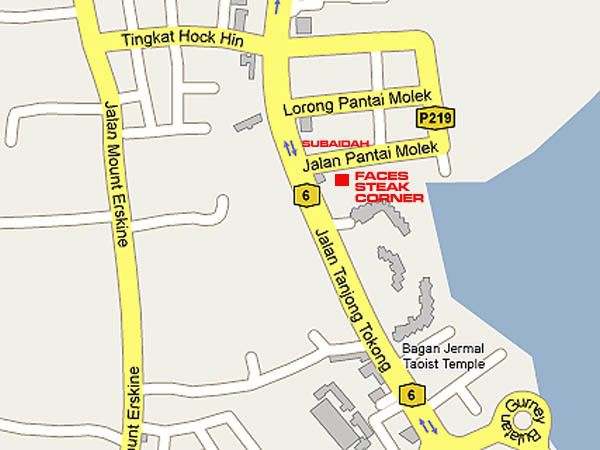 Name: FACES STEAK CORNER
Address: 4D Jalan Pantai Molek, Tg. Tokong, 10470 Penang, Malaysia.
Tel: 604-8900998
Opening Hours: 6.00pm – 1.00am daily
GPS: 5.444408, 100.305948
RATING:
Ambience: 8/10 (1-4 cheap, 5-7 average, 8-10 classy)
Food Choices: 8/10 (1-4 limited, 5-7 average, 8-10 many choices)
Taste: 8/10 (1-4 tasteless, 5-7 average, 8-10 excellent)
Pricing: 7/10

(1-4 cheap, 5-7 average, 8-10 expensive)
Service: 7/10 (1-4 bad, 5-7 average, 8-10 excellent)