What are your plans for Fathers' Day which would fall on 15 June 2014 this year? Instead of celebrating this memorable day the traditional way of dining out during dinner, why not celebrate the day earlier for lunch so that you can have more time for more family activities after the meal? Do check out ZEST Bar Café @ GLOW by Zinc, a cool and comfortable café within a modern and chic hotel, located right in the heart of George Town. The café would be promoting its Fathers' Day 3-Course Set Lunch at RM35nett per pax on 15 June 2014 from 11.30am until 5.00pm. As the promotion is value for money, do make earlier reservation to avoid disappointment. Do call +604-226 0084 now to make your reservation~ 🙂
Let's have a look at the Fathers' Day Set Lunch Menu at ZEST Bar Café @ GLOW by Zinc, Penang below.
You would have the Starter which would be the Grilled Prawn with Caviar Cream and Salad Roll. You would have two well marinated king prawns grilled to perfection and topped with some "caviar" cream and served with a salad roll, accompanied by some honey mustard sauce topped with some black sesame and Thai chili sauce. Though the prawns were grilled with a nice aromatic burn flavors, the "caviar" cream were however a bit deceiving in my opinion. It was basically mayonnaise with some ebiko (prawn roe) which did not fall into the caviar category (fish roe). Instead of using the expensive black caviar from the sturgeon or red caviar from salmon, at least proper caviars should be used such as the black caviar from a less expensive lumpfish. I do hope the kitchen do get their terms right to avoid disputes from the public.
As for the Main Course, there would be 2 options, either beef or fish. Firstly, it would be the Yin & Yang Tenderloin,a thick slab of grilled beef tenderloin on a slice of roasted pumpkin, served with black (black pepper) and white (coconut plus crème) sauce. For beef lovers, this dish would be the ideal choice, especially if you ordered it as medium-rare. The meat pieces would just melt in your mouth. Though some of the bloggers considered the black pepper sauce to be overwhelming, thus covering the true taste of the beef, I found the sauce to be just nice for my palate. However, the so-called "white" sauce did not give that extra flavor as it was too mild to be distinctive. It could merely be for decorative purposes only. To bring more justice to the white sauce, maybe a combination of béchamel sauce, toasted shitake mushroom plus some herbs might be a better choice.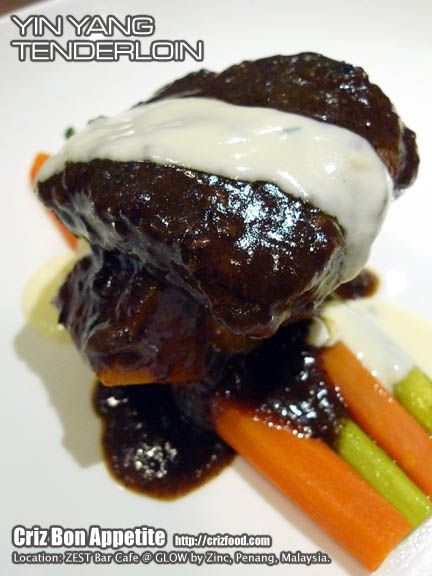 The second Main Course would be the White Pan-Fried Fillet Sea Bass. It was two generous pieces of pan-fried Sea Bass fillets on a bed of potato wedges, served with béchamel sauce (butter, flour & milk) and Thai chili sauce, garnished with some citrus flavored cucumber pickles. Overall, it was still a reasonably good combination.
As for Dessert, there was the Avocado Chocolate Trifle, a large serving indeed. Though the dessert was quite nice with the uniqueness of the added avocado pudding layer, chocolate ganache and milky crème plus some nicely roasted pistachio as topping, the amount was sort of a bit too much after a heavy meal. It ended up being too surfeit for the consumption of the lighter diners. It would be great if some Graham crackers or digestive biscuit crumbles being added at the base to cut down on the heaviness of the serving. Alternatively, a fruit trifle might be a better choice as it's a lighter dessert to end a heavy meal.
As for Beverages, you also have the option to choose from Coffee, Tea or Ice Lemon Tea. All the beverages would come with free refills. However, you could also request for other beverages such as Cappuccino or Latte and that would also be on the house as well.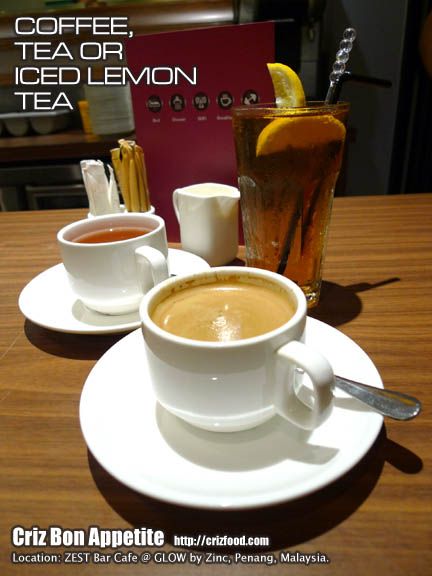 Instead of dropping by just for the Fathers' Day Set Lunch Promotion, you could also drop by the café anytime to savor their ala carte dishes. One of the more notable ones would be their GLOW Signature Beef Burger (RM22+), served with some potato wedges. Indeed the in-house made beef patty was one of the top ones on the market. It had just the right combination of minced beef, marinates, bread crumbs, herbs and spices to give the patty the right texture and flavors. Thumbs up for this burger!
Another alternative would be their GLOW Signature Chicken Club Sandwich (RM18+). The dish had layers of cheese, omelette and grilled chicken plus greens sandwiched in between 3 thick slices of wholemeal bread slices. This dish was also served with some potato wedges. However, I personally found this dish to be too dry to my liking, mostly because of the bread being too thick as my ideal choice.
Please also take note that during the Ramadhan month, Ramadhan Buffet can be arranged for groups with a minimum of 30 pax booking at RM49nett/pax. Please contact +6017-488 2108 for further information.
Overall, the dishes served here had an almost fine dining style of experiences. The dishes here were presented beautifully with quite a large portion given. Taste wise, the quality is there plus the innovative of the chef to come out with excellent flavors. Though there are still some further improvements needed to be rectified by the kitchen, I do find the café to be quite a nice place to relax and dine while admiring the scenic view of George Town.
ZEST Bar Cafe @ GLOW by Zinc is located at the 1st floor of the hotel along Jalan Macalister just opposite Red Rock Hotel. There are about 20 car park spaces in this hotel with 10 spaces available right in front of the hotel and another 10 spaces behind the hotel via Jalan Naning (opposite Sum Sum Motors). There are also many coupon based parking spaces available surrounding the hotel. Please make sure you have your parking coupons ready as you would need to pay between 9.00am and 5.00pm. However, effective 1 July 2014, valet services would be available for your convenience.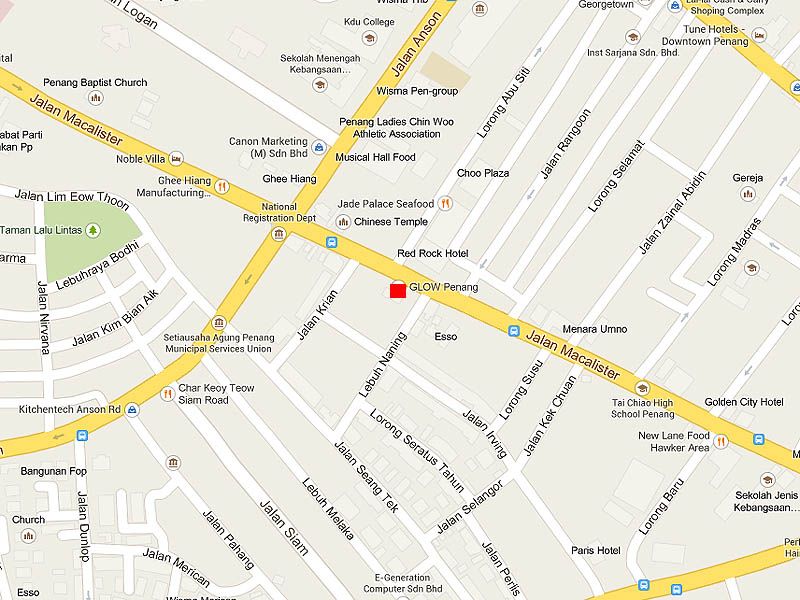 Name: ZEST BAR CAFÉ @ GLOW BY ZINC
Address: 101 Jalan Macalister, 10400 George Town, Penang, Malaysia.
Contact: 604-226 0084
Business Hours: 11.30am-5.00pm (Fathers' Day), 11.30am-10.30pm (Normal Days)
GPS: 5.416638, 100.322952
RATING:
Ambience: 7.5/10 (1-4 cheap, 5-7 average, 8-10 classy)
Food Choices: 7.5/10 (1-4 limited, 5-7 average, 8-10 many choices)
Taste: 7.5/10 (1-4 tasteless, 5-7 average, 8-10 excellent)
Pricing: 7/10 (1-4 cheap, 5-7 average, 8-10 expensive)
Service: 8/10 (1-4 bad, 5-7 average, 8-10 excellent)