Note: I was rather surprised that this outlet was closed within a short period of time. You could still try them out at Kuta Bali Food Court, Paya Terubong, Air Itam, Penang or sometimes at some night markets.
Visitors to Penang would often go for the authentic type of Chee Cheong Fun where there would be some generous topping of sweet sauce, fragrant prawn paste (heko), chili paste and toasted sesame seeds such as the famous stall at Genting Café, Green Lane, Penang. In the era of fusion food, a new breed has emerged at Star City Food Court, located at the outskirt of Georgetown area.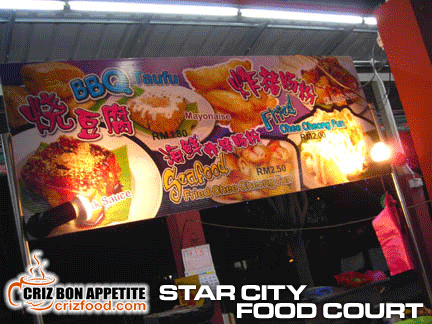 How would you fancy a plate of Seafood Fried Chee Cheong Fun (RM2.50 for 3 rolls)? Basically the Chee Cheong Fun looked like any normal ones you can get from the streets but this version had some surimi crab sticks and fresh prawns wrapped in them. Upon each order, these pre-prepared rolls would be dipped into batter and deep fried until golden brown. Prior to serving, you have an option of two sauces such as mayonnaise and KL rojak sauce. I opted for mayonnaise sauce on these cut pieces of fried chee cheong fun and had some crushed toasted peanuts sprinkled on them. I'm sure children would love this version well although I did not find much attraction in them compared to my favorite authentic ones.
On top of the above as well as the plain version which would cost you RM2 for 3 rolls, there was also something else to bite on – Toasted Stuffed Bean Curd Puff (RM1.80 each). Each piece of the large bean curd puff would be stuffed with shredded jicama and cucumber prior to being toasted in an oven. Again, there would be two options. This time, I opted for the KL rojak sauce. The surface of the puff was crisp while the interior confined the moist from the shredded vegetables. The slices of the bean curd puff were then topped with the KL rojak sauce and garnished with crushed toasted peanuts as well. This combination tasted not bad, except that I found that the KL rojak sauce to be a bit milder in spiciness and rich prawn paste flavor as those found in some of the famous rojak stalls we have in Penang.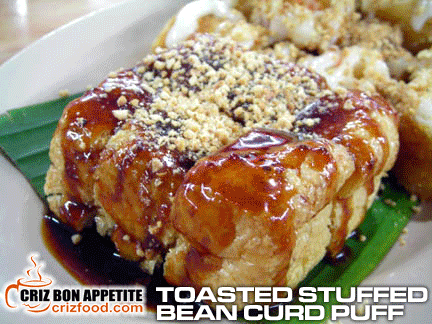 Overall, I found only one unique food that ought to be mentioned here from this food court. The rest of the food from the hawker stalls were just average and nothing to brag about. If you are adventurous to try them out, drive all the way from the Penang Ferry Terminal along Pengkalan Weld until you have reach the Pengkalan Weld/Gat Lebuh Macallum traffic lights. Turn left into Gat Lebuh Macallum and drive all the way until you see Harbour Trade Centre on you left. Turn right and drive on and you would see the food court at the junction of Gat Lebuh Macallum/Gat Lebuh Cecil 1 on your right. Parking space would be quite ample here except on Thursday night when there would be a pasar malam (night market) there.
Name: FRIED CHEE CHEONG FUN @ STAR CITY FOOD COURT
Address: Gat Lebuh Cecil 1, 10300 Penang, West Malaysia.
Business Hours: 5.30pm-11.30pm (Closed on Alternate Tuesday)
GPS: 5.404303, 100.334164
RATING:
Ambience: 7/10 (1-4 cheap, 5-7 average, 8-10 classy)
Food Choices: 6/10 (1-4 limited, 5-7 average, 8-10 many choices)
Taste: 6/10 (1-4 tasteless, 5-7 average, 8-10 excellent)
Pricing: 6/10 (1-4 cheap, 5-7 average, 8-10 expensive)
Service: 7/10 (1-4 bad, 5-7 average, 8-10 excellent)