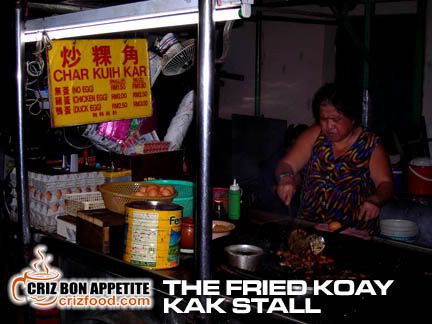 As you know, Penang is the Food Paradise of Malaysia. What would you do if you want to try out something cheap, nice and yet not too filling? There are many options but you can always try out one of the local delicacies called Fried Koay Kak (Fried Rice Cake), which is made out of rice flour added with some water and some seasonings. The mixture would then be steamed until you get a white and soft rice cake. The cake would then be cut into cubes using a mesh wire frame before the actual frying. This is how it would look like when mixed with some dark soy sauce in a large pan.
There is one stall along Lebuh Carnarvon that served one of the cheapest Fried Koay Kak in town from as low as RM1.50 (small). You can opt for either chicken or duck eggs. I would recommend the Fried Koay Kak with Duck Egg (RM2.50). Somehow, the duck egg has that special flavor that made the dish even better. I love to frequent this stall as the lady is one of the more pleasant and generous one around. She would ask you if the ingredients such as the preserved turnip (chai po) or bean sprouts would be enough for your consumption or whether you would need more chili paste and chives. That's what I call VIP treatment. 🙂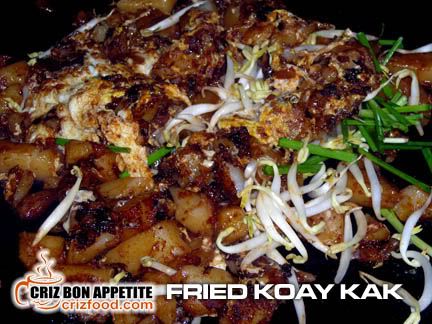 I would say the price to try out this dish is cheap. Just look at the price list. If you are adventurous enough, you can always try out another version of the recipe which is the Fried Radish Koay Kak (Char Chai Tau Koay).
It's really very easy to find the stall. The stall is at café is just diagonally opposite the Te Chang You Tiao Wang stall which I wrote about earlier. If you are coming from Jalan Dr. Lim Chwee Leong along Prangin Mall, you will pass by two traffic lights. Keep left and drive on to the second traffic light. Wan Lee Brothers (toys wholesaler) is on the left. Turn left into Lebuh Carnarvon and drive until the end of the road. You would pass by a police station on you left and then a market after a junction (Lebuh Carnarvon/Pesara Claimant). Drive on. You would reach another junction (Lebuh Carnarvon/Lebuh Campbell). Drive on. Try to find a parking space here. The stall is just on your left hand side at the end of this street (Lebuh Carnarvon/Lebuh Chulia).
Name: CARNARVON STREET FRIED KOAY KAK
Address: Carnarvon Street, 10050 Penang, Malaysia.
Opening Hours: 8.30pm-1.00am (Closed Wednesday & Thursday)
GPS: 5.393019, 100.276342
RATING:
Ambience: 6/10 (1-4 cheap, 5-7 average, 8-10 classy)
Food Choices: 4/10 (1-4 limited, 5-7 average, 8-10 many choices)
Taste: 8/10 (1-4 tasteless, 5-7 average, 8-10 excellent)
Pricing: 6/10 (1-4 cheap, 5-7 average, 8-10 expensive)
Service: 8/10 (1-4 bad, 5-7 average, 8-10 excellent)