Bird's Nest to the East is treasured just like caviar to the West. That's why it has also being known as the "Caviar of the East". For tens of centuries, bird's nest has been used in Traditional Chinese Medicine (TCM) as popular tonic to promote cell regeneration, anti-aging, lung health and more. Though little research has been found on the mysterious healing powers of the bird's nest, the cooling effect (yin) of the bird's nest (especially when double-boiled in soup form) somehow managed to balance off the heat effect (yang) of the body. Even celebrity chef, Chef Gordon Ramsey, had his curiosity stirred up and flew to Tawau, Sabah, to experience his first hand pick on one of the world's most expensive delicacies and to find out that the best edible swiftlet nests were just double-boiled in water and rock sugar. However, 92 Armenian, located within the George Town UNESCO World Heritage Site (core zone), has changed the perception towards bird's nest with their skillfully and healthily concocted delicacies. Most importantly, their creations have been priced affordably for the general public's consumption.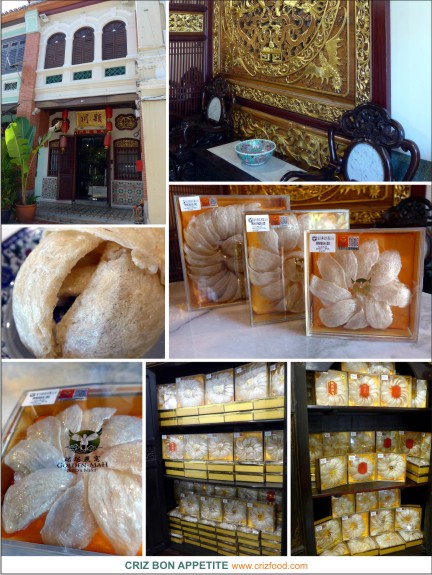 Stepping into the premises of the heritage building reminded me of the gingerbread house from the fairy tale, Hansel and Gretel, where fresh bakes filled up every nooks and corners of the house. However, 92 Armenian was a bit different with delicate yet sophisticated interiors from the Baba and Nyonya days plus boxes of premium quality bird's nest, systematically arranged everywhere. The best part was the aroma of the fresh bakes lingering in the air which managed to capture my attention. My senses led me to the kitchen with a tray of freshly baked egg tarts in the oven. The Bird's Nest Egg Tart (RM8/piece) had richly buttered short crust pastry with silky soft egg filling and topped with a generous portion of bird's nest. It was so heavenly delicious with just the right amount of sweetness that I gobbled up a few without any hesitation. Compared to the madness of queuing up for the latest craze of the Japanese Baked Cheese Tart, I would rather go for these bakes as it more nutritious for my intake.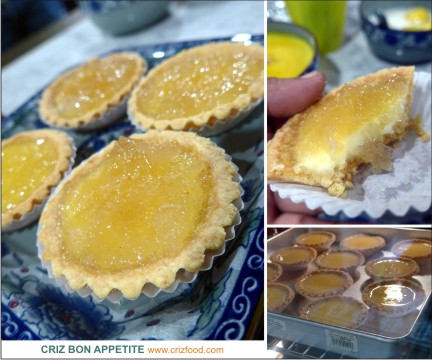 Their Bird's Nest Pineapple Tart (RM20 for 5 pieces) was also something to yearn for as each tart was filled with their freshly made pineapple jam with some bird's nest dressed on it. Each bite would lead to more bites and eventually all would be gone before you realized it.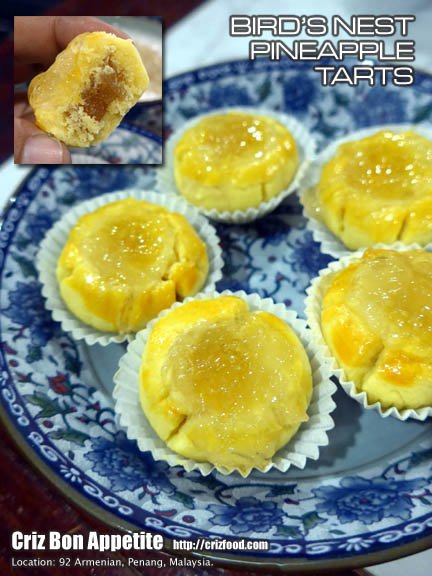 We also tried out their Bird's Nest Rice Dumpling (RM 25/bowl) with a mix and match of freshly made pumpkin glutinous rice balls filled with bird's nest and grounded black sesame, served with a bowl of fresh soy milk with additional bird's nest. Everything about this hot dessert was about the freshness which you would not find from other commercialized eateries.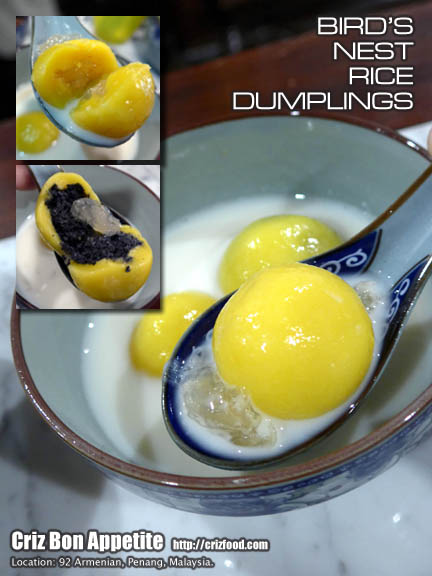 For those cake lovers, you should try out their Bird's Nest Cake (RM25/slice). Who would have thought of incorporating bird's nest onto a mango cake? It was something simple and yet irresistible that caught me calculating the amount of calories I'm going to put into my body. However, upon biting onto a small mouthful, I threw my calorie calculator away. I was at Cloud 9 by then. Each bite was filled with the light sponge cake filled with layers of chunky mangoes in mango fresh cream. Though the bird's nest was overpowered by the sweetness of the mango dessert, it was still a great cake to sink your teeth into.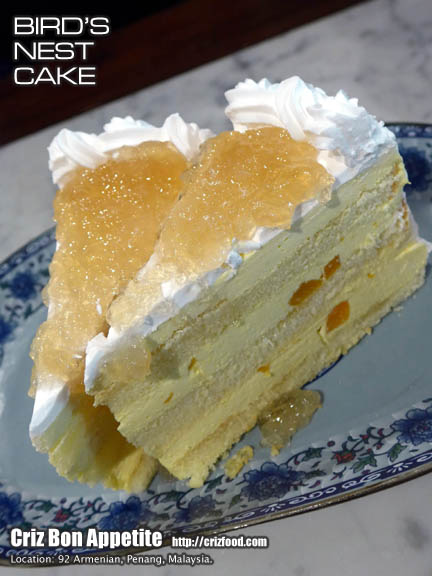 Next on the list was their Bird's Nest Jelly (RM15/serving) with goji berries and topped with a generous amount of bird's nest. The texture of the jelly was just nice for it to melt in the mouth and the mild sweetness was just right for my taste bud. Somehow, I personally felt that it lacked some identity to boost up the overall flavors. I would think that a little boost of ginseng in the flavors of the jelly plus a little drizzle of diluted Manuka honey would pep up the flavors even more.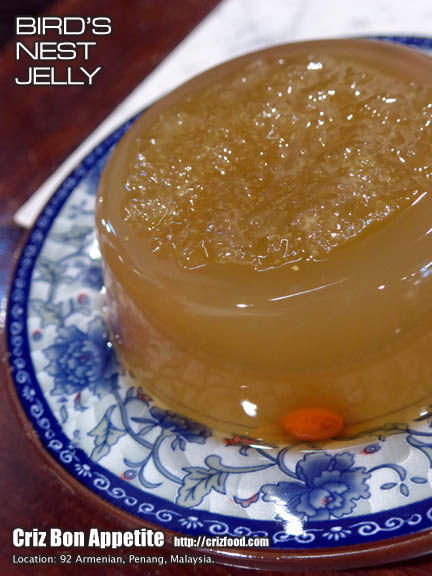 For savory indulgence, you could always order their Bird's Nest Porridge (RM30/bowl). From the taste of the broth alone minus the toppings of bird's nest, shredded chicken and fried garlic, you would have tasted the rich sweetness from some added dried scallops within. It was a hearty yet comforting bowl of goodies filled with rich nutrients to rejuvenate the body and soul. It would be great too if the kitchen would just sprinkle some chopped spring onions to pep up the colors and flavors.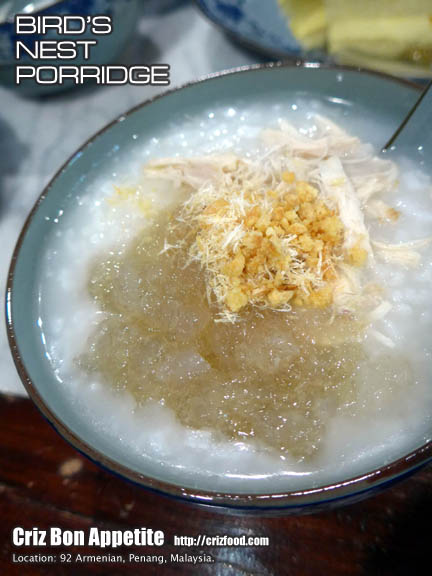 On top of all the above delicacies, the kitchen would occasionally pep up more delicious items to cater to your needs. You could preorder Bird's Nest with Ginseng, Fruit Platters with Bird's Nest, Hot Pumpkin/Taro Soup with Bird's Nest & Ginkgo Nuts and more. No matter what, the delicacies served here are of lower sugar content for a healthier lifestyle. After all, they are utilizing natural cane sugar to sweeten the desserts up.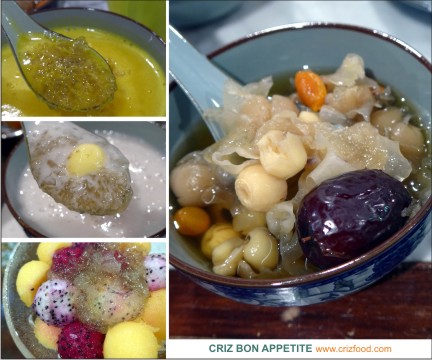 Overall, I love the compilation of the by-products skillfully concocted in the kitchen of 92 Armenian. Not only were those delicacies some great items to tempt your craving for something unique on your palate, they were prepared ingeniously to keep your health at par by utilizing fresh ingredients to further boost up your immune system. The bird's nest might be bland in taste, but they do have many mysterious health benefits that even science today have yet to prove them all. However, there's a small glitch in consuming bird's nest for those suffering from anaphylaxis, a rare condition where a sufferer would have some allergy reactions towards natural antigens. As a hard-hit sufferer of fibromyalgia syndrome (FMS) with 100+ unexplained symptoms and without any cure from any Western medications, the bird's nest slowly but surely helped boost up my immune system by enabling its unique proteins and nutrients within to treat my chronic illness. Not only was I relieved of the constant blows of fatigue, my appetite, complexion, digestion, respiratory systems, bowel movements, energy and body resistance towards other common illnesses got better too. However, there are some secrets in consuming the bird's nest soup for better results. It should be consumed right before sleep on an empty stomach as your body's cell division would work about 8 times faster than normal hours, between 11.00pm to 2.00am, when your mind is in its subconscious state. Depending on each individual, it might take around 1-6 months to see the prominent effects. As for my personal experiences, it took me almost 3 months on moderate consumptions, on alternate days and with proper rest, to be rejuvenated mentally and physically to continue my work with more alertness. That's why it's really important to buy your bird's nest from a trustworthy brand to benefit from all the positive effects for your well being.
92 Armenian is located just a stone's throw away from the famous Yap Kongsi Temple along the heritage trail of the George Town UNESCO World Heritage Site (core zone). Parking space could be rather limited here, so I would advise you to find some available ones along Lebuh Carnarvon or even Lorong Carnarvon and take a light stroll to the café.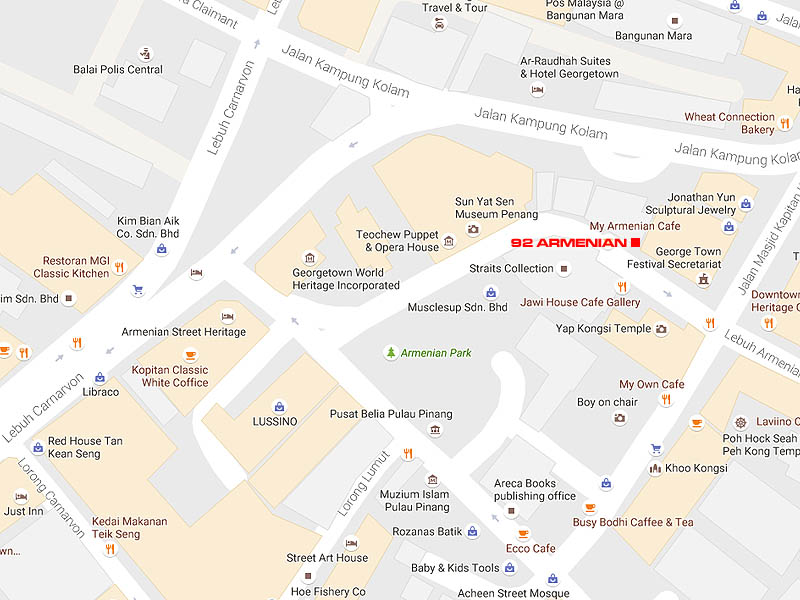 Name: 92 ARMENIAN
Address: 92 Lebuh Armenian, 10200 Penang, Malaysia.
Contact: +604-251 9712
Business Hours: 10.00am-7.00pm
GPS: 5.415689, 100.336730
RATING:
Ambience: 8/10 (1-4 cheap, 5-7 average, 8-10 classy)
Food Choices: 8/10 (1-4 limited, 5-7 average, 8-10 many choices)
Taste: 8/10 (1-4 tasteless, 5-7 average, 8-10 excellent)
Pricing: 8/10 (1-4 cheap, 5-7 average, 8-10 expensive)
Service: 8/10 (1-4 bad, 5-7 average, 8-10 excellent)