Mahatma Gandhi once quoted "It is health that is real wealth and not pieces of gold and silver." How true this saying is as our own health lies within our own control. No matter how much materialism one would pursue, without proper health nothing could be accomplished well, physically and mentally. That's how bad it was for me during the last three quarters of 2014, going through bouts of stress related illness, rather than maintaining a healthier lifestyle. This year, to usher in the Wooden Green Goat for this coming Chinese New Year, it's all about organic and earthly diets that I have to take heed. Coincidentally, Idealite – Malaysia's First Wholesome Dining Place had come out with meatless, gluten-free, MSG-free, lactose-free, etc healthy menu for me to kick start a brand new 2015. Let's start by "Lou Sang", an age-old custom steeped in ancient Chinese tradition and culture, to wish for "upward" health, wealth, luck and happiness in abundance during this coming Chinese New Year.
Idealite has a few package options for this Chinese New Year with 2 packages (RM488 and RM688) for a table of 10 pax and 2 set meals (RM128.88 & RM168.88) for 3-4 pax. You can click on the poster below for a clearer view of the dishes served.
For the abovementioned packages and set meals, each table with be given a complimentary plate of Lou Sang worth RM48.88 and RM28.88 respectively. Instead of the commercialized Lou Sang with dried and pickled items, all ingredients in Idealite's Lou Sang are fresh produce such as cucumber, pumpkin, carrot, beetroot, red cabbages, jicama, lettuce, tomatoes, mint leaves, pomelo, Mandarin oranges, ginger flower, cashew nuts, seaweed & spring roll crackers and topped with their homemade special sauce. The whole combination was superb.
To start off the meal, we had the RM488 full course package and a few other notable options from the RM688 package. The starter was the Smooth & Happy Appetizer which consisted of 4 dishes such as the Harmony & Peace Scallops (Eryngii Mushroom), Pattaya Salad (Sea Bird Nest), Happy Mutton (Monkey Head/Hericium Mushroom) and Dumplings.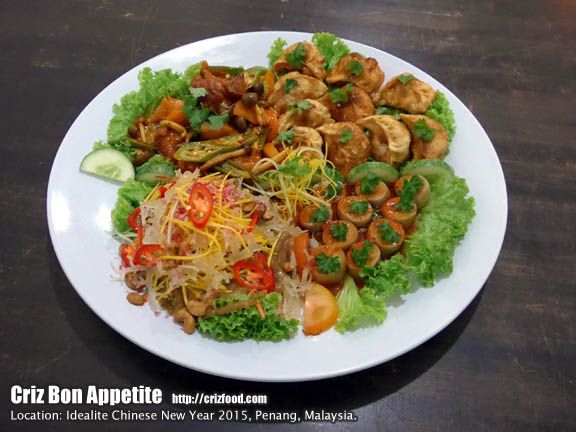 Next on the menu was the Nourishing Soup filled with different varieties of mushrooms, some wolfberries, infused with a light herbal flavored soup base and thickened with some egg white. This was one of my favorite dishes in the menu. However, it would be better if the kitchen were to use wet bean curd to keep the dish as vegan as possible.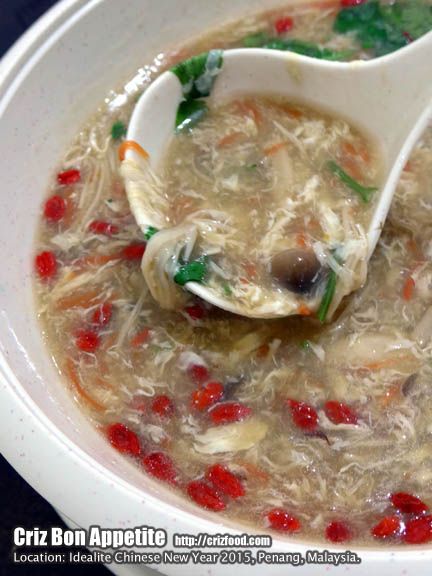 The Hong Kong originated Treasure Pot (commonly known as Poon Choi or Phen Cai) was a hit amongst us. If you are a fan of all the different varieties of mushrooms, you would surely love the rich yet earthly flavors from the treasure pot. The dish has about 15 types of ingredients and would be sufficient for me to get my appetite growing.
The Wealth & Prosperity Taro Fish was one unique dish that I fell in love with. The painstaking hours of combining mashed taro with oat milk and skillfully shaped the concoction into the shape of a fish is worth mentioning here. With a light drizzle of hot oil to make the outer crust crispy while maintaining the moist within, the "fish" combined with a somewhat spicy sweet sauce complemented each other well. The only setback was that the "fish" was too big and very filling. I won't mind if the kitchen could come out with some stuffing for the "fish" in near future.
We were also served with the Fortune Claypot Rice. This dish may not look that impressive but it was filled with flavors. It had a light hint of herb flavors, lots of fresh ingredients with some crispy "salted fish". The whole concoction was not as "sinful" as the name since it did not contain any meat at all.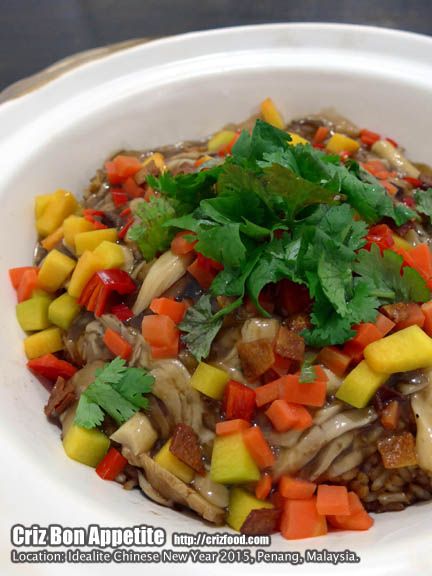 Lastly, it was the Fruitful Year, a dessert of the day. We had a nicely simmered snow fungus in a naturally jujubes sweetened soup with added wolfberries.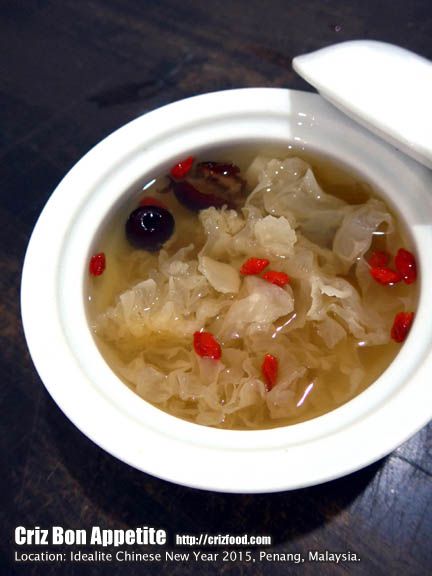 We also did try out two items from the RM688 package. The first one was the Ideal Fo Tiao Qiang, an aromatic yet nourishing soup to rejuvenate your body against lethargy and other sickness. The two main herbs found here consisted of ginseng and dang gui which have been traditionally used in Traditional Chinese Medicine (TCM) to maintain the well being of the consumer.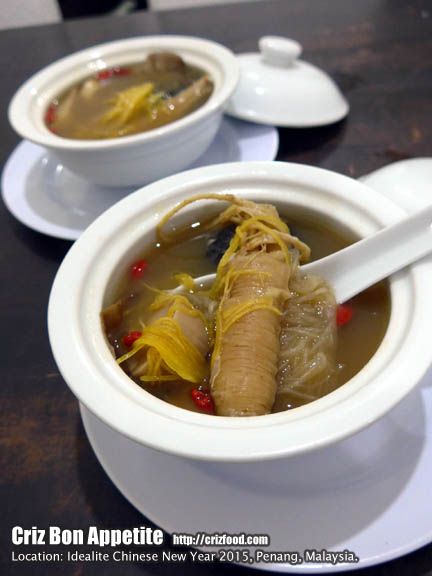 We also tried out the Auspicious Golden Crispy Salmon which was actually made from a combination of carrots and oat milk. this was served with their homemade condiment of a white sauce.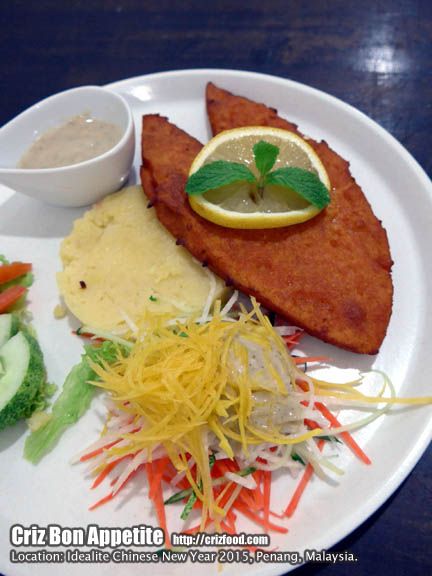 Overall, you can be assured that the dishes served here are extremely healthy for the palate of all diners. Compared to when Idealite first started in Penang with only a few selection of dishes, the restaurant now had evolved into a wholesome dining place to be loved by many, whether you are a vegetarian, vegan or a meat eater. Once awhile it's great to get some detox over here, not solely from the vegetables and fiber served but also to strengthen your digestive systems from their homemade enzyme which can be found in some of their dishes.
It's not hard to find Idealite at it's located just two shop houses away from Hotel Waterfall (Little Cottage 2) and next to Double Dragon Inn Restaurant along Jalan Gottlieb. Parking spaces could be rather limited during weekends especially when Little Cottage 2 is having their weekend buffet.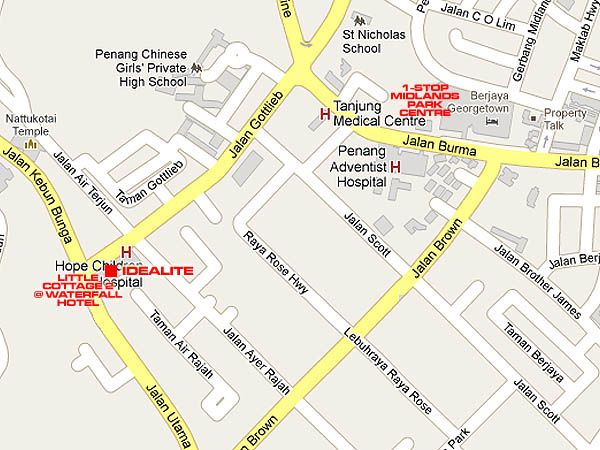 Name: IDEALITE – MALAYSIA 1ST WELLNESS EDUCATIONAL RESTAURANT(品味舒食 – Beside Waterfall Hotel)
Address: 27C Jalan Gottlieb, 10350 Penang, Malaysia.
Contact: 604-226 3650
Business Hours: 8.00am-8.00pm (Closed on Monday)
GPS: 5.430574, 100.299698
RATING:
Ambience: 8/10 (1-4 cheap, 5-7 average, 8-10 classy)
Food Choices: 8/10 (1-4 limited, 5-7 average, 8-10 many choices)
Taste: 8/10 (1-4 tasteless, 5-7 average, 8-10 excellent)
Pricing: 7.5/10 (1-4 cheap, 5-7 average, 8-10 expensive)
Service: 8/10 (1-4 bad, 5-7 average, 8-10 excellent)