Before I start my post on the Sanrio Hello Kitty House in Bangkok, Thailand, let's welcome the latest addition to the Hello Kitty family right in Malaysia. I'm sure those who had frequent Sunway Pyramid in Bandar Sunway, Petaling Jaya, Selangor, would have noticed a huge pink signage on the construction site next to Caffe Benne. Yup! Malaysia will be having its first Hello Kitty Gourmet Café right in the heart of Sunway Pyramid Shopping Mall real soon. I'm sure due the limited space within the complex, the layout might not be the same as the rest of the cafes throughout the world. However, I would be sure that it would be pink everywhere with whatever corner filled with your beloved Hello Kitty decors. Don't you love PINK now? LOL~ 😛
Recently, I paid a visit to the Sanrio Hello Kitty House at Siam Square One in Bangkok, Thailand. It was a unique multi-storey shop unit filled with lots of pink, love and cuteness at every possible corner within the premises. Why is it called Sanrio Hello Kitty House? It actually housed two levels of Hello Kitty Café and a basement level of Hello Kitty Shop and Hello Kitty Spa.
Let's have a look at the respective floor of the Hello Kitty Cafe. The first floor comprised of the ordering counter where you can have glimpses all the cute desserts on display. There was also a take-away counter on the far right for your beverages and light snacks. The system here was somewhat like how you would order your items at Starbucks, eg. Order-Pay-Collect. For orders that would require some period of preparation time, you would be given a number and the staff would deliver to your table.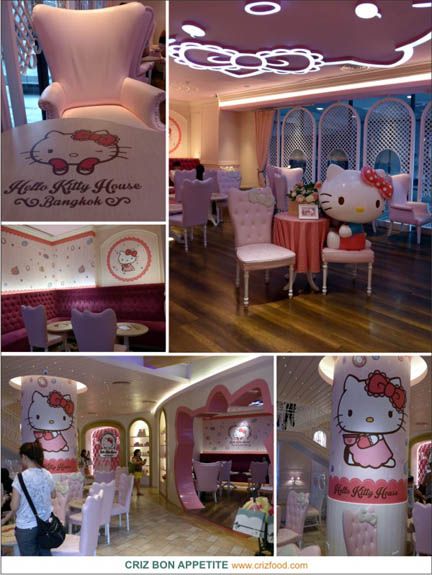 Though there were some dining areas at the first floor, the second floor itself was more spacious and basically just for dine-in with more selfie corners, pinkish chairs and lounge sofas for you to slumber in.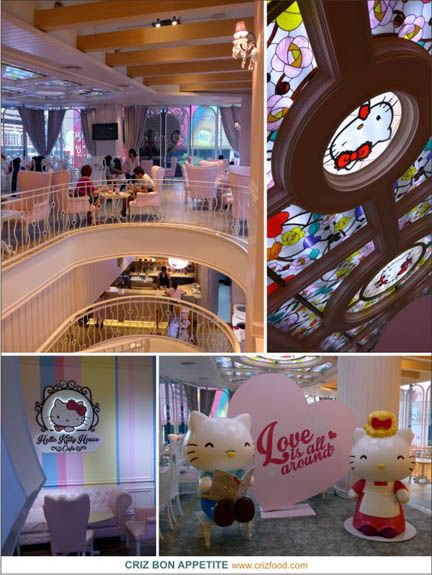 When you are so far away from home and at such a themed café, you would want to try the best items that they would offer. All price quoted is inclusive of 7% VAT. The Lemon Tart (THB280nett) display at the chiller caught my attention. Well, looks can be real deceiving. Sometimes, when we deemed an item to be photo-worthy, it might not appear to be tasty at all. That was what happened. The lemon tart set was horrendous! The lemon filling tasted rather fake and extremely sour. As for the crust, I would recommend you to request for a hammer and chisel. It was so rock hard that I might break the given pair of fork and knife. Those "chick pea" like pebbles were nothing more than some bland biscuits. If not for the chocolate sauce, I would just leave them aside. For that lovely looking mini mug with red mousse, it was just some tasteless cream with red coloring. As one of the most expensive desserts on the menu, it was one order that was barely consumable.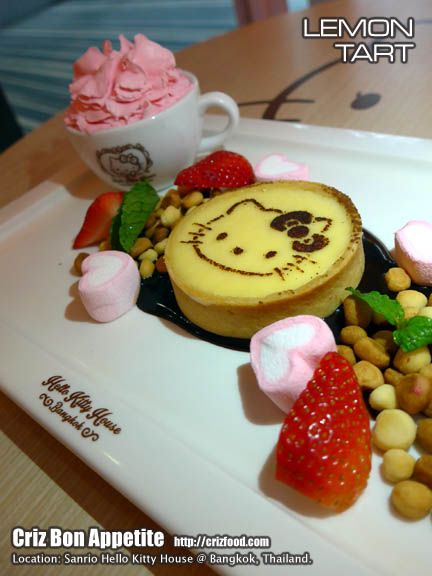 Thanks goodness the kitchen ad hoc prepared Ham & Cheese Sandwich (THB200nett) was at least edible. It was just two slices of "Hello Kitty" face shaped toasted bread with rolled ham and cheese, accompanied with some cheap greens with salad dressing. It was normal and nothing to shout about.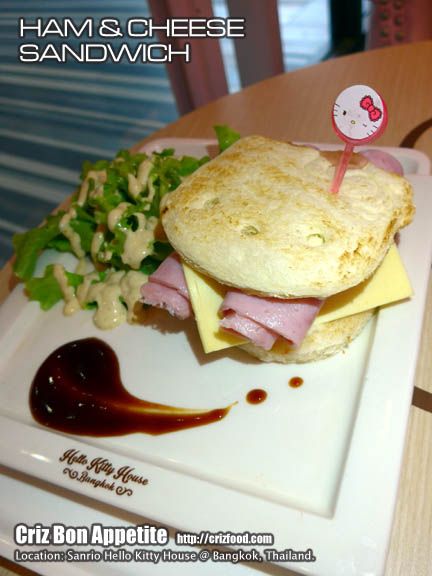 As for drinks, I ordered their recommended Kitty Smoothie (THB150nett) and Hello Kitty Mineral Water (THB30nett). Except for the bottled water, I really can't figure out what I was drinking. It was like drinking a glass of syrup with some light hints of milk and strawberries. It was so sweet that I had to leave it after a few sips as it might juggle up my glucose level. I'm still wondering why the Thais like their drinks to be so artificially sweetened up.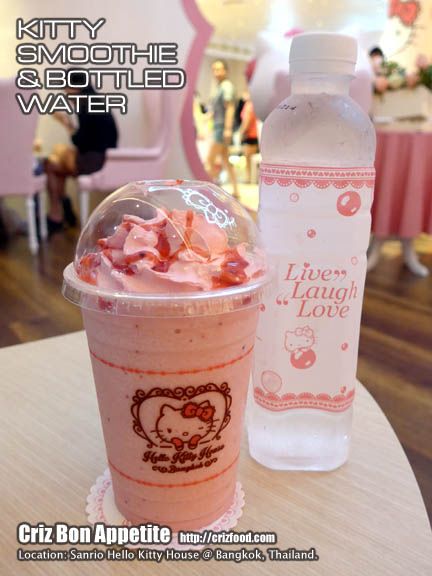 Let's leave the food and beverage woes away and check out the basement of the unit. The Hello Kitty Shop will be a merchandise heaven for those Hello Kitty enthusiasts as they have practically everything you ever dreamed of having here from little memorabilia to items such as T-shirt, bags, umbrellas, etc. I've to forewarn you that prices of the items are not cheap. They are original franchised items after all.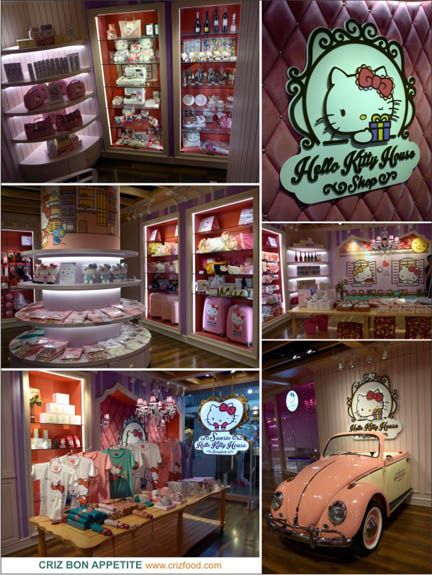 On the other hand, you would find the Hello Kitty Spa at the other further end of the basement level. This might not be the type of spa you would be expecting as it would basically cater to the feminine parties, kid inclusive.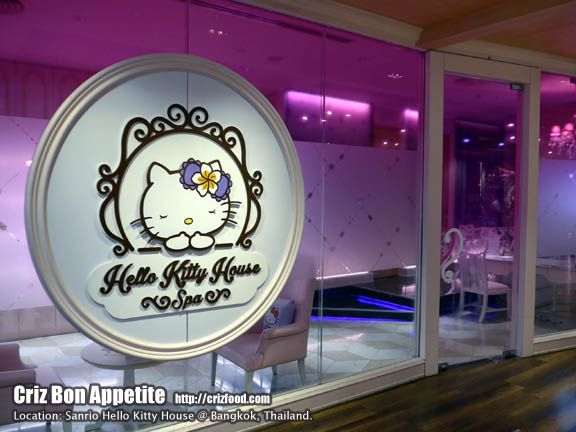 The facilities would include nail services, lash extensions, waxing, face and body treatments plus massages. You can check out the prices below (click to enlarge for a better view).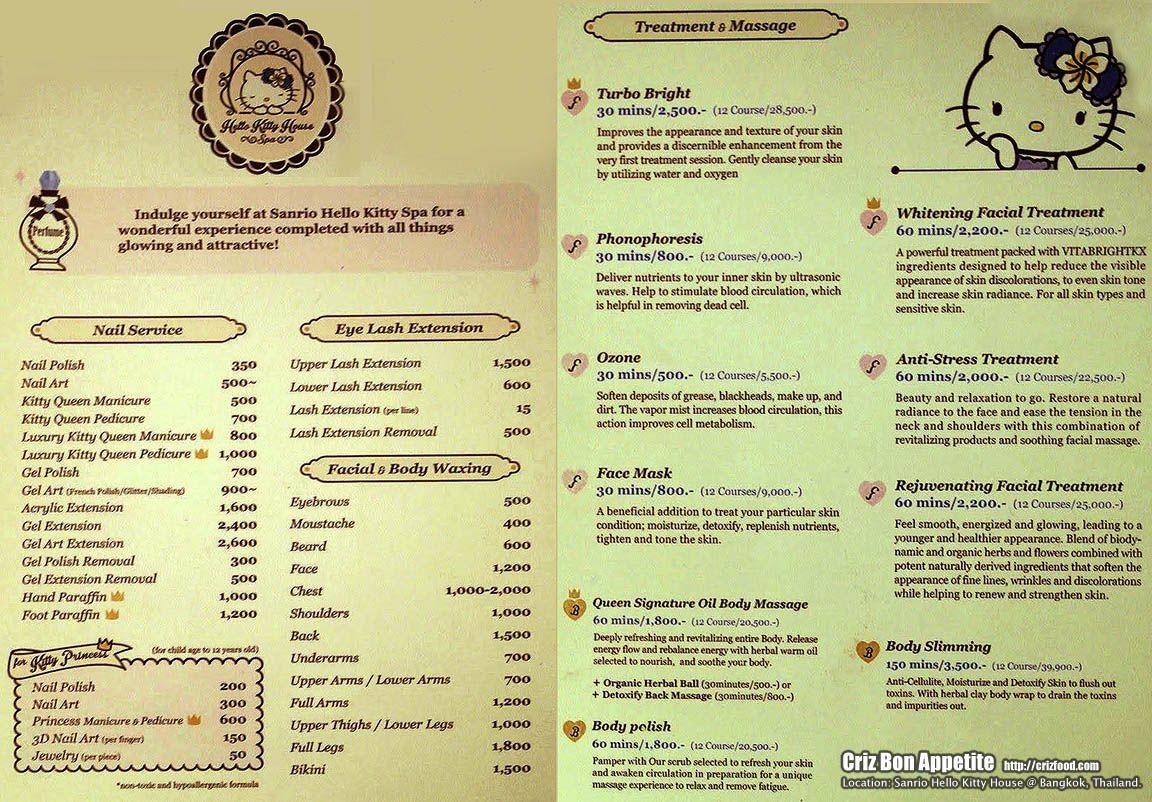 Overall, Sanrio Hello Kitty House is quite a nice place to bring your family or dates for the first time experience but most people won't be able to stay there for too long. The reason is that the never ending replaying of the theme song can drive anyone up the wall with madness. Can you imagine having the same few seconds theme song playing over and over again at the moment you step into the place until you leave? OMG! As for the food and beverage wise, I was expecting something more edible rather than loads of food and drinks with high level of sugar and coloring contents. I hope we don't get these experiences at other franchised outlets in the near future.
Name: SANRIO HELLO KITTY HOUSE BANGKOK
Address: 388 Siam Square One Building, LG, 1st & 2nd Floor, Siam Square Soi (Alley) 7, Pathum Wan, Bangkok 10330, Thailand.
Contact: +662 115 1335
Business Hours: 10.00am-10.00pm
GPS: 13.744526, 100.533489
DIRECTIONS: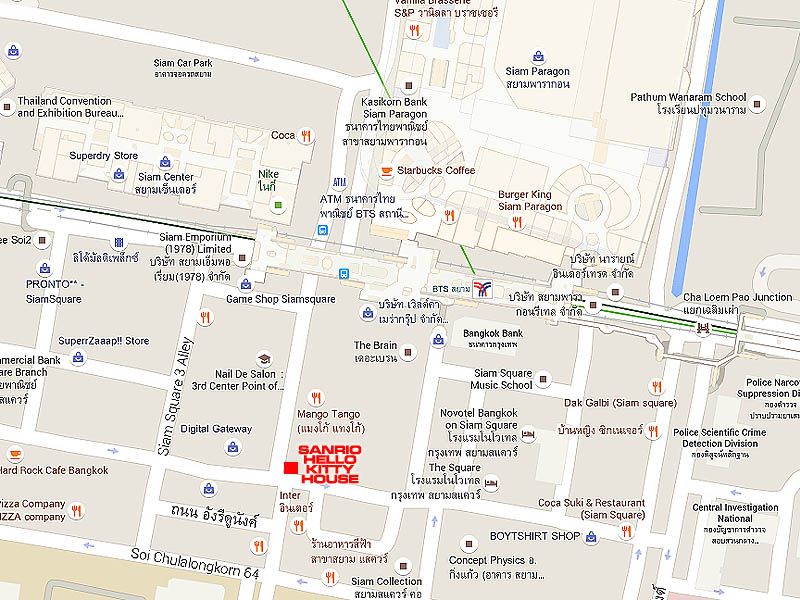 Take the BTS Sukhumvit Line and stop at BTS Siam Station. Use the Skywalk towards Exit 2 and walk downstairs all the way until you reach a junction. Turn into Siam Square Soi 4 and walk straight until the cross junction of Siam Square Soi 4/Siam Square Soi 7. The Sanrio Hello Kitty House is just at the corner unit.
RATING:
Ambience: 9/10 (1-4 cheap, 5-7 average, 8-10 classy)
Food Choices: 6/10 (1-4 limited, 5-7 average, 8-10 many choices)
Taste: 5/10 (1-4 tasteless, 5-7 average, 8-10 excellent)
Pricing: 8/10 (1-4 cheap, 5-7 average, 8-10 expensive)
Service: 6/10 (1-4 bad, 5-7 average, 8-10 excellent)